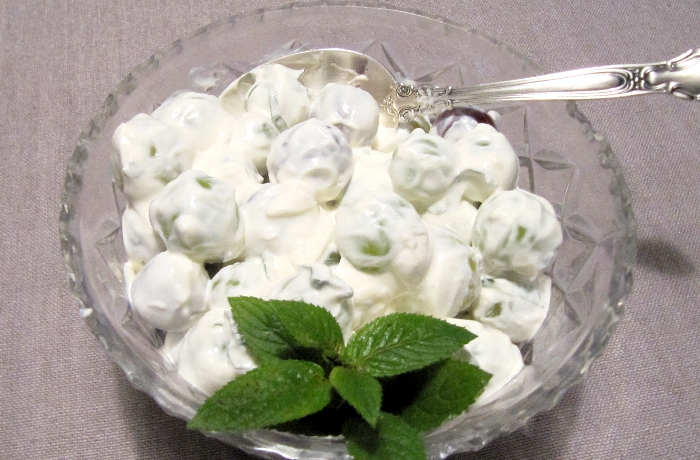 When I was fifteen, I spent a memorable summer with my Connecticut cousins. Our Aunt Patricia (yes, I was named after her — we were known as Big Pat and Little Pat) worked and lived in New York City, and in our eyes she was all we aspired to be. My cousin Deborah and I took the train to Manhattan and spent a day with Big Pat. It was a classic New York summer day — hot and sultry — but my aunt had prepared a sophisticated cold lunch, which included the perfect dessert: half-frozen table grapes in sweetened sour cream. This was before yogurt was mainstream and sour cream was considered a gourmet item. I've been making some version of this refreshing dish ever since.
This is one of those fast to assemble, no recipe needed desserts with simple ingredients that can be made ahead and served either icy cold or half-frozen. Plain Greek or European yogurt can be substituted for sour cream and I prefer just a touch of honey or agave over sugar as it blends in easily. The addition of thin ribbons of fresh peppermint and a touch of vanilla makes for a satisfying treat any time of day — even breakfast. This dessert also travels well for a picnic or potluck. Set it in a cooler or padded carrier and add an ice pack. I guarantee that everyone will love it.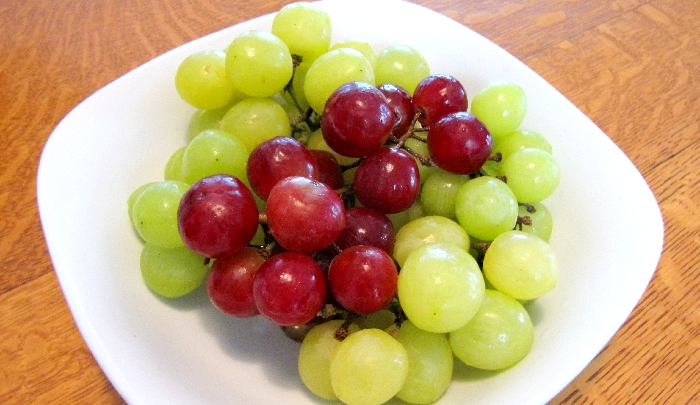 I used a combination of grapes, all of which are crunchy, sweet, and seedless: Red Flame, Sugar Crunch, and Summer Muscat. If you use grapes with seeds, cut them in half and remove seeds.
Print
Icy, Creamy, Grapes with Vanilla and Mint
1 pound table grapes, ideally crunchy, washed and de-stemmed
Half a pint of sour cream, Greek, or European yogurt, full-fat or low-fat
Honey, agave or sugar to taste*
1/2 teaspoon Rain's Choice pure Vanilla Extract
1 – 2 tablespoons peppermint leaves cut into thin ribbons plus a sprig for garnish
Instructions
Blend sour cream, sweetener, and vanilla together in a medium bowl. Add grapes, then sprinkle in mint while stirring until it is fully incorporated. Chill for at least 2 hours or place in freezer for about 1 hour before serving. Garnish with mint sprig.
* If you use very sweet grapes as I did, you will need just about a tablespoon of sweetener. Super-cold food needs more sweetener than room temperature food, so keep that in mind when you sweeten the sour cream or yogurt.
Latest posts by Patricia Rain
(see all)