When the warm days of late spring arrive, the Farmer's Markets in California are a veritable cornucopia of early peaches, nectarines, apricots, pluots, apriums, plums, strawberries, rhubarb and cherries! My mind whirls over which to choose and how to use. Fruit galettes are one luxurious option!
My cat feels similarly overwhelmed as he sits in the garden — will it be a gopher, a rat, a mole, a bird? (Most cats concur that a plump gopher in the mouth is worth two birds in the bush.)
My decision? Begin the season with strawberry rhubarb galettes in honor of my brother who has a May birthday and a love of rhubarb. For fun I also chose some yellow nectarines, brightly acid and juicy.
If you are unfamiliar with the term "galette," it's a French word for a free-form or rustic, flat, round pastry, frequently filled with stone fruits though it can also be filled with vegetables and cheeses. David Lebovitz says, "Whether sweet or savory, a galette is less fussy than a traditional tart and offers more crisp crust."
What I love about galettes is that there is a nice balance between crust and filling — almost half and half — and you can make individual galettes using a variety of fruits. Served warm with a dollop of creme fraiche melting into the gently roasted fruit, and with a glass of sparkling moscato or proseco to wash it down, galettes reflect the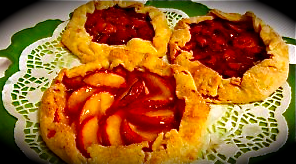 sensuousness of a warm summer evening.
Have I caught your attention? Good. Here's how to go about making galettes.
If you have a favorite pie crust, by all means, use it. If not, here is my favorite crust.
With stone fruits, simply cut pieces between 1/3 and a 1/2-inch thick, and arrange the fruit decoratively on top of a round of pastry dough. Leave an even margin of pastry dough without fruit that you will fold over part of the fruit to secure the juices and give form to the pastry. Sprinkle the fruit with sugar or a blend of sugar, a little tapioca or corn starch if the fruit is juicy, and spices such as cinnamon, crushed cardamom or freshly grated nutmeg. You can dot the top of the fruit with little pieces of butter, if desired.
With a pastry brush, wash the crust with a little water, cream
or lightly beaten egg white. Dust with Rain's Choice Vanilla Sugar or Cinnamon Spice Vanilla Sugar. Using a wide spatula or a pizza paddle, slide the galette onto a baking sheet, and bake at 350-375 degrees F until the crust has browned and the fruit is cooked through. Cool on a rack until just warm and serve with cream or creme fraiche if desired.
If you are using strawberries and rhubarb, cut the strawberries into rounds or thirds lengthwise. I sliced the rhubarb into thin slices, mixed with the berries in a bowl, and tossed in vanilla sugar. Add a little freshly ground black pepper or lemon zest if desired.
Follow the above instructions for placing the fruits on the pastry, then folding the pastry over part of the fruit. You will pleat the pastry some but don't worry about making even pleats. It's supposed to be "rustic."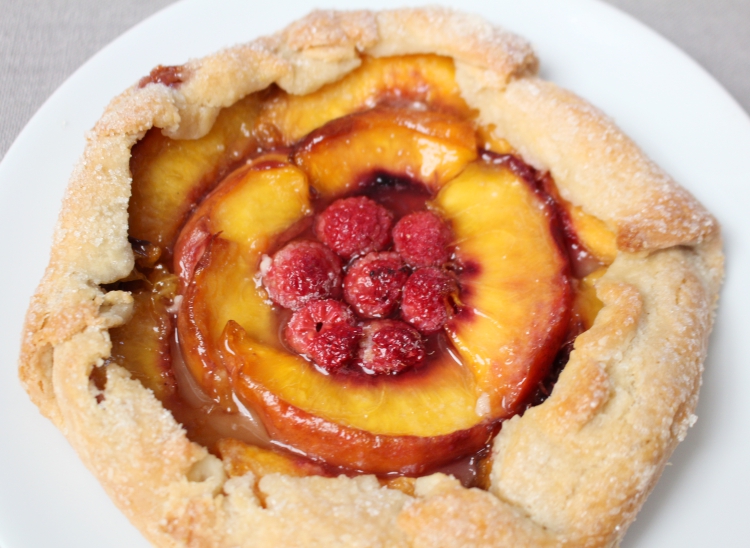 After the galettes had cooled, I melted some fruit jelly (you can use currant, pear or plum — all work well) in a small saucepan with just enough water to thin it slightly. I spread it over the fruit to make it glisten. You can also substitute jelly on the crusts after their baked and skip sprinkling sugar on skip adding a cream or egg wash and sugar. It adds a subtle sophistication without making the galette too sweet. There's another option, however. I didn't have fruit jelly in the house when I made some of the featured galettes.
There were some fruit juices in the bowl from when I cut the nectarines in slices. I mixed the juices with a bit of honey and agave syrup into a small saucepan and warmed them. It worked very well.
Another option is to make turnovers with the pastry. What I like about turnovers is that they're more transportable than galettes for picnics or parties and they're more manageable for children.
You can make the galette(s) the day before. Warm them in the oven before serving to make certain that the crusts are crisp.
As for my cat, he prefers his catch au natural with cream on the side.
Did you like this post?
"Like" it, and share your thoughts in the comments below!
Latest posts by Patricia Rain
(see all)