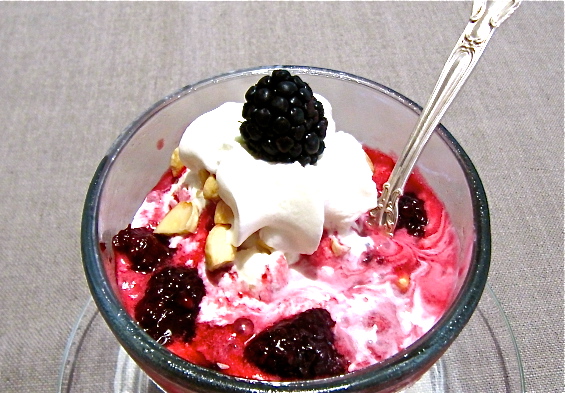 On the California Coast, blackberry season begins when summer is already in full swing. The berries are slow to ripen as even on warm days the evenings are cool, so there aren't evening hours to help turn the berries from red to black. When they're finally ripe, it's easy to forget the long wait for the reward of their sweet burst of flavors. And, the additional reward is when other summer fruits wind down, there are still blackberries into early autumn.
You can use this recipe a couple of ways. Layer the blackberries and syrup with homemade or top-quality purchased vanilla ice cream into bowls ending with syrup on top. Add the salty Marcona almonds for a crunchy contrast to the sweet syrup and a dollop of whipped cream then top with a blackberry.
You can also swirl the blackberries and syrup into softened purchased ice cream or right after making ice cream. Place it in the freezer to get firm. Either way, it's a pleasurable way to cool off during or after a hot day.
Print
Blackberry-Vanilla Sundaes
4 Cups fresh blackberries
3/4 – 1 cup sugar (based on ripeness of berries and personal preference)
1/4 cup water
1 teaspoon lemon zest
2 tablespoons raspberry wine or liqueur or Casiss (optional)
1 teaspoon Rain's Choice pure Vanilla Extract
1/2 cup Marcona almonds, coarsely chopped (optional)
Whipped cream (optional)
Instructions
Place blackberries, sugar, water and lemon zest in a medium saucepan, bring to a boil, then reduce heat to a high simmer. Cook about 10 minutes or until berries begin to soften. Remove berries from sauce and set aside. Bring sauce back to a boil and cook another 10 minutes or until it has reduced by about 1/3.
Remove from heat and add wine or liquor if using and vanilla extract.
Serve warm or room temperature over ice cream. Add chopped Marcona almonds and whipped cream if desired.
Notes
This sauce can also be served on or with poundcake or other unfrosted cakes, pancakes, waffles or cheesecakes.
Latest posts by Patricia Rain
(see all)