Did you know there is a dark side to fair trade vanilla?
According to the World Fair Trade Organization, the definition of Fair Trade is as follows:
"Fair Trade is a trading partnership, based on dialogue, transparency and respect, that seek greater equity in international trade. It contributes to sustainable development by offering better trading conditions to, and securing the rights of, marginalized producers and workers – especially in the South. Fair Trade Organizations, backed by consumers, are engaged actively in supporting producers, awareness raising and in campaigning for changes in the rules and practice of conventional international trade."
What's not to like about this? Fairness for farmers, which helps them and their families to thrive as well as to continue to produce the foods, spices and other ingredients that we love and use regularly.
Fair Trade began in the United States, when Ten Thousand Villages (formerly Self Help Crafts) started purchasing needlework from Puerto Rico in 1946. In the late 1940s SERRV International began to trade with poor communities in the South. The first formal Fair Trade shop which sold these and other items opened in 1958 in the USA.
Oxfam UK started to sell crafts made by Chinese refugees in Oxfam shops in the 1950's. In 1964 it created the first Fair Trade Organization. Parallel initiatives were taking place in the Netherlands and in 1967 the importing organization, Fair Trade Original, was established.
By the 1960s Fair Trade caught on though it took time for it to come solidly into the food sector. The first Fair Trade certification for vanilla was given to my friend, Jai Chaitanya Dasa, whom I helped to perfect the curing and drying of vanilla beans in the Western Ghats in India. Jai, who launched the Eco-Agri Research Foundation, has dedicated his life to the poor and tribal peoples of India. He has made a significant impact on the lives of hundreds of thousands of people through his dedication and hard work.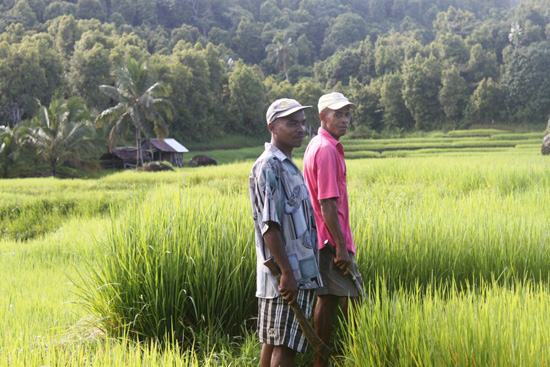 The Dark Side of Fair Trade
While the concept of Fair Trade is noble and was intended to protect those producing goods — foods, spices, clothing, shoes, and handicrafts — the reality has played out in a complicated fashion. It has worked best with handicrafts, which has been especially helpful to women in the developing world, who have been able to assist their communities reach a higher level of wellbeing through their work.
For food commodities such as coffee, chocolate and vanilla, success has been mixed.
All three of these foods are grown in the world's poorest countries and consumed by the world's wealthiest countries. Coffee, which is traded in millions of containers and which has had backing from international organizations, has done relatively well. FLO, an organization in Germany, and Fair Trade USA worked together to create a floor price for coffee. Fair Trade prices are incrementally higher than the floor price.
Chocolate, which is also traded in millions of containers, has had reasonable success with Fair Trade as well.
Vanilla, on the other hand, has not been as successful.
Only 2300 metric tons of vanilla are traded on a good year. This is a very small quantity compared with coffee and chocolate and there are very few organizations that work to assist farmers in the vanilla industry.
One of the biggest problems these three commodities face is weather. There are years when the crops produce abundantly; other years cyclones, hurricanes, drought, cold or heat destroy a large part of the crop. As a result, the prices fluctuate, sometimes dramatically. The changing climate is adding additional issues for producers. Too much rain or not enough is one of the issues. Now, greater heat is not allowing enough chill time in some areas, one being Tahiti, is causing smaller crops.
Another problem is consistent quality. Vanilla, in spite of being a small industry, has standards of quality and vanilla is graded. Unfortunately, farmers rarely get consistent fair trade prices for the different grades of their crop.
Finally, Fair Trade organizations charge to inspect and certify that the crops have been traded fairly. Most farmers produce their vanilla on very small farms; five acres is a common size of a plantation but many are smaller. Unless the farmer is part of a cooperative where all of the plots are certified as Fair Trade, the individual farmers cannot afford to pay for certification. Unfortunately, there are some Fair Trade organizations who never inspect the vanilla farms or transactions to certify them as Fair Trade. Traders can go to these organizations and ask for certification for fairly-traded vanilla but there is no proof that the vanilla actually has been fairly traded.
Ethically- or Fairly-Traded Vanilla
Because of the problems associated with Fair Trade in the vanilla industry (and to a lesser degree with coffee and cacao), many buyers have chosen to purchase either directly from the farmers when possible, or from the agents who represent them, at an ethical or fairly traded price. It can often be difficult to do this for several reasons.
In some countries it is difficult to connect with the farmers directly. This is especially true in Madagascar and Mexico.
Many growers only speak in their local, indigenous languages. They usually live way off the grid, often with few passable roads. They also may have a very small crop to sell and the quality of their crop may be inconsistent.
Many of the farmers don't do their own curing and drying of the vanilla, instead depending upon specialists who purchase the vanilla from them at very low prices, cure and dry the vanilla, and then sell it at market price to the buyers.
Fortunately, there are some cooperatives such as the one Jai runs, where the farmers are paid fair prices. This is true in many countries, but it sometimes means seeking out the cooperatives or large farms who buy at fairly traded prices from local farmers.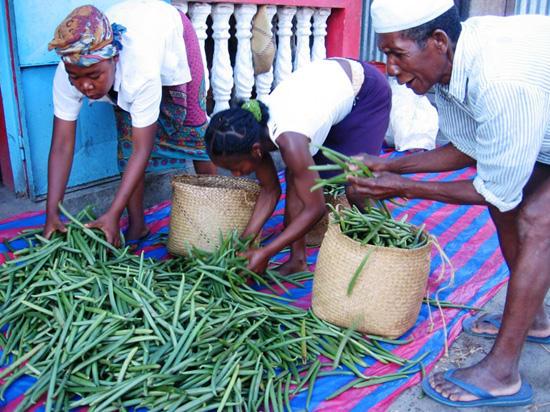 Buy Ethically or Fairly-Traded Vanilla Right Here from The Vanilla Company

We do our best to purchase directly from farmers or from their representatives. Our Madagascar vanilla comes from a fairly-traded cooperative south of the traditional vanilla growing region. We are friends with the representatives who originally were in the Peace Corps in Madagascar and started the cooperative to assist local people to create a better life.
We purchase our fair trade Tahitian vanilla from a man whose family has been growing vanilla for several generations. The family purchases vanilla from other local farmers.
There are times when we may need to purchase vanilla via larger traders. We do our best to purchase from people who care about the growers and who run an ethical company. During a crisis, however, such as the one that began in late 2014 and is currently still underway, it is very difficult to find quality vanilla. While it may or may not be "Fair Trade," farmers typically make far more money than usual during crises.
Our position is that everyone deserves the right to adequate food, shelter, education and medical care. We do our best to honor this in our daily lives as well as in business, and your purchase of vanilla products here does the same.
Latest posts by Patricia Rain
(see all)