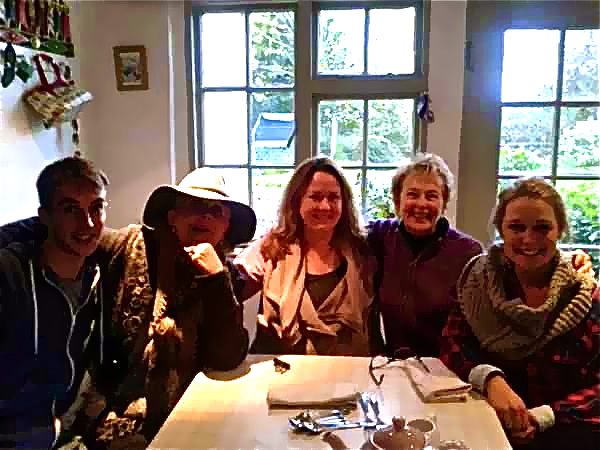 My visit to Devon, Somerset and London, this last October was more exhilirating than I could have possibly anticipated. At times I felt a little like Alice; I too had tumbled down a rabbit hole into a world I hardly knew. How delightfully unaware I was about the burgeoning artisan food community of Southern England, and what fun I had learning many new and interesting tidbits about the region's inhabitants, food, and local culture. My only regret is because I was speaking at a number of the events, I didn't have my camera with me.
My hosts Janet and Dave went out of their way to introduce me to as much of the region and people as possible. And thanks to Colin and Carol Stanaway, my consummate hosts and guides in Somerset. I knew that Devon is largely rural and noted for its dairy products, most especially its rich clotted cream. I had driven through the area in 1986 as well as visited Bath and traveled through Somerset. But 1986 was light years ago when it comes to the specialty food movement. I had no idea, that it has become such an important part of the local economies of Devon, Somerset and Cornwall. These counties, agricultural mainstays for England, are renowned for produce, community sustained agriculture, artisan producers of dairy products including beautiful, aged cheeses, honey, breads and baked goods, humanely and sustainably raised meats, award-winning breweries, cider companies and, quite remarkably, I even met a tea grower from Cornwall who grows both Sinensis (Chinese) and Assam (Indian) teas! When it comes to diversity, it's all here.
When I attended the Powderham Food Festival I was thrilled by the delicious variety of products available to eat and purchase – even the local military base offers nutritional education for kids packaged in fun projects and they had one of their men doing demos with a sizable crowd gathered to sample his food. Yes, Fish & Chips is featured nearly everywhere near the coast, but wild venison kebabs, roast boar, and many more delicacies are also there for the taking. I had some of the best Cheddar cheese I've ever had at the festival. And guess what? Cheddar originated in the hamlet of Cheddar in Cheddar Gorge, Somerset! Even better, there's a cheddar from Wooky Hole (how's that for a fabulous name?), a cave in the Cheddar Gorge that boasts stalactites and stalagmites as well as space for the Cheddar to age.
English pubs now serve far more than Kidney Pie, Bangers and Bubbles and Squeak. In Exeter and other major cities throughout the UK, students flock to culinary schools. Many of them want to work as chefs in rural areas as there are now restaurants to accommodate them. I had a sumptuous wild mushroom Stroganoff at a local pub in Somerset. Britain Bakes and other TV food shows are immensely popular. I attended a Cake and Bake show in London where three stages featured standing-room-only demos. Judging by the packages attendees carried, baking is a very popular British pastime.
It's true. The English love their puddings, a word that encompasses desserts in general though not puddings as we in America envision them. At the shows I attended or spoke at, there were rustic fruit galettes, enormous meringues, freshly baked cakes, cookies and bars, scones and delicious artisan breads. Every restaurant menu has an appealing selection of puddings and the servings are not modest.
Interestingly, what we call puddings are called custards in England. Creme Anglaise, which is a rich, creamy sauce made on top of the stove and poured over cakes or ladled around them, is called custard as is what we call pudding and so is baked custard. At least we can all agree on the latter.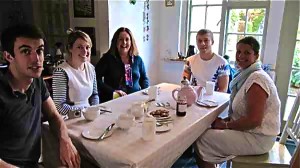 Morning and Afternoon Tea
I'm happy to report that tea is still a mainstay of English life, no matter where you are. What caught me by surprise is that nearly all of the people with whom I shared breakfast, Elevensies or afternoon tea, drank coffee. I was often the only one drinking tea! And these days tea is prepared in electric tea kettles and made from teabags. Needless to say, times have certainly changed.
The English enjoy a morning tea break each weekday at 11:00 am. Known as "Elevensies," shortbread, flapjack and other little cakes and cookies are quite popular. Then there is afternoon tea. Scones with marmalade or strawberry jam are standard fare and Devon is famous for its thick clotted cream, which is a dreamy substitute for butter. Cakes are a popular afternoon treat. Frequently filled with jams or fruit and cream, they range from delicate sponges to sturdier yellow cake.
Two morning and afternoon sweets that caught my attention were flapjack and a completely new spin on shortbread. I had never heard of English flapjack before but I noticed it in nearly every tea shop and on dessert trolleys. Sometimes it was cut into fingers or bars the size of brownies; sometimes it looked more like cake. It's essentially an oat cake made with oats, butter, brown sugar, Lyle's golden syrup and eggs. Beyond those five primary ingredients there are many variations. Many are like granola bars. I've looked at a number of recipes online and made two, but haven't found one as good as a cake version I was served at the Michael Caines Culinary Academy.
Instead, I'm "serving" individual Jam Cakes baked in muffin tins. You'll likely have all the ingredients on hand, they're fast to put together and they are a satisfying morning, afternoon or evening sweet.
One morning we had Elevensies with Sally Sedgeman, a fascinating woman of an age (my age) who is a true grande dame. Sally was the first airline stewardess to fly from Exeter airport to London and Paris and was the stewardess on special flights for wives of American military officers (she began at 19 and was "adored" by the Americans for her British accent). For years she hosted her own radio show, has organized and hosted numerous charity events, is a sought after speaker and, most recently, launched and hosts Michael Caines' "Ladies do Lunch" at Adobe, Exeter. To quote Diane Corrick, the Executive Chef of Port-ER, "… [Sally] is witty, entertaining, charming and slightly bonkers which suits us and our supporters perfectly."
Sally had just finished renovating her cob and thatch house, which was originally built in the 1600s. We sat by the fire in her cozy parlor and drank coffee (I had tea) and ate bars of shortbread unlike anything I had ever seen. They were large rectangles roughly six inches by four and studded with chunks of milk chocolate. What intrigued me is that Scottish Shortbread (as produced by my grandmother's generation) was always made with just butter, sugar and flour and served in fingers. Sally's was clearly not traditional. I asked for the recipe only to learn it was purchased in a local market.
I decided to make my own version of shortbread for Gina (our Contessa) for her birthday. She's allergic to chocolate so I made Cardamom Pistachio Shortbread, which was really special. I added rosewater to the dough as it adds a romantic touch, but the flavor is very subtle.
A final word on the food scene in the UK. Although it lags behind our American obsession with everything we put in our mouths, most especially those of us who work with artisan products, the English have long since moved on from the less-than-inspired meals they were teased about not that long ago. In fact, the only two star Michelin restaurant in England is in Exeter, less than 20 minutes from Janet and Dave's country home. I promise to post another blog about food in the UK as I have yet to tell you about the Riverford Farm Kitchen and a few other tidbits that are bound to pique your interest, especially if you are considering a visit to the UK.
Did you like this post?
"Like" it, and share your thoughts in the comments below!
Latest posts by Patricia Rain
(see all)