Over the last decade the market has been flooded with beautiful, big cookbooks filled with full-color, sexy photos of gorgeously presented foods and beverages. many of which contain exotic ingredients and complex instructions. I call them the "Wow!" cookbooks. It's lots of fun to curl up in a chair, book-in-lap, to study the pictures and read the recipes
and accompanying comments by the authors. We put them on display in our living rooms and offices, and there they stay. I suspect that the majority of these temptresses never actually get taken into the kitchen and used. Let's face it, except for special holidays, how many of us are ready to dedicate several hours of our overcrowded weekends toward actually making the recipes? I love to cook but I have to say most of my "Wow!" books have never been spilled on even though I've dreamed of making the recipes and hope someday I will.
Flying under the radar are the daily cookbooks, the ones that aren't flashy, that have weekday recipes or weekend specialties that are delicious, comforting and not overly demanding. Sensible and sincere, they are small gems that are great go-to books for inspiration as well as for that perfect soup or tart that you can actually produce fairly quickly and easily.
Easy Artisan: Simple Elegant Recipes for the Everyday Cook by Anne Baldzikowski is a daily gem, a charming self-published cookbook, short on pretense and full of heart. Her introduction says it all: "When preparing food for my family and teaching culinary classes, I like to take the next step to make artisan cooking easy. Sure you can spend four days making a loaf of bread, but why not take the same high quality ingredients, use a simpler approach, and end up with a delicious product sooner.
"I believe that through using food as an art medium we can create beauty and cultivate an inner joy and appreciation for our lives. After all, life is given meaning through everyday pleasures and eating is something we do every day. Why not create simple beautiful food and share it with others as an expression of gratitude."
Anne is a culinary instructor at the Cabrillo College culinary arts program in Aptos, where she has a dedicated following of past and current students. She first studied at Cabrillo over 30 years ago, then attended Tante Marie's Cooking School in San Francisco, followed by a degree at San Jose State University with a major in Journalism and a minor in Nutrition. She has been a restaurant critic and food writer, owned two bakeries, and she has worked as a professional cook in Santa Barbara and Santa Cruz. With a history like this she could easily produce a "Wow!" cookbook, but she is both modest and practical, and takes great pleasure in making beautiful food accessible to us all.
Anne's book covers the essentials – breakfast, soups, salads, entrees, sides and desserts – but what's unique is that she incorporates less often used ingredients such as quinoa, whole wheat flour, and cocoa nibs and gives simple-to-follow instructions for tricky items like rice paper wraps, Inari and rolled sushi, crusts for pies and galettes, lollipops and ice cream cones, cups and fortune cookies! Anne has included two entrees with chocolate – Cocoa Carne Asada and Chicken Mole for those of us for whom there is never enough chocolate. And, in deference to those of us who are allergic to wheat or can't tolerate gluten, Ann has shared her recipe for gluten-free flour and a number of gluten-free baked goods such as Bountiful Jam Squares, Pumpkin Coffee Cake, Corn Bread with Honey Butter and Glamorous French Chocolate Cake.
Anne says about the following recipe, "My culinary students give these cookies as thank you gifts when we go on our class field trips."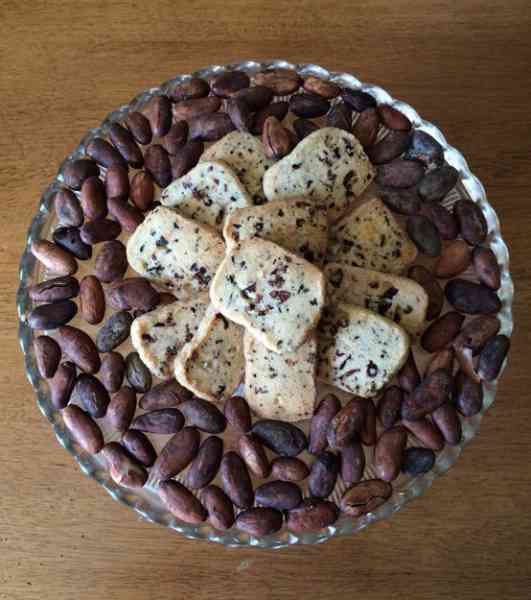 Ann's comment about the Fresh Fruit Tart recipe: "It was a favorite dessert of mine that I learned how to make in pastry school. After graduation I was so enamored by the pretty fluted edged French tarts that I started a wholesale bakery called The Queen of tarts! Coffee houses, caterers, restaurants and hotels soon called with orders for this eye-catching dessert."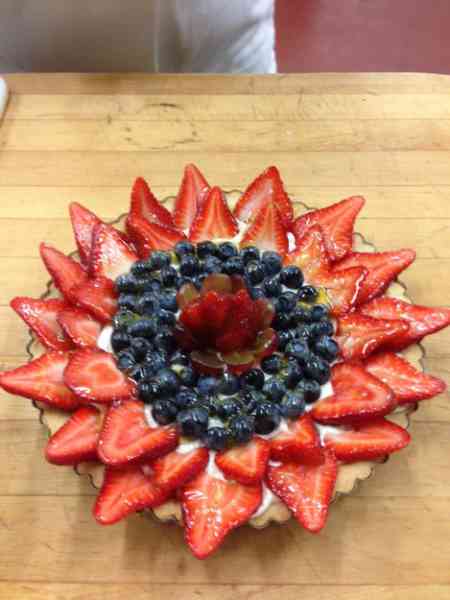 Easy Artisan is the perfect gift for busy moms, aspiring chefs (male and female), and anyone who wants to create beautiful food with a minimum of fuss and with a small modicum of coaching. Now that the berries are in season, I plan to make the Fresh Fruit Tart very soon!
You can purchase Easy Artisan directly from Anne's website at: http://easyartisancooking.com.
Latest posts by Patricia Rain
(see all)