Fresh Fruit Tart
Courtesy of Anne Baldzikowski, Easy Artisan: Simple Elegant Recipes for the Everyday Cook

Anne says, "This is a favorite dessert at summertime parties when we have such an abundance of colorful and tasty fruits. It was also a favorite dessert of mine that I learned how to make in pastry school. After graduation I was so enamored by the pretty fluted edged French tarts that I started a wholesale bakery called The Queen of Tarts! Coffee houses, caterers, restaurants, and hotels soon called with orders for this eye-catching dessert."

Look Delicious? Pin it for the world to see!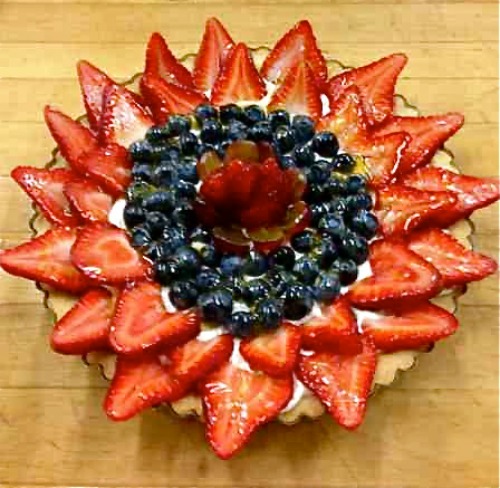 Fresh Fruit Tart
2018-07-18 21:59:49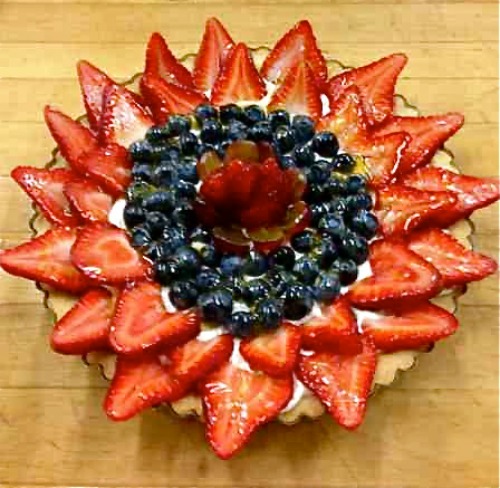 Tart dough
1-1/3 cups all-purpose flour
1/4 cup powdered sugar
1-1/3 sticks butter (5 ½ ounces) cold, cut into tablespoon-size pieces
Creamy Filling
8 ounces cream cheese
½ cup powdered sugar
½ teaspoon Rain's Choice vanilla extract
1 tablespoon lemon juice
3 cups fresh seasonal fruit
Glaze
1/4 cup apricot jam
2 tablespoons water
Baking Tart Shell
Using a stand mixer with the paddle attachment (or hand mixer), combine ingredients until dough comes together and looks like crumbly cookie dough. You can also process the ingredients in a food processor.
Press the dough evenly into a 9-inch-tart pan with a removable bottom. If the dough is sticky, dust your hands with flour and continue on. Poke holes all over the bottom of the tart with a fork. Place tart in freezer for 15 minutes.
Preheat oven 375 degrees.
For a partially-baked tart shell that you will fill and bake again, bake tart shell for 15-20 minutes or until lightly browned. For a fully-baked tart shell, that you will not bake again, make sure the tart is a deep golden brown color, cooking it for 25-35 minutes.
Filling
Using a stand mixer, with the paddle attachment (or a hand mixer), mix cream cheese until light and fluffy.
Add sifted powdered sugar, vanilla, and lemon juice. Mix until just smooth. Do not over mix because the filling may separate.
Spread filling onto tart shell, about ¼-inch thick.
Decorate tart with 3 cups of fresh seasonal fruits.
In a small pot, heat apricot jam with water. When it boils, immediately strain into a small container and brush glaze onto fruit.
https://vanillaqueen.com/
Patricia Rain
is an author, educator, culinary historian, and owner of The Vanilla Company (www.vanillaqueen.com), a socially conscious, product-driven information and education site dedicated to the promotion of pure, natural vanilla, and the support of vanilla farmers worldwide. She also does culinary presentations for food professionals, cooking schools, trade shows, food fairs, and private groups, and is a regular radio and TV guest.
Latest posts by Patricia Rain (see all)
Tags: Anne Baldzikowski, Fresh Fruit Tart