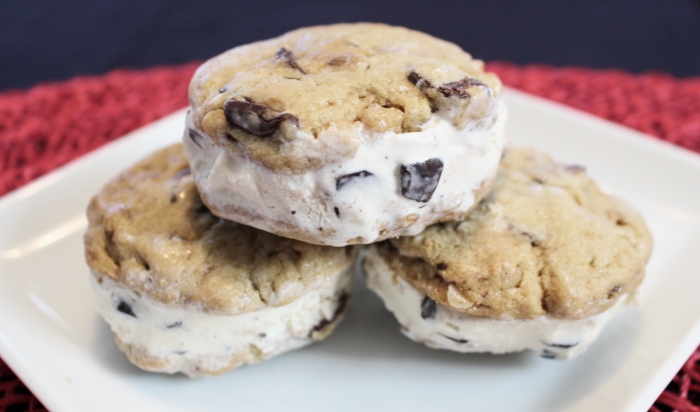 It's the time of year when writers wax eloquent about memories of ice cream trucks, bells jingling, and kids rushing from their homes for a sweet, icy indulgence like a multi-colored popsicle or an ice cream sandwich to fight off the humid heat. After getting brain freeze, the next step was playing in the sprinklers or the opened fire hydrant before being called in for dinner. Were there ice cream trucks in your childhood?
There were none in the California hills where I was raised. There was one grocery store downtown, with a deep-freezer box that we had to stand on tip-toes to open, then gaze down at the frozen possibilities that were probably just about the same as what was carried in the trucks. Popsicles were a good bet. I chose an ice cream sandwich only once. It was a limp, soggy disappointment. The Eskimo Pie, on the other hand, was worth the dive into the chest to fish it out.
Things are different now but in a good way. There are the ice cream stores with flavor choices, cone choices, sprinkles and chips and m&ms and a whole lot more. But there are also easy-to-use ice cream makers and you can easily make ice cream so much better than we could have imagined as children unless you had an ice cream machine that had a hand crank and required rock salt and crushed ice. We didn't but my cousins did, and I still can taste in my mind the soft, luscious fresh peach ice cream we made one hot, humid evening in Connecticut.
Even if you don't have an ice cream machine, there are pints and quarts of small batch gourmet ice cream that will make you swoon. This is the ice cream you want to sandwich between freshly made cookies any time of day or night!
David Lebovitz's book, The Perfect Scoop has been my ice cream making bible along with Jennie Schact's I Scream Sandwiches. I recommend both. An updated version of The Perfect Scoop has come out with many new recipes, available on Amazon.
Last week my grandsons and grandnephews spent the day with me. They were like four very polite locusts. Adolescent boys are known for their ability to strip bare a heavily laden table in a matter of minutes. And then be ready for dessert! I didn't disappoint them. I made the following Chocolate Chip Cookie recipe from The Perfect Scoop, made thick enough to firmly sandwich Straus Family Farm's superb chocolate chip ice cream. Really, it's hard to beat Double Chocolate Chip Ice Cream Sandwiches!
Print
Double Chocolate Chip Ice Cream Sandwiches
What we wish came in ice cream trucks but that we make better at home.
Chocolate Chip Cookies
1/2 cup (115 g) unsalted butter at room temperature
1/4 cup (50 g) granulated sugar
1/3 (70 g) packed light brown sugar
1 large egg at room temperature
1 teaspoon Rain's Choice pure Vanilla Extract
1 cup (140 g) flour
Slightly rounded 1/4 teaspoon baking soda
1/4 teaspoon salt
1/4 (120 g) semisweet or bittersweet chocolate chips or wafers
1/2 cup (50 g) walnuts or pecans, toasted and chopped
Ice Cream
1 quart high quality chocolate chip ice cream
Instructions
Beat the butter with the granulated and brown sugar in the bowl of an electric stand mixer or a hand held mixer, until smooth. Beat in the egg and vanilla.
In a separate bowl, whisk together the flour, baking soda, and salt, making sure there are no lumps of baking soda. Stir the dry ingredients into the creamed butter mixture, then mix in the chocolate chips and nuts. Wrap the dough in plastic wrap, flatten it into a disk, and chill for at least 1 hour.
Preheat the oven to 350 degrees F (175 degrees C). Line 2 baking sheets with parchment paper or silicone baking mats.
Form the dough into sixteen 1-1/2-inch (4-cm) rounds. Flatten the rounds of dough into 3-inch (8-cm) disks spaced evenly apart on the baking sheet. Since they don't spread much, you can leave 1 inch (3 cm) of space between them.
Bake the cookies for 15 minutes, rotating the baking sheets midway during baking, then remove from the oven.
Once cool, sandwich ice cream between 2 cookies, then wrap each ice cream sandwich in plastic wrap and store in the freezer.
Latest posts by Patricia Rain
(see all)