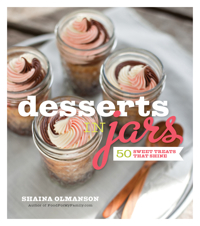 By Shaina Olmanson; Harvard Common Press; May, 2012
Looking for a creative, playful cookbook as a gift for a friend? One that doesn't break the bank but is filled with great ideas? If so, I recommend Desserts in Jars!
When I first learned about this totally fun book, my
assumption was that it would be filled with gift ideas to make and then give to friends. The gifts would then be baked or prepared by the recipient.. While one chapter in the book is dedicated to just that, the majority of the book
is about creating delicious and fanciful desserts and either serving them in any of a large variety of Mason (or other) jars or baking or freezing the desserts in jars as gifts.
My question is how Shaina Olmanson, who has four children, writes numerous blogs and is known for her popular, award-winning blog, Food for My Family, has the time to match recipe ideas with the perfect containers, prepare the food, shoot the photos and turn them into a book while also writing blogs every day — also food oriented I might mention — and still manages a household full of kids. I'm impressed!
Desserts in Jars has hard covers but the recipes are contained with a spiral ring. I find this format helpful as the pages stay flat and open without needing to put something on the page to hold it down. Each recipe has a picture of the finished dessert in a jar that makes the perfect container. Cupcakes, cheesecakes, cinnamon breads, pies (yes, amazingly enough, she has pies with perfect crusts on top), crisps, custards, ice creams, sorbets — Shaina has covered the gamut.
As for gifting in jars, Shaina has included tasty treats such as Cinnamon Coffee Cake Mix, White Chocolate Spice Cookies, Campfire Bars Mix and Hot Spiced Cocoa Mix.
One small detail I would love to offer both Shaina and those of you who read this book: Skip the extra step of scraping whole vanilla beans for the seeds and instead, use Rain's Choice Ground Vanilla Bean Powder. It's a less expensive option and will save you time as well.
I had a very difficult time deciding on desserts to use from Shaina's book; everything is beautifully presented and sounded luscious! So, how about White Chocolate Lime Puddings? Or, maybe Peanut Butter Cup Cupcakes?And, as a bonus, I'm including one of her very helpful "tips" pages on how to create your own layered desserts.
The subtitle to Desserts in Jars perfectly sums up this little gem: 50 Sweet Treats That Shine! It is perfect for gifting as well as having on your culinary bookshelf.
Did you like this post?
"Like" it, and share your thoughts in the comments below!
Latest posts by Patricia Rain
(see all)