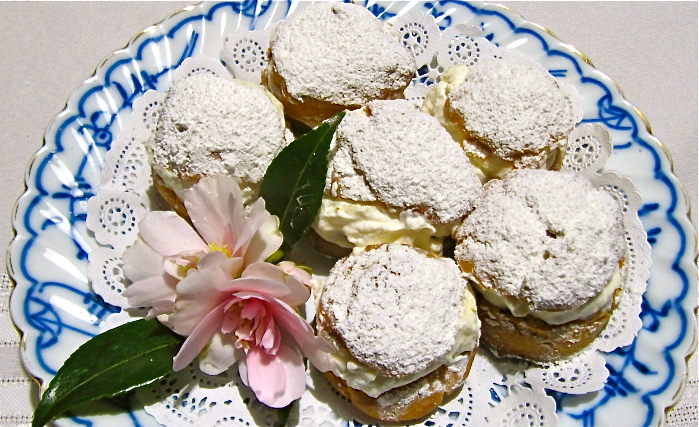 Cream puffs and eclairs aren't the first thing that comes to mind when we think of versatile desserts. But in reality they're wonderful edible containers that can be big, medium or small, round or elongated, and filled with all kinds of delicious options sweet or savory! Whipped cream? check. pastry cream? check. crab salad? You bet.
Making the pastry isn't difficult but there are some tricks that are really valuable to know and use for great results. I've compiled tips for perfect choux paste, and especially recommend it for anyone attempting a gluten-free version.
This recipe is specifically for making cream puffs, eclairs and profiteroles. And fillings can vary. Profiteroles are traditionally tiny cream puffs filled with vanilla ice cream and topped with chocolate sauce or syrup. But how about salted caramel or Turkish coffee ice cream and buttery rum-laced caramel syrup? What about cream puffs with a blend of whipped cream and lemon curd? You get to choose!
Print
Cream Puffs and Profiteroles
1 cup water
6 tablespoons (3/4 stick) unsalted butter, cut into little pieces
1–1/2 teaspoons sugar
1/4 teaspoon salt
1 cup unbleached all-purpose flour
1/2 teaspoon Rain's Choice ground Vanilla Bean Powder
4 large eggs, at room temperature
1 large egg yolk beaten with 2 teaspoons milk for the glaze
2 cups heavy, cream
1–1/2 teaspoons powdered sugar
1 teaspoon Rain's Choice pure Vanilla Extract
Additional powdered sugar for dusting tops of cream puffs
Instructions
Position a rack in the lower third of the oven and preheat to 450 degrees. If you have a pizza stone, put it on the rack to heat. Line a large baking sheet with parchment paper.
In a medium saucepan, bring the water, butter, sugar, and salt to a boil over medium heat, stirring often to make sure the butter is completely melted before the water boils. Remove from heat when water boils and add the flour all at once, beating well with a wooden spoon, and continue stirring until the paste forms a mass that pulls away from the sides of the pan. Return the pan to medium low heat and, using a the spoon, expose the paste to heat while constantly stretching and folding the paste for about 3 minutes. What you're doing here is drying the paste some so that it will rise well along with activating the gluten.
Remove from the heat. Transfer to a bowl for a stand mixer with paddle or a medium bowl and hand mixer. Let the dough rest for about 3 minutes to cool down slightly. On low speed, beat in the eggs one at a time and beat well until it is completely incorporated before adding the next egg. The dough will be stiff.
Transfer the dough to a pastry bag fitted with a 1/2-inch-wide plain tube. Pipe dough into 2-inch diameter mounds about 1-1/2 inches high and 2 inches apart on the baking sheet. You can also carefully spoon mounds of dough instead of using a pastry tube. Smooth the top and sides as much as possible but don't stress if the puffs aren't quite even and the same size.
Lightly brush the tops of the mounds with the egg glaze, tamping down pointed tips. Don't let the glaze drop onto the parchment; if it does, dab it off with a paper towel as it will harden during baking and the puffs won't fully expand.
Place the puffs in the oven onto the pizza stone if using, and immediately lower the oven temperature to 375 F. Bake until the puffs are golden brown, 25 to 30 minutes (or less if you've made little puffs). Remove the puffs from the oven and turn the oven off.
Using the tip of a small, sharp knife, pierce the side of each puff to release steam. Return the puffs to the oven for 5 minutes. Cool completely on the sheet before filling.
The puffs can be stored overnight in an airtight container or frozen for up to 3 months.
To reheat and crisp puffs, bake on a baking sheet in a preheated 300 degree oven until heated through, about 7 minutes for room-temperature puffs and 12 for frozen puffs. No need to thaw them first if they're frozen.
Beat the cream, powdered sugar and vanilla in a chilled bowl until very stiff.
Split each puff almost but not quite fully through the center of the puff. Spoon cream into the bottom half of the puffs, then place the tops over the cream. The filled puffs can be prepared up to 2 hours ahead, loosely covered with plastic wrap, and refrigerated.
When ready to serve, dust the puffs with powdered sugar pressed through a sieve.
You can do wonderful variations on this. If you want lemon cream puffs, use 1 cup whipping cream, 1 cup lemon curd, no additional sugar and 1 teaspoon vanilla. You can also blend raspberry jam into the whipping cream, pop a raspberry or strawberry slice or two on top of the cream in the puff or serve lightly mashed berries with a little sugar in a bowl along with the cream puffs for guests to add to their puffs.
If you have made profiteroles, allow the puffs to cool completely. Slightly soften the ice cream, the spoon in the ice cream. Place the profiteroles on a pan that will fit into your freezer.freeze. Cover the profiteroles with plastic wrap and Freeze until almost time to serve. Place on a serving platter or plate a few puffs on each plate. Top with chocolate or caramel syrup or dark or white chocolate sauce.
Latest posts by Patricia Rain
(see all)