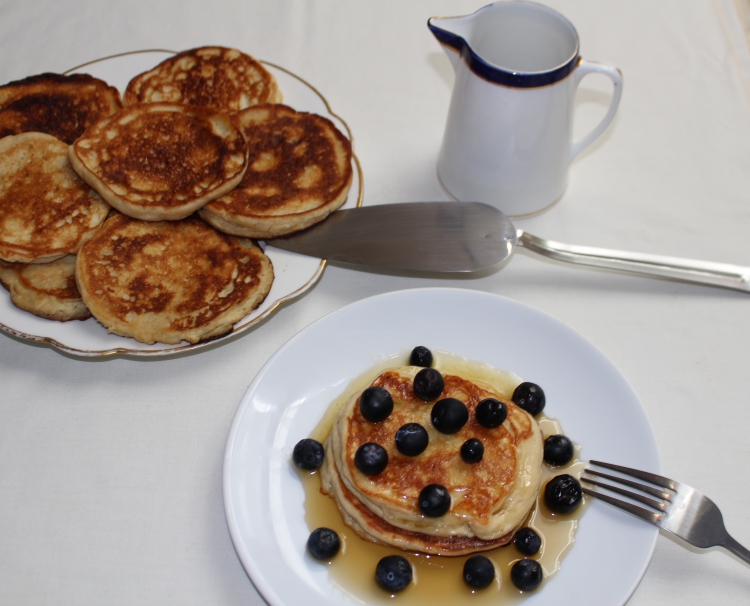 I've combined these two pancake recipes together as they're both unusually light pancakes as well as high protein. Not only are these pancakes totally delicious, they'll hold you to your next meal because they aren't just simple carbs. When my family visits they can count on these pancakes to hold my teen grandsons while they're on the Boardwalk (Santa Cruz's biggest draw for teens), until the next meal.
I couldn't decide which one I like better so you get two to choose from! I hope you'll enjoy them as much as I do. Be sure to check out the recipe for Maple-Vanilla Walnut Syrup below the second pancake recipe.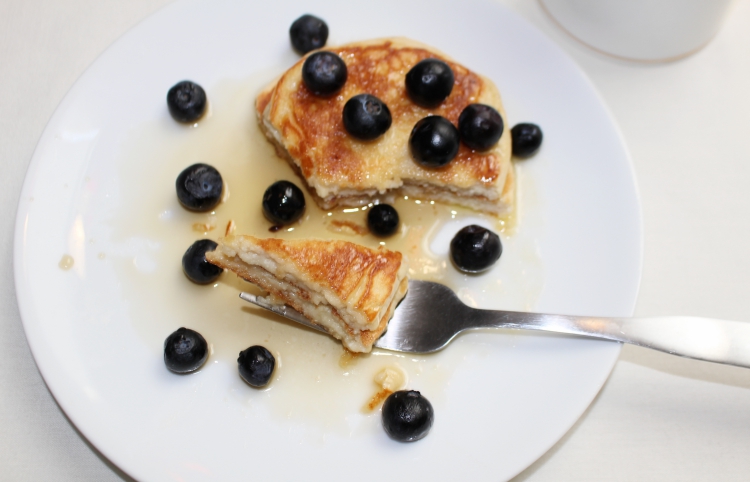 Print
Fluffy Ricotta Pancakes
3/4 – 1 cup ricotta cheese
1 cup flour
1/2 teaspoon baking powder
1 1/2 tablespoons sugar or other sweetener (if using a liquid sweetener, add a little extra flour)
1/8 teaspoon salt
3/4 – 1-1/4 cup milk, or non-dairy milk *
2 eggs, separated into yolks and whites
1 teaspoon Rain's Choice pure Vanilla Extract
Butter or coconut oil for the pan
Instructions
If the ricotta has a lot of liquid, set it in a fine mesh strainer to drain off the excess about 30 minutes before making the pancakes. If the ricotta is more dry and compact, skip this step.
Whisk together flour, baking powder, sugar, and salt in a small bowl. Combine ricotta, milk, egg yolks, and vanilla in a separate, larger mixing bowl. Add the dry ingredients to the ricotta and milk mixture, stirring gently until just combined.
Beat the egg whites with a handheld electric mixer until stiff (see Recipe Note). Stir a small scoop of the egg whites into the pancake batter to lighten the batter, then fold in the whites using a rubber spatula.
Heat a griddle or iron skillet over medium-high heat. Melt a small bit of butter (or coconut oil) in the pan, just enough to coat the surface. Use a 1/3-cup measure to pour batter onto the hot griddle. Cook the pancakes for about 3 or 4 minutes, until the undersides are golden and you see a few bubbles popping through the pancakes. Flip the pancakes and cook another 2 to 3 minutes, until golden. Repeat with the remaining pancakes.
Serve the pancakes immediately, with maple syrup, fruit jam, lemon curd, or powdered sugar.
Notes
* Add more milk based on the thickness of the Ricotta cheese you're using as it can vary from brand to brand.
Note: It's easiest to use a handheld mixer to beat the egg whites. If you only have a stand mixer, start on low speed and gradually increase to the highest speed as the whites start to form bubbles and thicken. You may need to stop the mixer partway through and stir the whites to make sure they are all getting incorporated.
Frequently I've made this recipe without whipping the egg whites and it comes out fine. Not quite as fluffy but delicious regardless.
Print
Cloud Cakes
Ingredients
2 large or extra large eggs
3 tablespoons whole wheat pastry flour or unbleached white flour
4–1/2 teaspoons light brown sugar
1/2 teaspoon baking soda
1/4 teaspoon salt
1 cup plain Greek yogurt
1 teaspoon vanilla extract
unsalted butter
Maple Walnut Syrup
Heat 1 cup natural maple syrup (B-grade has a richer flavor, but any grade will do) until warm. Add 2 teaspoons rum and 1 teaspoon pure vanilla extract and mix well. Add 1/4 cup chopped, toasted walnuts, and serve over pancakes.
Instructions
In a medium bowl, beat eggs and sugar until light and foamy. Add flour, baking soda and salt and mix until just blended. Add pure vanilla extract and yogurt and blend just until there are no big streaks. Allow mixture to rest at least 10 minutes before proceeding.
Heat griddle or heavy large skillet over medium heat. Grease with butter. Spoon 1 tablespoon of batter on griddle for each pancake. Cook until tops are bubbly, about 1 minute. Turn pancakes over and cook until second sides are golden, about 1 minute.
Transfer pancakes to an oven heated to 200 degrees, to keep warm. Repeat with remaining batter, adding additional butter as needed. Serve with Walnut Maple Syrup or jam.
Notes
A special tip for using vanilla: Place a vanilla bean split vertically in a bottle of pure maple syrup and allow it to sit two weeks before using. The flavor is incredible! You can continue to use the bean as it will infuse flavor for six months to a year, depending on how quickly you use up the syrup.
Look Delicious? Pin it for the world to see!
Latest posts by Patricia Rain
(see all)