Chocolate Oblivion Tart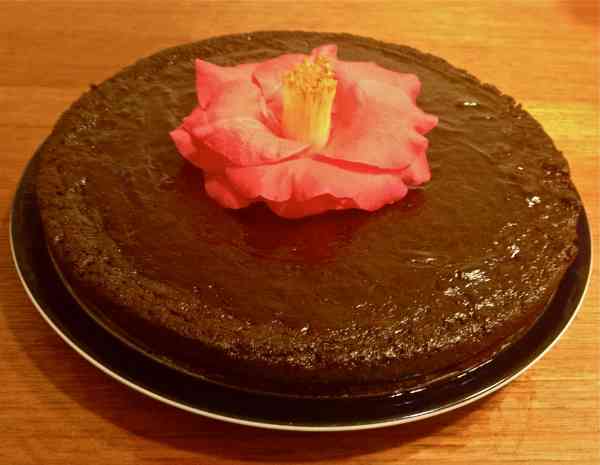 Long before the California food revolution began, my mother was given one of these dazzling tarts as a gift. It was a predecessor of the exceptional chocolate desserts that emerged in the 1980s. We were impressed by the simplicity of ingredients and the deep, rich, creaminess of the tart.
At some point in the 1990s, the recipe was featured in Gourmet magazine, complete with raspberry coulis and a glaze, both of which are optional. It became a regular in my repertoire for special events, and when I launched my online business I featured it in my chocolate section.
Thanks to one of those strange computer glitches, the recipe recently disappeared into cyberspace. Fortunately, I discovered that Rose Levy Beranbaum had the recipe in The Cake Bible. I have adapted her recipe to match more closely the one I used. I'm also adding a recipe for raspberry coulis as I personally like the refreshing, sweet-tart contrast of the berries and chocolate. And, for those of you who want the addition of a glaze, I've included that too.
As chocolate is very much the main attraction, please use the best chocolate you can afford. You will be glad you did.
Print
Chocolate Oblivion Tart
Tart
1 pound good quality bittersweet chocolate
1/2 pound (2 sticks) butter
1/3 cup granulated sugar
1 teaspoon Vanilla Bean Paste
6 large eggs
Chocolate Glaze
4 ounces bittersweet chocolate, finely chopped (about 3/4 cup)
3 tablespoons unsalted butter cut into small pieces
1 tablespoon whole milk or cream
2 teaspoons light corn syrup or agave
1/2 teaspoon Rain's Choice pure Vanilla Extract
Instructions
Tart
One 8-inch springform pan at least 2 1/2 inches high, buttered and bottom lined with buttered parchment or wax paper. Wrap the outside of the pan wrapped with a double layer of heavy-duly foil to prevent seepage. One 10-inch cake pan or roasting pan to serve as a water bath.
Preheat the oven to 425 degrees F.
In large metal bowl set over a pan of hot, not simmering, water (the bottom of the bowl should not touch the water) combine the chocolate and butter and let stand, stirring occasionally, until smooth and melted. Add vanilla.
In a large bowl set over a pan of simmering water heat the eggs, stirring constantly to prevent curdling, until just warm to the touch. Remove from the heat and beat, using the whisk beater, until triple in volume and soft peaks form when the beater is raised, about 5 minutes. Slowly add in sugar while beating.
Using a large wire whisk or rubber spatula, fold 1/2 the eggs into the chocolate mixture until almost incorporated. Fold in the remaining eggs until just blended and no streaks remain. Finish by using a rubber spatula to ensure that the heavier mixture at the bottom is incorporated. Scrape into the prepared pan and smooth with the spatula. Set the pan in the larger pan and surround it with 1 inch very hot water. Bake 5 minutes. Cover loosely with a piece of buttered foil and bake 10 minutes. The cake will appear very soft, which is fine.
Remove from the oven and cool on a rack 45 minutes. Cover with plastic wrap and refrigerate until very firm, about 3 hours.
Unmold: You will need a flat plate at least 8 inches in diameter, covered with plastic wrap as well as a serving plate. Wipe the sides of the pan with a hot, damp towel.
Run a thin metal spatula around the sides of the cake and release the sides of the springform pan. Place the plastic-wrapped plate on top and invert. Wipe the bottom of the pan with a hot, damp towel. Remove the bottom of the pan and the parchment. Invert onto the serving plate.
You can make this tart a few days ahead and refrigerate it until serving. Do not freeze the tart as freezing changes the texture.
Serve at room temperature. Cut into thin slices with a thin sharp knife that has been dipped in hot water. If you use raspberry coulis, either add a spoonful to each plate and set the tart slice on top, or pass the coulis in a small pitcher.
Chocolate glaze
Melt chocolate and butter in a bowl set over a pan of hot water, stirring until smooth. Add milk, corn syrup and vanilla. When cool but not cold, pour over tart, spreading with a spatula or allow it to drizzle down the sides of the tart.
Here is the link for Raspberry Coulis. Another option is to serve the tart with Creme Anglaise, also known as English Custard though it actually has the consistency of a sauce. You can make a puddle of either sauce on each dessert plate and place the slice of Chocolate Oblivion on top, or you can serve the sauce in a small pitcher for diners to add to their plates.
Look Delicious?
Pin it for the world to see!
Latest posts by Patricia Rain
(see all)
Tags: Chocolate Oblivion Tart, Rich Chocolate Dessert
Patricia Rain
Patricia Rain
is an author, educator, culinary historian, and owner of The Vanilla Company (www.vanillaqueen.com), a socially conscious, product-driven information and education site dedicated to the promotion of pure, natural vanilla, and the support of vanilla farmers worldwide. She also does culinary presentations for food professionals, cooking schools, trade shows, food fairs, and private groups, and is a regular radio and TV guest.