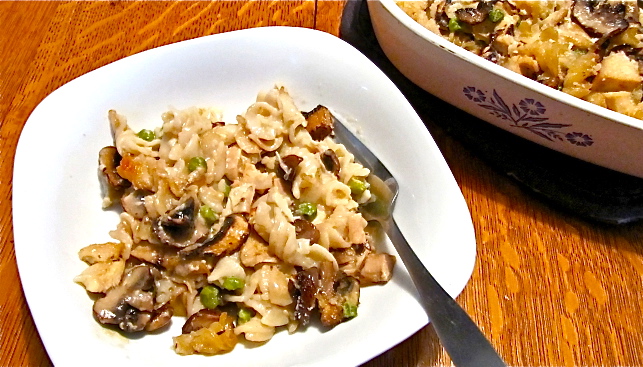 Food history is always fascinating. It's like an archeology dig that you can then eat. My mother made Chicken Tetrazzini for dinner when I was growing up and it was a favorite of mine because it was the right kind of cozy on a cold, wet winter night. It's an ideal recipe to use up leftover roasted or rotisserie chicken (or turkey), which was precisely why I just made it again for the first time in ages. It is also an incredibly wet, dreary February so it served as a useful way to warm my body and spirit as well as warming my kitchen and office thanks to the oven.
I became curious about the origin of Tetrazzini as it isn't something you'd eat in Italy and the name Tetrazzini didn't offer any clues, so I visited Wikipedia. It is indeed an American dish named for an Italian opera star, Luisa Tettrazini, famous at the beginning of the 20th century. It was widely believed to have been created by Louis Abargast in 1908 at the Palace Hotel in San Francisco. Other sources claim it came from the Knickerbocker Hotel in New York in 1908.
The original recipe resembles the recipe I'm sharing here though it was richer, typical of the era. It was made with chopped chicken or canned tuna in a cream sauce with mushrooms, pasta (spaghetti), sherry and Parmesan cheese (though some recipes listed other hard cheeses), then topped with almonds and bread crumbs, and browned in the oven.
My mother's version had evolved some by then and wasn't as rich as the original and used short pasta instead of spaghetti. Of course I've added my own spin on it by adding peas and suggesting baby spinach as well, though that's optional (but a great way to add greens). You can also make it ahead and freeze it for up to a month before baking and serving, making it an affordable week night dish that you can make on the weekend about 40 minutes from start to finish. I froze some of my leftovers for a day like today where the rain has been coming down in a heavy, steady downpour.
[An amusing aside. I have been reluctant to take photos with recipes like this one in my 1962 Corning ware casserole dish because it seemed so, um, dated. Then it occurred to me that if David Lebovitz could serve recipes in his vintage finds from around France, I could certainly take pictures in this classic casserole dish that I received as a wedding gift. Just another reminder that, like the dish, I'm a bit of a relic.]
Print
Chicken Tetrazzini
10 ounces mushrooms, sliced thin (about 4 cups)
5 tablespoons unsalted butter
1/4 cup unbleached all-purpose flour
1–3/4 cups full-fat milk
2 cups chicken broth
3/4 teaspoon Rain's Choice pure Vanilla Extract
1/4 cup dry white wine or sherry
1 Package short pasta such as fusilli
3 cups coarsely chopped cooked chicken or turkey
1 cup cooked or frozen peas
1 cup freshly grated Parmesan cheese
Salt and pepper to taste
Instructions
In a large heavy saucepan, cook the mushrooms in the butter over moderate heat, stirring, until most of the liquid they give off has evaporated. Remove mushrooms and set aside in a small bowl. Add another tablespoon of butter if needed, then stir in the flour, and cook the mixture over low heat, stirring, for 3 minutes. Add the milk, broth, and wine in a stream, turn up the heat, and bring the mixture to a boil, stirring constantly. Lower the heat and simmer the sauce for 5 minutes. Add vanilla, stir well, and turn off heat.
In the meantime, cook the pasta in salted water until it is al dente and drain it well.
In a large bowl combine the pasta, mushrooms, sauce, chicken, peas, and salt and pepper to taste, and mix well. Stir in 1/2 cup of the Parmesan, and transfer the mixture to a buttered shallow 3-quart casserole. Sprinkle top with balance of Parmesan cheese.
Notes
The Tetrazzini may be prepared up to this point 1 month in advance and kept frozen, covered. Bake the Tetrazzini in the middle of a preheated 375°F oven for 30 to 40 minutes, or until it is bubbling and the top is golden.
Latest posts by Patricia Rain
(see all)