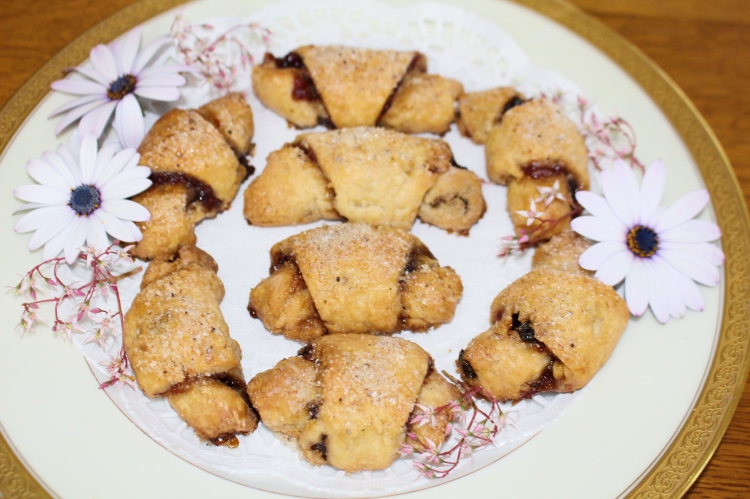 Melissa Clark wrote about Cherry Rugelach in the NY Times saying, that bakers should have as much fun making this recipe as eating them, and that they are "sturdy and pretty" so ideal for giving as gifts, holidays or not. Being the Vanilla Queen, I tampered with the recipe right away by adding a bit more vanilla, because we all know that Montmorency cherries always go better with extra vanilla!
I also request leniency regarding the cookies appearance in the photos above and below. I haven't made Rugelach in years though my pie crust recipe is almost identical to the pastry dough for Rugelach. The small detail I managed to forget, is that I've always made Rugelach with regular unbleached flour, not gluten-free flour.
Unfortunately, I didn't have as much fun making these otherwise really delicious cookies as Melissa had hoped. The good news is that they really are delicious and in all honesty, cookies without gluten are more tender that cookies with gluten. If you use all-purpose flour you'll have no problem making lovely crescents filled with jam, cherries, walnuts and spices. One last caveat: Rugelach are easier to make when your kitchen is on the cool side.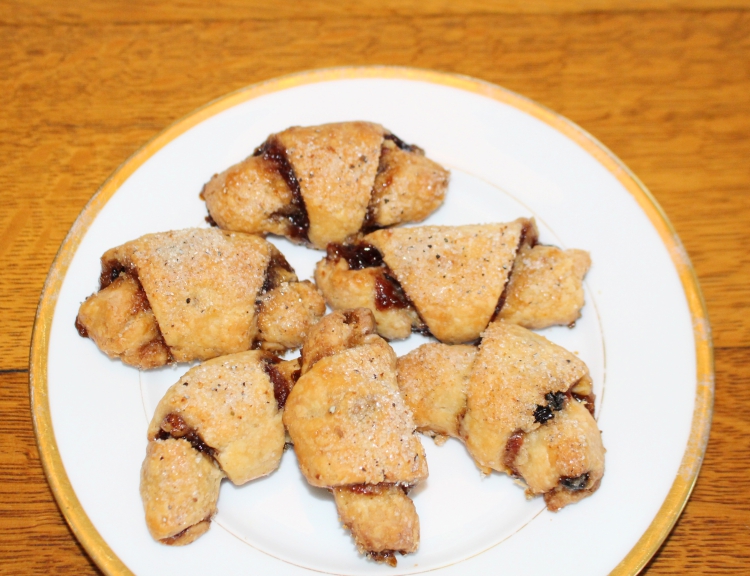 Print
Cherry-Vanilla Rugelach
Delicious cookies with a slightly tangy-tart finish from dried Montmorency cherries.
For the Dough:
1 8-oz package cream cheese, softened
2 sticks unsalted butter, softened
1/4 cup granulated sugar
2 teaspoons Rain's Choice vanilla extract
2 cups all-purpose flour, plus more for rolling
1/2 teaspoon fine sea salt
Milk, for brushing
For the Filling:
1/2 cup granulated sugar
1/4 cup light brown sugar
1–3/4 teaspoons ground cardamom
1 teaspoon ground Ceylon Cinnamon*
3/4 cup walnuts, coarsely chopped
1/2 cup dried cherries, coarsely chopped (I suggest dried tart cherries such as Montmorency)
1/2 cup cherry preserves or jam
For the Topping:
1/4 cup granulated sugar, 2 tablespoons brown sugar, 1/4 teaspoon cardamom, cinnamon, walnuts and dried cherries.
Instructions
Using a handheld mixer or stand mixer fitted with a paddle, beat cream cheese and butter on medium until smooth. Beat in sugar and vanilla. Reduce speed to low. Gradually add flour and salt until just incorporated. Scrape dough onto plastic wrap and form a ball. Divide dough into 4 portions. Wrap each in plastic wrap. Refrigerate 2 hours or up to 3 days.
When ready to bake, combine in a bowl 1/4 cup granulated sugar plus 2 tablespoons brown sugar, 1/4 teaspoon cardamom, cinnamon, walnuts and dried cherries. Stir until well mixed.
Remove dough from refrigerator. Let sit at room temperature for 5 to 10 minutes, until malleable. Meanwhile, line four baking sheets with parchment paper.
On a lightly floured work surface, roll out each dough portion onto a 9-inch circle about 1/8 thick. Rotate dough while rolling so it doesn't stick. With the back of a spoon, spread 2 tablespoons jam on each dough circle. Sprinkle about ½ cup dried cherry-nut mixture over jam. Using your hands, press mixture firmly into dough.
With a sharp knife, cut each circle like a pie, into 12 triangles. With a thin knife or spatula, loosen triangles from work surface. Starting at wide end of triangle, roll up each piece and bend ends to form a slight crescent shape.
Place Rugelach, narrow tips tucked beneath, on baking sheets, about 1-1/2 inches apart. Refrigerate, lightly covered with plastic wrap, for at least 30 minutes to help them keep their shape.
Heat oven to 350. In a small bowl, stir together remaining 2 tablespoons granulated sugar and 1 teaspoon cardamom. Brush Rugelach with milk. Sprinkle cardamom sugar on top.
Bake until lightly browned, 15 – 20 minutes. Rotate cookie sheets halfway through. Transfer sheets to a wire rack to cool. Makes four dozen.
Notes
*Note: If using Chinese, Vietnamese or Indonesian cinnamon, use 1/2 teaspoon.
Latest posts by Patricia Rain
(see all)