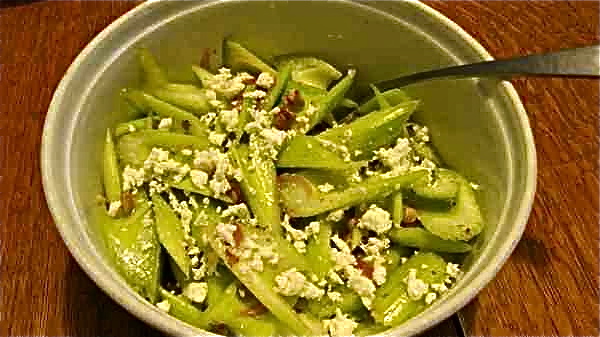 Summer has arrived, which translates to grilling, barbecue and outdoor parties and activities. In other words, keep the food part quick and simple. That's precisely what this salad is: Simple, crunchy, absolutely delicious.
Celery has a number of major health benefits, it's low calorie, and combined with toasted walnuts, red onion or shallots and an oil and lemon vinaigrette with just a drop or two of vanilla, it's an easy, light salad.
Keep it simply celery or add sliced fresh fennel for delicate licorice notes and thin slices of red onion for a flavor pop. Add fresh tangerine pieces, strawberry halves or even watermelon cubes for a refreshingly sweet addition. I like sheep's milk feta for the cheese as it's mild and creamy. You can use any feta, blue cheese, or even shaved Parmesan cheese if you want, or skip the cheese if you prefer. A very versatile, crunchy side dish to use with just about anything.
Print
Celery Walnut Salad
4 – 5 stalks of celery, sliced bite-size on the diagonal, strings removed if necessary
1/4 cup thin slices of red onion or 2 scallions sliced thinly
1/4 cup rough-chopped walnuts, lightly toasted
1/4 cup sheep's milk or other feta cheese
Lemon Vinaigrette
1/3 cup walnut oil or light olive oil
Juice of 1 small lemon or to taste
Sea salt and freshly ground pepper to taste
3 drops Rain's Choice pure Vanilla Extract
Instructions
Place salad ingredients in a medium serving bowl. Mix dressing in a cup or jar and whisk. Taste and add more lemon, oil or seasonings to taste. Whisk again until well-emulsified. Pour over salad.
Notes
This salad can be made ahead.
Look Delicious? Pin it for the world to see!
Latest posts by Patricia Rain
(see all)