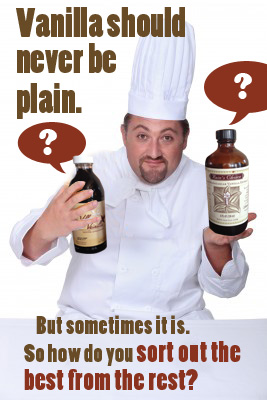 Life can certainly get complicated as new products flood the market and old products get rebranded. There are actually five different types of vanilla in the marketplace right now and we're not talking five different species here. We're talking labels and what's inside the bottles. As I get asked about this frequently, I decided to write an article specifically addressing what's in the bottle and why it's labeled the way it is. We'll start with pure vanilla extract.
Pure Vanilla Extract
There is a Standard of Identity for vanilla extract in the United States. To be labeled vanilla extract, a gallon measure must contain 13.35% vanilla bean extractives (10-ounces of moisture-free solids), 35% alcohol, and the balance in distilled water. What is not listed in the Standard of Identity is sugar, corn syrup, caramel color or any other additives. Some companies include one or more of these ingredients on their labels, but most do not. The same is true with alcohol. Grain alcohol is the most commonly used alcohol but sugarcane alcohol is also used. Sugar or corn syrup are often used to mask the harsh notes of alcohol or to make the extract smell and taste better if the quality of the beans used were not good quality.