In addition to the more traditional vanilla beans and extracts, there are newer alternatives for cooking, baking and flavoring beverages. Ground vanilla beans (also called ground vanilla powder), vanilla powder and vanilla paste are flavorful, useful options. Read on to learn more.
Vanilla Powder
There are several types of vanilla powders commercially available. Some are made from sucrose that has been ribbon-sprayed with vanilla extract, and some are a dextrose-vanilla extract mix. They work well in beverages if you want a slightly sweet product that dissolves easily. You can also mix them into powdered or granulated sugar for a vanilla-flavored sugar or use vanilla powder in hot chocolate mix or making packaged cake, pancake or biscuit mixes. Note: Most of the vanilla powders from Europe are actually synthetic. Check the ingredients list to see if it's natural or not. Some may also contain coumarin (also written as "tonka"). Avoid anything with coumarin.
Ground Vanilla Bean (Powder)
Vanilla beans ground to a fine powder are sometimes confused with vanilla powder. Freshly ground vanilla beans are exquisite in food. As there is no alcohol carrier, you won't lose flavor when you cook or bake with ground beans. As a result, you can use about a third the amount of beans as extract. You can use ground beans in mixes in the same way you use the vanilla powder. The difference is that it won't dissolve in the same way. You will also need to add sugar or stevia for sweetening. Ground vanilla beans are sometimes used in commercial and industrial products. Often the ground powder from the extraction process is used in vanilla bean ice cream. Although the used ground beans have very little flavor, the little specks give the illusion of vanilla seeds.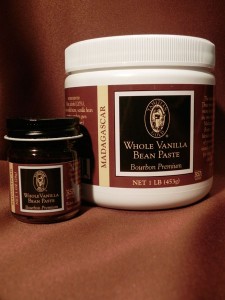 Vanilla Paste
Vanilla paste is a blend of concentrated vanilla extract and ground vanilla bean blend. Some companies use corn syrup or sugar in this product; others don't. It is very useful for preparing cream desserts such as Creme Brulee or custard, for baking when you want the look of seeds along with a full-bodied flavor, and for chocolate making. You can substitute it for extract or ground vanilla beans in baking. Either adjust the amount of paste you use or use it one-on-one if you want an intense vanilla flavor.
Note: Vanilla paste is actually a thick liquid and not paste-like in texture.
Rain's Choice vanilla powder and Rain's Choice ground vanilla beans store well in a cool dark place. They will keep their flavor well for at least six months.
Rain's Choice vanilla paste contains a triple-fold vanilla extract and freshly ground vanilla beans. Xanthum gum is used as the binder. It contains no sugar, corn syrup or other additives. Once it is opened, store in the refrigerator to keep it fresh.
When you purchase pure vanilla extracts or other products from The Vanilla Company, you are helping us to continue the work we do with farmers worldwide. We truly appreciate your business!
Latest posts by Patricia Rain
(see all)