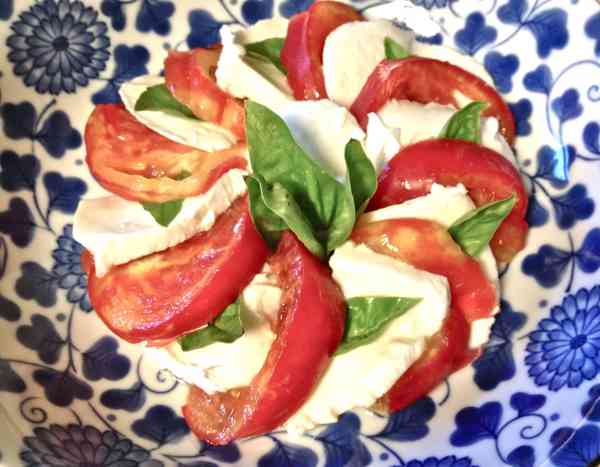 The summer tomatoes are in – the small, intensely flavored dry-farmed ones, heirlooms of all sizes, colors and stripes and the tiny little cherry tomatoes— all soooo delicious! It's hard to beat a combination of really ripe tomatoes, fresh, soft mozzarella, lots of basil and maybe a bed of crispy Romaine or tender butter lettuces to soak up the juices. Simple and delicious.
That said I've had some pretty mediocre Caprese salads with less-than-ripe tomatoes and rubbery, flavorless mozzarella! How about you?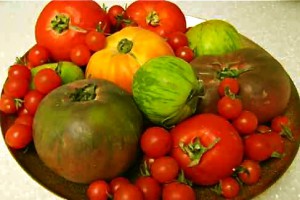 It's all about the right ingredients. For starters, get tomatoes from farmers markets or roadside stands, or grow them yourself. Most store-bought tomatoes just can't compete.
The mozzarella must be fresh. I've found that Bel Gioso is a good brand if you can find it. The Mozzarella Company, owned by Paula Lambert in Austin, Texas has really good cow's milk mozzarella. If you live in an area where you can't get artisan cheeses, her company ships cheese around the US. If you're up for it, making mozzarella isn't difficult, but you'll want top-quality milk and a class, online or otherwise, before trying your hand at it.
My personal favorite is Bufala mozzarella. Made from domestic water buffalo milk, it was traditionally made in Compania in Southern Italy. In Italy, Mozzarella di bufala is manufactured under strict regulations. Buffalo mozzarella coming from the Campania region bears the "Mozzarella di Bufala Campana" trademark and DOC status granted in 1993. Fortunately for us devotees, it's also produced in the US, Argentina,and a few additional countries.
Bufala Mozzarella is delicate and tender with a subtle tart flavor that enhances the tomatoes. This is what the "Ovaline" mozzarella looks like. Small like eggs, they can be sliced or left whole. This particular brand is BUF and is made in the foothills of the Andes. Check to see what's available in specialty food markets in your area and experiment for the brand you like best.
Water buffalo, goat and sheep's milk cheeses are much more digestible than cow's milk, and softer cheeses are more digestible than hard cheeses. If you have a reaction to cow's milk, try cheese from sheep or buffalo. Also, if casein is a problem, look for cow's milk cheese made with type-2 casein. Most European cheese is made from type-2 casein, whereas most American cheese is made with type-1 casein. Jersey Asian and African cows produce type-2 casein.
The tomatoes in this picture are dry-farmed. Smaller than most heirloom and standard tomatoes, they are watered at the time of planting but not afterwards. The roots go deep into the soil and the flavor is intense and wonderful! Mix them with some heirloom tomatoes for different colors, acidity and flavors.
Just as we stray from the traditional ingredients in Caesar salads, adding good olives, cannellini beans, baby green beans, cucumbers (or both), and fresh albacore or tuna packed in oil transforms this iconic salad into an entree. The olives in this photo are pitted baby Nicoise olives, salty and tangy, and castelvetrano, mild ripe green olives that offer a nice color and texture contrast. It's kind of a hybrid salad – French Nicoise meets Italian Caprese creating a perfect warm evening feast!
As far as mozzarella is concerned, you can purchase large balls or the smaller egg-sized balls called ovalini. Just slice or cut in half, depending on the size you choose.
As a side salad, you will want 1 or 2 tomatoes per person, based on the size of the tomatoes and what else you're serving. I like adding the tiny tomatoes for the difference in appearance and flavor and it looks great on a platter. Make sure you have lots of fresh basil and, if you want, add some thin slices of red onion for the crunch and sweet bite.
As an entrée, create a big platter for a buffet or plate the salads individually.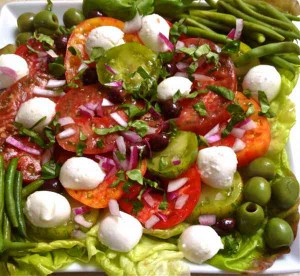 Dressing
It can be as simple as a fruity olive oil and some salt and pepper or add some aged balsamic for more acidity. Here's my personal favorite dressing. It's simple but works very well.
Print
Caprese Salad
1/4 cup fruity extra-virgin olive oil or a blend of olive oil and a mild vegetable oil like sunflower, grape seed or walnut oil.
2 Tablespoons lemon juice
1 – 2 teaspoons red wine vinegar
1/2 teaspoon honey
1/2 teaspoon Rain's Choice pure Vanilla Extract
Sea salt and freshly ground pepper to taste.
Instructions
Put all ingredients into a jar or small bowl. Shake or whisk ingredients until well emulsified. Add dressing just before serving. This recipe can be doubled.
Look Delicious? Pin it for the world to see!
Latest posts by Patricia Rain
(see all)