It's cold outside and I'm thinking about cozy soups, fragrant stews and other warming foods that speak of waning sunshine and chilly nights. Especially when I was fighting with the wind while raking leaves. However, as I cruised the produce section I spotted bright yellow Ataulfo mangoes, one of the sweetest and most flavorful varieties that comes into our markets here in the States. What to do? I can't imagine mango soup and stews call for root vegetables — parsnips and potatoes, carrots and onions. Then I remembered a wonderful dish I created when I worked with New Leaf markets. A black peppered, spicy mango chicken saute with cashews. Served over a rice pilaf, I could have the best of both worlds — a warming dish but with tropical overtones. I bought the mangoes!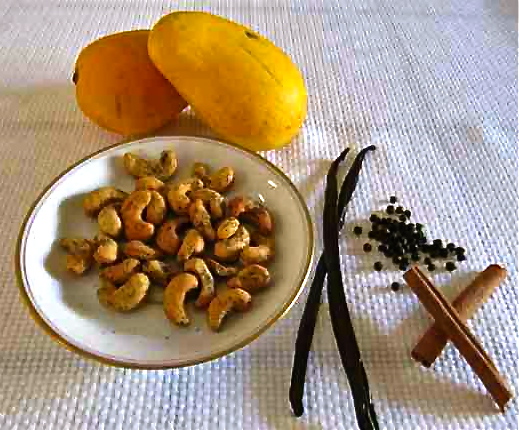 Did you know that mangoes are the most eaten fruit worldwide? Having lived in the tropics and, being passionate about fruit, my biggest regret is being in the tropics when it isn't mango season!
A head's up. I really recommend you find the Autulfo mangoes for this dish (aka Manila and Champagne) as they're really the best. If you can't find them but there are Hawaiian papayas, substitute them instead. The plus here is that some of the tropical fruits are in season during our cold months, which is a nice way to get through until our summer fruits arrive.
So here's the recipe. If you can't find fresh basil, use dried or substitute cilantro if you'd like. Add more cayenne or throw in some chilies if you're so inclined. And, if you think like me, ignore the bluster, if indeed you're reading this blog in late autumn or early spring, suspend belief, and put on your favorite Hawaiian slack key or Cuban boleros, crank up the heat, and be in the tropics for a luscious hour or two!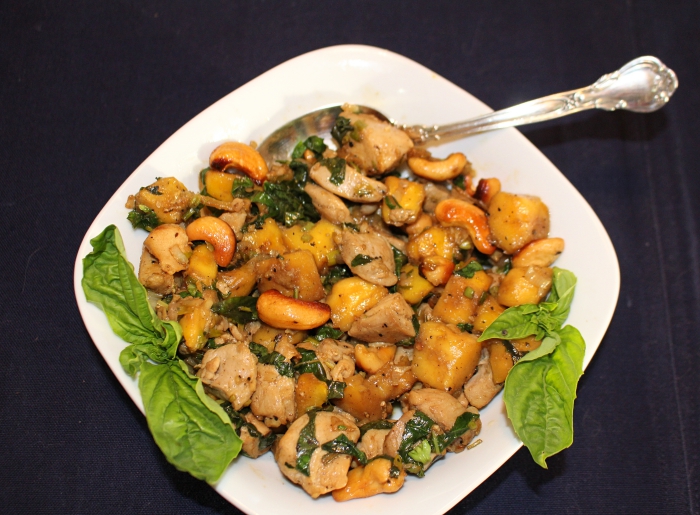 Print
Black Pepper and Vanilla Spiced Chicken Breasts With Mango and Cashews
1 tablespoon Rain's Choice Vanilla Sugar or 1 tablespoon sugar and 1/2 teaspoon Rain's Choice ground Vanilla Bean Powder or 1 teaspoon Rain's Choice pure Vanilla Extract
1–1/2 teaspoons black pepper, divided
1/2 teaspoon red pepper flakes or cayenne, optional or to taste
3/4 teaspoon cinnamon
4 tablespoons coconut oil or olive oil, divided
2/3 cup salted cashews
2 pounds boneless, skinless chicken breast, thighs or a blend, cut into 2-inch chunks
1 teaspoon sea salt
1/2 cup thinly sliced scallions
2 tablespoons chopped basil stems
4 garlic cloves, minced
3 tablespoons Marsala wine
2 medium Ataulfo mangoes or 1 large Kent mango, peeled and cut into chunks
2 teaspoons cider vinegar, to taste
1/2 teaspoon Rain's Choice pure Vanilla Extract (1 teaspoon if not using spiced vanilla sugar)
1/2 cup chopped fresh basil leaves, lightly chopped
Instructions
In a small bowl, stir together the sugar (or vanilla bean powder), 1/2 teaspoon black pepper and cayenne. Heat 1 tablespoon oil in a large skillet over medium-high heat. Add the cashews and sugar-spice mixture to the skillet; cook, stirring, until nuts are golden, 2-3 minutes. Scrape nuts and spices into a bowl and add extract if substituting it for vanilla powder or vanilla sugar.
Wipe out skillet with a paper towel. Season chicken with salt and remaining 1teaspoon pepper. Return skillet to medium-high heat and add the remaining 4 tablespoons oil. Add scallions and basil stems; cook, stirring, for 1 minute. Add garlic and chicken. Reduce heat and cook, stirring occasionally, until chicken is golden and cooked through, about 12 minutes. Pour in the Marsala and cook, scraping up any browned bits from the bottom of the pan, until the wine evaporates, about 1 minute.
Remove pan from heat and immediately add nuts, mango, vinegar, vanilla and basil leaves. Taste, and adjust seasonings.
Notes
If you don't have Marsala, don't feel obliged to rush out to purchase a bottle of it. Substitute white wine or broth. I like the unique flavor of Marsala, but the dish is fine without it. Also, if the only choice in mangoes is Tommy Atkins, make something else instead of this dish. Tommy Atkins mangoes are very fibrous and not particularly tasty.
Look Delicious?
Pin it for the world to see!
Latest posts by Patricia Rain
(see all)