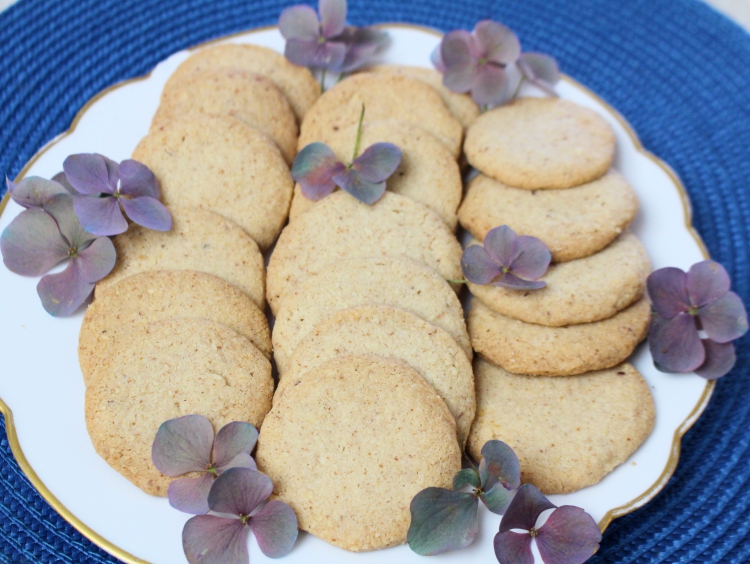 Courtesy of Alice Medrich, Chewy Gooey Crispy Crunchy Melt-In-Your-Mouth Cookies
Alice Medrich is perhaps best known as the woman who introduced the mouth-melting traditional chocolate truffles from Paris to the American home cooks and bakers. She also had Cocolat, an exceptional bakery in Berkeley for a number of years, and has since written numerous dessert cookbooks including the aforementioned Chewy, Gooey, Crispy, Crunchy, Melt-in-Your Mouth Cookies. She is truly a California icon for her culinary contributions.
Sables are the French version of shortbread. Made with lots of butter and a very modest about of sugar, these Sables have ground almonds as part of the flour. It's worth grinding the almonds yourself, most especially if you have a food processor, as freshly ground nuts are worlds better. And to that end, feel free to use whatever nuts you wish. Pecans or walnuts, for instance. And, if you are making these cookies for a very special event, it is well worth investing in European butter such as Kerrygold, as butter is key to both Sables and Shortbread. These cookies are a crisp, slightly crumbly and very buttery and delicately sweet finale to a luncheon, afternoon tea party, or with a glass of milk anytime.
Print
Almond Sables
1/2 cup (3.5 ounces) granulated sugar
Rounded 1/4 teaspoon salt
2/3 cup (3.33 ounces) whole almonds
1/2 pound (2 sticks) unsalted butter, slightly softened
2 teaspoons Rain's Choice pure Vanilla Extract
1/8 teaspoon Almond Extract
2 cups (9 ounces) unbleached all-purpose flour
1/3 cup (2.33 ounces) Rain's Choice Vanilla Sugar (optional)
Instructions
Pulse the sugar and salt in a food processor until the sugar is fine and powdery. Add the almonds and pulse until they are finely ground. Add the butter in large chunks, along with the vanilla and almond extracts. Pulse until the butter is smooth. Add the flour and pulse until a soft dough begins to form around the blade. Transfer the dough to a large bowl and knead it briefly to make sure it is mixed evenly.
Form a log about 12 inches long and 1-3/4 inches in diameter. Wrap the log in wax paper or foil. Refrigerate at least 2 hours and preferably overnight.
Preheat the oven to 350 degrees F. Position a rack in the center of the oven.
Spread the coarse sugar on a sheet of wax paper or a flat dish. Roll the dough log in the sugar, pressing so that the sugar adheres. Cut the log into slices 1/4-inch thick and place them at least 1 inch apart on the ungreased or lined cookie sheets. Bake for 12 to 15 minutes, until the edges are golden brown, rotating the pan from front to back halfway through the baking time to ensure even baking. For lined pans, set the pans or just the liners on racks to cool. For unlined pans, let the cookies set on the pan for a minute or two before transferring them to a rack with a metal spatula. Cool the cookies completely before storing. May be kept in an airtight container for up to 1 month.
Notes
Whole almonds with skins work perfectly. They taste as good or better than store-bought blanched almond meal, and it's simple to pulverize them as the cookies are made in the processor anyway. You may substitute any nut for the almonds. If you have a small food processor or use a blender such as a Vitamix, grind the sugar, almonds and butter together, then transfer to a large bowl and finish the cookies with a hand- or bowl-mixer.
Look Delicious? Pin it for the world to see!
Latest posts by Patricia Rain
(see all)