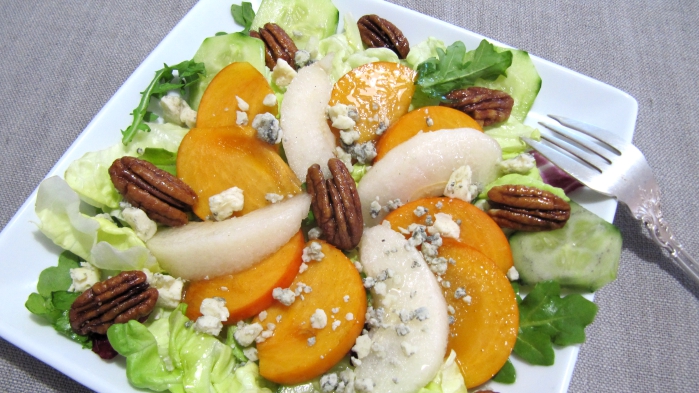 When the weather outside is cold and damp, salad isn't the first thing that comes to my mind when I'm planning a meal. That said, salads are a refreshing contrast to a rich, heavy stew, a hearty grain dish, or roasted meat. I like the subtle sweetness and crispness of Fuyu persimmons and Japanese pears, but if neither is available or you prefer, substitute firm, crisp apples and grapes. The salty, sharp character of blue cheese balances the sweetness of the fruit. A good appetite stimulator! And trust me on the vanilla. It always brightens salads.
The nicest thing about salads is that you can be creative. I've plated two versions of this salad. You can make individual, composed salads, or you can fill a large platter with a giant composed salad for a crowd, or divide ingredient options in bowls so everyone can create their own.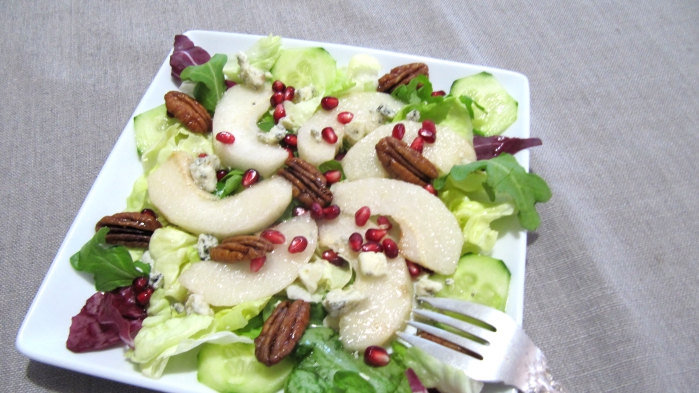 Print
Persimmon and Pear Salad with Blue Cheese and Pecans
4 cups mixed greens, spinach or arugula
2 – 3 ripe Fuyu persimmons, or Japanese pears, cored and cut into thin slices*
1 cup thinly sliced cucumber, ideally English or Persian cucumber
Good quality blue cheese, crumbled (feel free to substitute Gorgonzola, Feta, or Ricotta Salata)
2/3 – 3/4 cup toasted or candied pecan halves or pieces (or substitute hazelnuts)
Pomegranate seeds (optional)
Dressing
1/3 cup light olive or nut oil
1/3 cup seasoned rice vinegar plus a pinch of Rain's Choice Vanilla Sugar or 1/4 cup fruit vinegar and 1 teaspoon Rain's Choice Vanilla Sugar
1/2 teaspoon Rain's Choice pure Vanilla Extract or to taste
salt and pepper to taste
Instructions
Set out salad plates and divide the greens as the base. Decoratively arrange persimmon and other fruit and cucumber slices on the plates. Sprinkle cheese over the salad, then pecans, and finally pomegranate seeds if using. Mix together dressing ingredients, adjust sugar and oil/vinegar ratio to taste, and drizzle dressing over all or serve it on the side. Salads can be assembled in advance and stored in refrigerator.
Notes
Feel free to use both fruits or use grapes for one of the fruits.
Look Delicious?
Pin it for the world to see!
Latest posts by Patricia Rain
(see all)