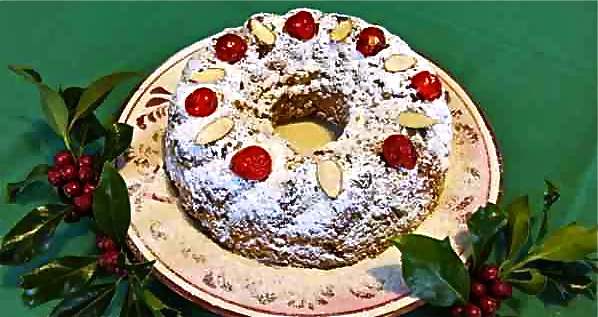 Viennese Pannetone, is a molded cake filled with currants and only loosely similar to the Italian pannetone, which is a yeasted bread. What I love about this recipe is that it's easy to make and it makes a lovely holiday gift for friends and family. It adds festive color and flavor to holiday feasts, afternoon tea and brunches. If you are making these cakes ahead, they do well with a little Kirschwasser (unsweetened cherry brandy), Grand Marnier or brandy sprinkled on them when they come out of the oven. Wrap them well and store in the refrigerator. Flavors develop nicely within a few days.
Print
Viennese Holiday Pannetone
2–1/2 sticks (10 ounces) unsalted butter
6 large eggs, separated
2 cups sugar (divided use)
2 teaspoons Rain's Choice pure Vanilla Extract
4 cups unbleached flour. sifted
2 teaspoons baking powder.
2 teaspoons grated lemon peel
8 ounces condensed milk
Sliced almonds and glaceed cherries
Powdered sugar
Kirschwasser (optional)
Instructions
Butter and flour 3 small or 2 larger bundt pans. In each wedge in the pans place a cherry or almond slice.
Cream butter, egg yolks and 2 cups sugar less 2 tablespoons until smooth and light lemon color. Add condensed milk, lemon zest and vanilla and blend well.
Sift flour and baking powder together. Add currants and mix lightly to blend. Set aside.
Using a whisk attachment, whip egg whites. When they are still soft but blended, slowly add in the 2 tablespoons of sugar. Whip until the whites have firm, but not dry peaks.
Fold about 1/4 of the batter into the egg whites and blend as carefully as possible. Now blend the egg/batter mixture into the balance of the batter, blending until there are no more streaks.
Fold in flour mixture as lightly as possible. Batter will be thick. Spoon in to pans. Using a flat spatula or knife, even out the batter.
Bake at 350 degrees for 20 minutes, then reduce heat to 300 and bake 30 more minutes or until cakes spring back when touched. If you are using two pans instead of three, add 10 minutes at 350 and 5 -10 minutes at 300 degrees.
Cool on racks for 5 – 10 minutes. You can then invert and remove onto plates or, as soon as cakes are on racks, carefully poke holes in cakes and sprinkle Kirschwasser or another favorite liqueur onto cakes, and then remove cakes from pans.
When the cakes are completely cool, dust with powdered sugar.
Notes
Cakes will keep well for days in the refrigerator and can be frozen for six to eight weeks.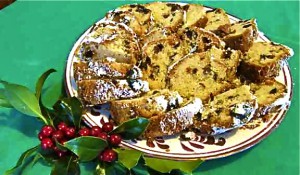 Look Delicious?
Pin it for the world to see!
Latest posts by Patricia Rain
(see all)