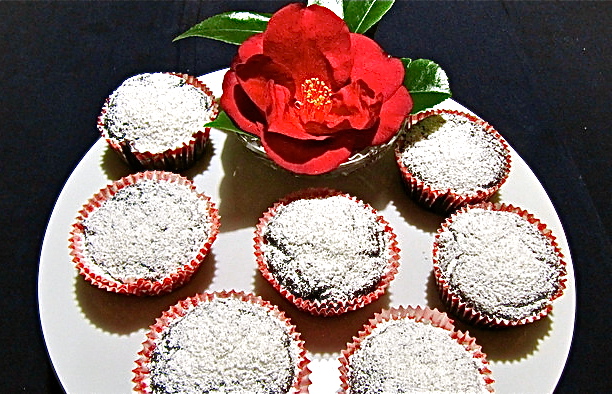 Although I'm not vegan, I have dear friends who are. I'm also always looking for recipes that can accommodate family and friends with food allergies or food intolerance issues. When I read on food 52 about Joanne Chang's cupcakes, I saw a winner. Joanne, who owns Flour Bakery in Boston, has created a recipe that is moist, deeply flavorful, and fully satisfies the craving for chocolate and the desire for a rich, moist cake or cupcake — vegan or otherwise!
I have made a few changes in this recipe — nothing dramatic, but different enough to reflect my personal taste. If you want Joanne's original recipe do visit Food 52.
Because I'm allergic to wheat, I bake gluten-free though I usually post my recipes as including wheat flour. However, Bob's Red Mill has come out with a new gluten-free 1-to-1 baking flour that is exactly that. No adjustments necessary. I highly recommend this product (and there is no fava bean flour so no aftertaste). I also recommend Guittard's Akoma Extra Semisweet chocolate chips that are 55% cacao or their Bittersweet chips at 60% cacao. They contain no dairy.
Finally, because I've worked in the natural foods industry, I'm very particular about the oils I use. I personally don't use canola oil — even organic canola oil — because it must be heavily processed to remove the toxins in rape seed. Despite its rep as a healthy oil, it isn't. I personally like Spectrum oils and I use Spectrum's walnut oil, which is mild in flavor and high in Omega 3's. That said, you may use whatever vegetable oil you prefer.
The best part about these cupcakes is that they are just as good without frosting as with. I gave them a sprinkle of powdered sugar and called it a day, though you can certainly make a ganache with dairy or coconut milk and the rest of the chocolate chips you didn't use making the cupcakes.
Print
Vegan Chocolate Cupcakes
1–1/2 cups unbleached, all–purpose flour or
1–1/2 cups Bob's Red Mill baking flour
1/2 cup granulated sugar
1/3 cup Dutch processed cocoa powder (like Guittard)
1 teaspoon baking soda
1/4 teaspoon salt
1 cup strong coffee cooled to room temperature
1/4 cup grapeseed or walnut oil (I recommend Spectrum oils)
1 teaspoon Vanilla Bean Paste
2 tablespoons unsulphured molasses
2/3 cup vegan dark chocolate chips (I use Guittard)
Confectioner's sugar (optional)
Instructions
Preheat the oven to 350 degrees F. Grease a 12-cup cupcake pan (or an 8″ x 8″ baking pan).
In a medium bowl, stir together flour, sugar, cocoa powder, baking soda and salt. In another bowl, whisk coffee, oil, vanilla and molasses. Pour the coffee mixture into the dry mixture and mix with a wooden spoon until smooth and combined. Mix in chocolate chips. distribute batter evenly into cupcake pans (or cake pan).
Bake for about 20-25 minutes, or until cupcakes spring back when lightly touched in the middle. Let cool completely in the pan. Remove cupcakes and dust with powdered sugar before serving.
If baking in a cake or loaf pan, adjust baking time to 35 – 50 minutes.
Notes
Adapted from Joanne Chang's recipe – Flour Bakery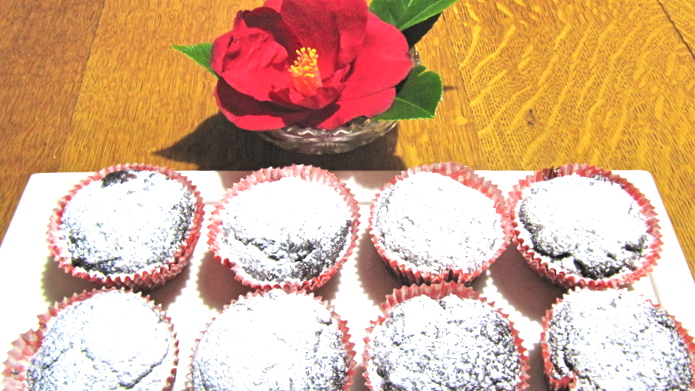 Latest posts by Patricia Rain
(see all)