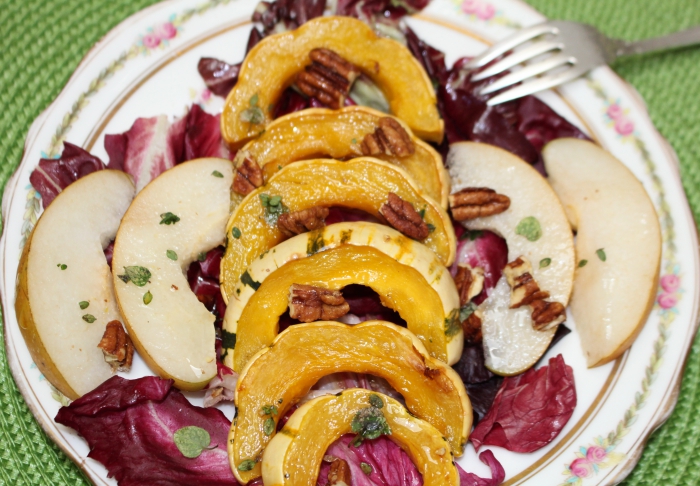 I love to peruse the farmers market each week to see what's just come in and stock up when it's last call on something I don't want to leave. Late summer and early autumn are an especially interesting time. A wealth of squashes and tomatoes, pears and apples are demanding attention but there are also late peaches, plums and berries that will soon be gone. What are we supposed to do; buy it all? When I went last week, I'd been thinking about what a squash salad would look like. Butternut always comes to mind, but I wanted something different. Standing in front of the Delicata squashes, my mind said, YES. Then a vendor gifted me two Asian pears. Perfect combination. And then I thought radicchio. The combination of colors, and the slight bitterness of the radicchio would complement the sweet squash and pears. Welcome Vanilla Scented Delicata Squash and Asian Pear Salad!
My recipe testers loved it as much as I did. I made a slightly sweet dressing with shallots and tossed in candied pecans for crunch. And that's all. Add some micro greens if you want, or use mixed greens instead of radicchio. And, just in case you aren't aware, the skins of Delicata squash are quite edible, so it's an elegant, quick-to-fix side dish to just about anything. I'm thinking Thanksgiving with this one. What about you?
Print
Vanilla Scented Delicata Squash and Asian Pear Salad
2 to 2-1/2 pounds Delicata squash
2 Asian pears
1 head radicchio cut into bite-sized pieces (okay to substitute mixed greens if desired)
1/2 –2/3 cup candied pecans, broken into pieces
Salad Dressing
1/4 extra virgin olive oil
1/4 cup sherry wine vinegar or white balsamic vinegar
1 small shallot, finely chopped
1 teaspoon each chopped fresh oregano and thyme plus more for topping
1 teaspoon honey
1/2 teaspoon Rain's Choice pure Vanilla Extract
Instructions
Heat oven to 375 – 400 degrees.
Wash Delicata squash(es), cut into circles about 1/2-inch thick, then into half moons. Remove seeds and fibrous material, then lay on rimmed cookie sheet. Sprinkle with oil and salt.
Bake for 20 – 25 minutes, or until squash is soft and golden brown. Turn over once halfway through cooking. This can be done a day or two ahead and refrigerated. Warm before plating.
Wash, then slice Asian pears into slices about 1/3-inch thick.
Place radicchio or greens on salad plates or a platter, then squash and pear slices. Dress with salad dressing and top with candied pecan pieces.
For salad dressing, combine ingredients and whisk or shake until emulsified. Spoon over salad, then toss pecan pieces over salad.
Notes
Candied walnuts or lightly toasted pecan or walnut pieces can be substituted for candied pecans if desired.
Latest posts by Patricia Rain
(see all)