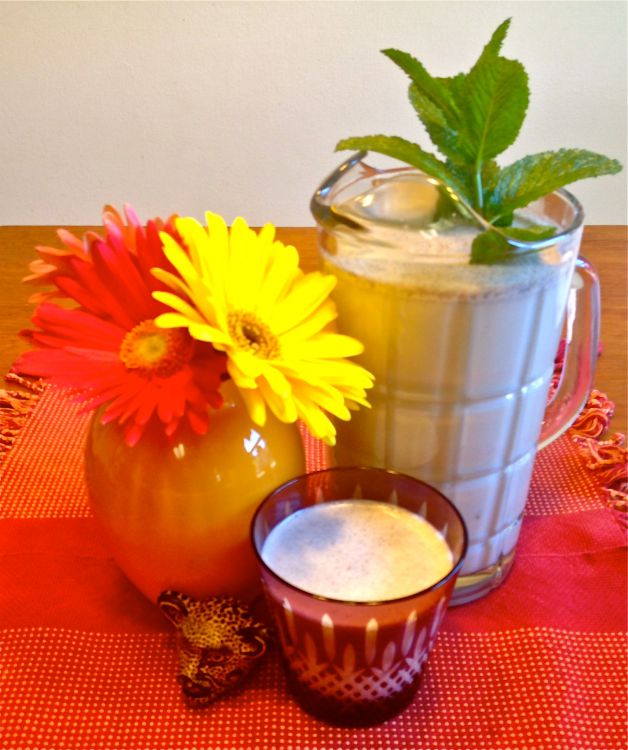 Rice and milk are not indigenous to Mexico and Central America despite being drunk throughout Latin America as well as its popularity in Mexican restaurants in the US. It originated in Valencia and was made with chufa or tiger nuts. It was brought to the New World by the Spaniards during the colonial period. It is a delicious beverage, one I love as long as it isn't too sweet. This is a Mexican version of Horchata.
Print
Vanilla Horchata
1–1/2 cups medium- or long-grain white rice, cooked soft
3–1/2 cups water (or more, to taste)
1 can evaporated milk or 8 ounces fresh whole milk or dairy substitute
2 Vanilla Beans, split or 1–1/2 tablespoons Rain's Choice pure Vanilla Extract
1 cup sugar (or more to taste)
ground nutmeg or cinnamon to dust over served horchata (optional)
Instructions
Heat the evaporated milk with the vanilla beans, if using, in a medium saucepan. Allow to cool. Remove beans and reserve for another use.
Combine the rice, water, and sugar in a blender, and blend on high speed for several minutes, until the mixture is very smooth. You may need to do this in a few batches.
Strain through a fine sieve (use cheese cloth if you don't have a good sieve) into a pitcher and add evaporated milk with the beans removed, then scrape some of the vanilla seeds into the Horchata. (Rinse the beans well and dry them for using a second time.) If using extract, add now. Taste, and adjust sweetness to taste.
Refrigerate until ready to serve. Serve plain or over ice. Use a vanilla bean as a swizzle stick and dust with nutmeg or cinnamon if desired.
Notes
Variation: As many people are lactose intolerant, I have made Horchata using both soy and coconut milk instead of the evaporated milk. It's delicious! Simply use a little more of the dairy substitute and cut the water proportionately.
Latest posts by Patricia Rain
(see all)