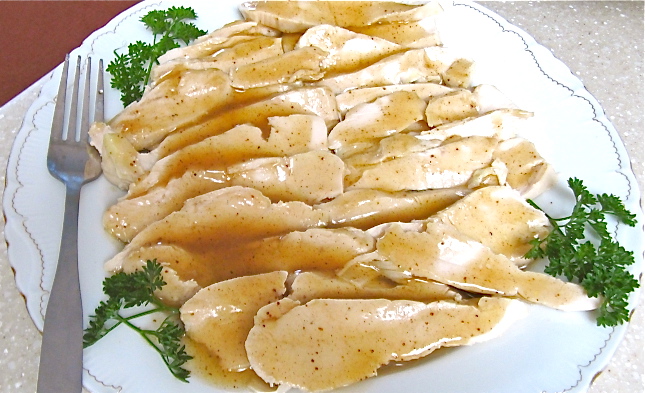 In 1985 Greg Reynolds, who at the time worked for a catering service in Half Moon Bay, became enthusiastic about playing with sauces using vanilla. His enthusiasm was spurred by my telling him a bit about vanilla's history as well as my handing him a handful of vanilla beans. Not long after he invited me to try the following sauce. It immediately became one of my go-to sauces to use on poached chicken and roasted vegetables. Later, I added it as a finishing sauce for grilled meats.
I especially like using Madeira because it imparts a very unique flavor. That said, you can switch out dry sherry or Marsala if you prefer. If you don't want to use alcohol, substitute a like amount of broth. Make it early in the day and set it aside until needed.
This delicious glaze is equally good on lamb, pork, poultry, and fish. Vegetarian/vegan? No problem. Grill or bake tofu or tempeh, portabello mushrooms eggplant and zucchini.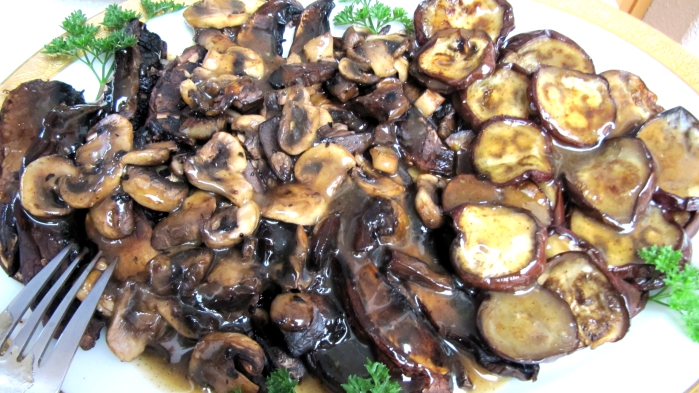 Print
Vanilla Glaze for Grilled or Poached Meats, Fish, Poultry or Vegetables
1/2 cup red wine vinegar
1/2 cup sugar
1/2 cup Madeira
1 cup water or stock
2 Vanilla Beans, chopped
2 tablespoons cornstarch
3 tablespoons water or stock, room temperature
salt and pepper to taste
Instructions
In a medium saucepan, bring vinegar and sugar to a boil. Continue cooking for about 10 – 15 minutes, or until sugar has caramelized. Watch carefully – sugar burns easily. When caramelized, add Madeira and stir until sugar mixture has dissolved.
Add stock or water and vanilla beans, simmer on stove until mixture has reduced by one-half. Remove from heat and let stand for at least an hour.
When ready to use, remove vanilla beans and reheat mixture, bringing it to a simmer. Mix 2 tablespoons cornstarch with water (or stock) and add to the sauce. Simmer 3 minutes, or until thick. Add salt and pepper to taste. Glaze meats or poultry before cooking, or coat poached poultry, cooked meats, or baked tofu with the glaze. Glaze can also be served warm in a gravy dish and added to foods as desired. Makes about 2 cups of glaze.
Notes
If you don't want to use alcohol, use a rich stock instead.
Look Delicious?
Pin it for the world to see!
Latest posts by Patricia Rain
(see all)