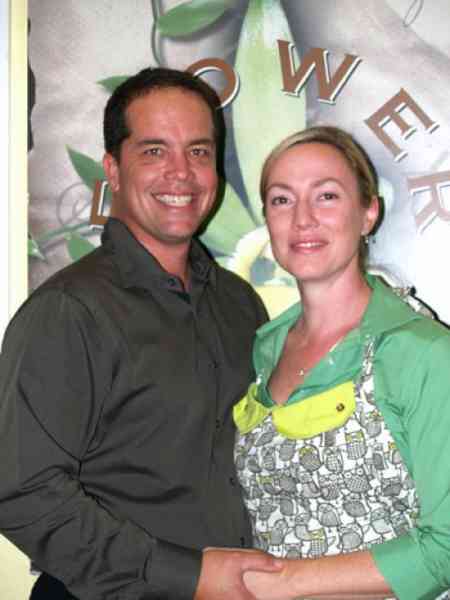 His name is Jim Reddekopp and his enthusiasm is catching. His face lights up when he tells the story of how he and his family came to the Big Island from their Oahu home to grow vanilla orchid vines on the Hamakua Coast.
Looking for a business that would bring them in contact with the earth, Jim and his wife Tracy latched on to the idea that was thrown at them during a family discussion. Thinking that this was finally the way to work toward their dream of having a business where the whole family, including their five children, could be involved, they started learning all they could about vanilla.
During his search, he met Tom Kadooka of Kona. Orchids have been Kadooka's life work since he started growing and propagating vanilla orchids in 1941.
"Everything I have learned about growing vanilla, I have learned it literally at the knees of Tom Kadooka. Whenever I thought I knew it all, Tom would say, `Jim, you're just in kindergarten' ", says Jim with a self-deprecating laugh.
"Tom has played a major role in the research and development of the Hawaiian Vanilla Company" says Jim, "Without Tom Kadooka's knowledge and a lot of prayers, I would have never been able to bring this dream forward".
After receiving several rural grants that required matching funds, they were ready to look for land and make the dream a reality. They found an old coffee plantation circa 1902 with a very old but charming building in Pa'auilo mauka. The building had been used 30 years ago as a slaughterhouse.
After much work, the brightly painted and sunny building is now a reception center for visitors interested in learning more about this facet of Hawaii's diversified agriculture. The Reddekopps have recently added a state of the art commercial kitchen and a charming restaurant to their site, where vanilla is the star of the menu. The Reddekopps have also made the building available for community events.
The company hires people from the area at certain critical times of the year for maintenance, and when pollinating and harvesting is needed. Jim says that as the company grows he would like to see more community involvement.
The second most expensive agricultural crop in the world, after saffron, vanilla is quite labor intensive. Each bloom needs to be individually pollinated by hand to produce vanilla beans. The plants take several years to produce blooms and then each cluster of two or three flowers will last only one day. If the bloom is not pollinated on that one day, the opportunity is missed for a bean to develop. This is definitely a labor of love!
Vanilla was originally discovered in Mexico and in use since long before the days of Montezuma. Several varieties of vanilla beans have been developed since. Mexican vanilla is grown from Vanilla planifolia stock, which is also known as fragans vanilla. Madagascar vanilla (from Vanilla planifolia stock) is also known as Bourbon vanilla, not because it is made with bourbon, but due to having started in the Reunion Islands, then known as Ile de Bourbon.
The Tahitian vanilla (Vanilla tahisensi), a cross of the planifolia stock and the Vanilla pompona of the Philippines is considered a separate distinct species.
The Hawaiian vanilla is very similar in flavor to the Mexican or Madagascar vanilla and is also grown from Vanilla planifolia rootstock.
Besides marketing the beans and vanilla extract, Jim and Tracy have developed several 'pampering' products, such as body lotions and scrubs that contain the vanilla seeds and the Hawaiian Vanilla Bean and Kona Coffee-Milk Bath. They all smell good enough to eat! In the world of aromatherapy, the smell of vanilla has been compared to the soothing and calming effect of mother's milk.
They are also working in conjunction with others; such as a new tea blend called Island Essence under the romantic name of `Veranda Breeze' an exclusive blend being served for afternoon tea at the Sheraton Moana Surfrider Hotel in Honolulu.
Other upscale restaurants have incorporated the Reddekopp's vanilla beans into their main entrees, such as the Grilled Hawaiian Keahole Lobster by George "Chef Mavro" Mavrothalassitis of Mavro's in Honolulu, a winner of the prestigious James Beard Award.
For more information on The Hawaiian Vanilla Company, and to find their products, visit their website at www.hawaiianvanillaqueen.com
Vanilla beans are expensive, but you can usually get several uses from each bean. If a recipe calls for boiling the bean with a liquid, dry them really well after this process and reuse several times in the same manner. Or split them in half, lengthwise and scrape the seeds out to use in recipes and save the pod for use in other recipes.
The beans will keep for a long time in an airtight container in a cool, dry place. Don't discard vanilla beans that look dried up. Hydrate in a bit of warm liquid before using, or save in a jar of sugar. It will absorb moisture from the sugar at the same time, as it will perfume the sugar. Or dried-up beans can also be ground in a clean spice grinder and used in recipes.
To Make your Own Vanilla Extract
With the holidays soon upon us, this is a fun way to make some homemade gifts that will really be appreciated.
To make large quantities for gifts, place several beans in a clean glass bottle or jar and add vodka or rum. I prefer to use Myer's Dark Rum, as it tends to give a "sweeter" taste to the extract. The more beans the stronger the vanilla extract. To get an even stronger taste, cut at least some of the beans by splitting lengthwise before adding the vodka or rum.
Leave in a cool dark place for several weeks before passing through a fine-mesh sieve and decanting into individual smaller bottles. Add a bean pod to each and seal with a cork and melted wax or use a bottle that comes with a porcelain clamp-on stopper.
Save the seeds and the split pods for other uses.
VANILLA HINTS
Source: The Vanilla Chef Cookbook, by Patricia Rain, "The Vanilla Queen." December 2002
To give French toast, pancakes or waffles a smoother flavor, add a few drops of pure vanilla extract to the batter.
By adding just a little vanilla to sour or acidic fruits or juices, it will soften the flavor and make it easier on your tummy.
Add a little vanilla extract to a spray bottle filled with filtered water. The resulting room freshener neutralizes odors better than other aromas.
Vanilla extract added to barbecue sauce gives it special zing!
Want to lose a few pounds? Carry a vanilla bean with you and smell it regularly. It helps cut sugar and chocolate cravings.
Add a chopped vanilla bean or a little extract to poached or baked fish. It cuts some of the fish odor and enhances the flavor.
To eliminate the smell of fish, garlic and onions from your hands, just rub a few drops of vanilla extract…your hands will smell delicious!
Sonia R. Martinez
Cookbook author and freelance food writer.
Check out my food & garden blog at
www.soniatasteshawaii.com
and keep up with some of my other writing at
http://foodiesleuth.gather.com
Contributing writer to
www.ediblehawaiianislands.com
Monthly columnist for
http://www.hamakuatimes.com
Latest posts by Patricia Rain
(see all)