Vanilla Bean Pudding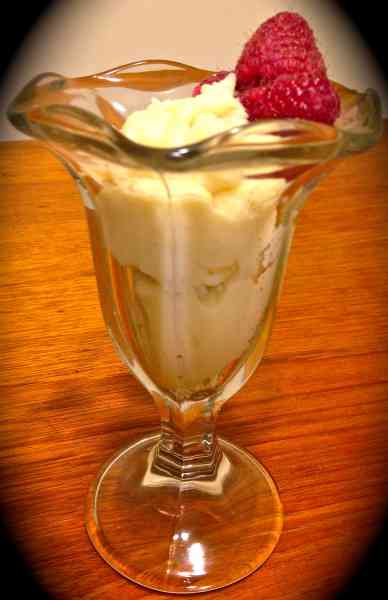 Courtesy of Carol Fenster, Ph.D. from 125 Gluten-Free Vegetarian Recipes
Carol's recipe is based on the classic, Blancmange, a sweet pudding made from milk and thickened with cornstarch, gelatin or other thickener. In the late 1800s/early 1900s, this was a food given to people who were ill to build back their strength. As we had no antibiotics, food was critically important. This is a nice treat for kids when their braces get tightened or when they're home with the flu. Feel free to use extract if you prefer though the vanilla bean does impart a lovely flavor.
Print
Vanilla Bean Pudding
2 cups milk of choice or light cream
1 Vanilla Bean, slit lengthwise and seeds scraped
1/2 cup evaporated cane juice (or granulated sugar)
3 tablespoons non-gmo cornstarch
Sprinkle of sea salt
1 tablespoon butter or buttery spread
Instructions
Place milk or cream, vanilla bean and scraped seeds in a small heavy saucepan. Cook over medium heat just until bubbles form around the edge of the pan, taking care not to scorch the milk. Remove from heat and let stand 20 minutes to infuse the vanilla flavor. (Rinse the bean with water, pat dry and store in sugar if you wish.)
In a small bowl, whisk together the dried cane juice, cornstarch and salt, then gradually whisk it into the milk. Bring the mixture to a boil over medium heat, whisking constantly, until it thickens, about 2 to 3 minutes. Pour into four goblets or bowls and cover with plastic wrap to prevent a skin from forming. Chill at least two hours before serving. Serve cold or at room temperature.
Latest posts by Patricia Rain
(see all)
Tags: pudding, Vanilla Bean Pudding, Vanilla pudding
Trackback from your site.
Patricia Rain
Patricia Rain
is an author, educator, culinary historian, and owner of The Vanilla Company (www.vanillaqueen.com), a socially conscious, product-driven information and education site dedicated to the promotion of pure, natural vanilla, and the support of vanilla farmers worldwide. She also does culinary presentations for food professionals, cooking schools, trade shows, food fairs, and private groups, and is a regular radio and TV guest.