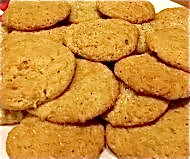 Courtesy of Gina Tassone, Vanilla Contessa

Almost everyone has experienced the frustration of bananas that have gone from perfect to mush, seemingly overnight. Summer is especially cruel to the sweet and perishable fruit. The Queen's right-hand woman, Gina, a.k.a. the Contessa, has thoughtfully shared with us a great recipe for utilizing those overripe bananas. You will undoubtedly want to use this recipe often, as it's quite good.
Print
Vanilla Banana Mac-Nut Cookies
1–1/2 cups sugar
1 cup (1/2 pound) softened unsalted butter
2 eggs
2 bananas, mashed
2 teaspoons Rain's Choice pure Vanilla Extract (preferably Tahitian)
3–1/4 cups all-purpose flour
1 teaspoon baking soda
1/4 teaspoon salt (don't use if using salted butter)
2 teaspoons cream of tartar
1 cup chopped macadamia nuts
3/4 cup Rain's Choice Vanilla Sugar mixed with 1/2 teaspoon nutmeg
Instructions
Cream together sugar and butter. Add eggs and mix well. Stir in bananas. Add pure vanilla extract.
Combine flour, soda, salt and cream of tartar; stir to blend. Add to creamed mixture, stirring until dry ingredients are moistened. Mix in nuts. Refrigerate until chilled.
Preheat oven to 350 degrees. Line a cookie sheet with bakers' parchment.
To keep dough chilled and more manageable to work with, sit the bowl of dough in a larger bowl of ice water. Form dough into tablespoon-size balls and drop into the vanilla sugar/nutmeg mixture, turning carefully to coat evenly. Place dough-balls about 3 inches apart on cookie sheets and flatten slightly with the bottom of a glass that has been dipped in the vanilla sugar mixture. Bake about 8 minutes, or until edges start to brown. Cool on baking sheet before removing to a rack.
Look Delicious?
Pin it for the world to see!
Latest posts by Patricia Rain
(see all)