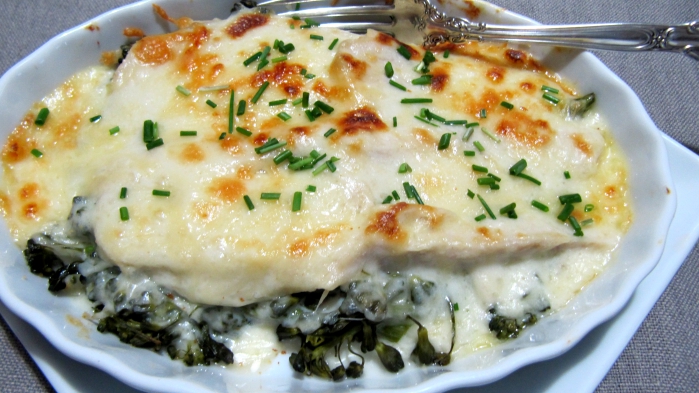 Thanksgiving's over and you've eaten all you can stand of turkey "sundaes" and turkey sandwiches. I know it's hard to have enough of all the sides and turkey with gravy, but just in case you've had one too many days of leftovers or, if you love turkey and want another easy-to-assemble, delicious turkey option, this recipe is for you!
Turkey was a favorite in our household when I was growing up. One of my mother's favorite leftover turkey recipes was Turkey Divan. I have to be clear here as Turkey Divan was originally a simple, elegant dish, but in the 1950's canned cream of chicken or mushroom soup and Velveeta cheese were substituted for Mornay sauce (which is a bechamel sauce with cheese), and frozen broccoli and leftover stuffing were added. A classic American casserole. This isn't to say, these changes weren't worthy and time-saving; it just wasn't traditional Turkey Divan.
Turkey Divan was the signature dish of Divan Parisien, a restaurant in the Chatham Hotel in New York City and may have originally been made with chicken. By the 1950's however, it was made with turkey, and it was hugely popular. My mother's recipe included a bit of sherry, giving the recipe even more panache.
Broccoli was the signature vegetable. I use broccolini but you can use asparagus if you prefer. After all, this is the 21st century; why shouldn't we update a great recipe and enjoy it at its best? As for stuffing or mashed potatoes, they weren't part of the original recipe, but if you need to finish them up, serve them warmed on the side.
Print
Turkey Divan
4 tablespoons unsalted butter
4 tablespoons unbleached white flour
2 cups whole milk
1 tablespoon dry sherry
1/2 teaspoon Rain's Choice pure Vanilla Extract
3/4 cup good cheese such as Gruyere, Fontina, Compte, or Provolone or a blend of cheeses, grated
Salt and pepper to taste
1 pound cooked turkey, sliced
1 large bunch broccolini, ends trimmed and cooked just until tender
4 tablespoons Parmesan Asiago or use same cheese as used in the sauce
Instructions
In a large sauce pan or frying pan, melt butter over medium heat. Add flour slowly and stir constantly, working it into the butter until the flour is completely absorbed into the butter. Remove from heat and slowly add milk, stirring constantly until the milk and flour mixture are well blended. Return to the heat, stirring constantly until the mixture thickens and is bubbling. Add cheese and continue stirring until it is fully blended and the sauce is thick and smooth. Remove from heat and add sherry and vanilla, stirring well to incorporate. Add salt and pepper to taste.
Warm turkey and broccolini briefly in a 300 degree oven or in the microwave until they are warm but not hot.
Divide broccolini into 4 ramekins. Spoon a light amount of sauce over the broccolini. Top with turkey slices and divide the balance of the sauce between the 4 ramekins. Sprinkle grated cheese over the top of each ramekin.
Place about inches below the broiler and broil for about five minutes or until lightly browned and bubbling. Watch carefully as it's easy for it to go from barely brown to scorched.
Notes
Substitute a 9″ x 9″ casserole dish if you don't have ramekins.
Latest posts by Patricia Rain
(see all)