Things To Do With Vanilla Ice Cream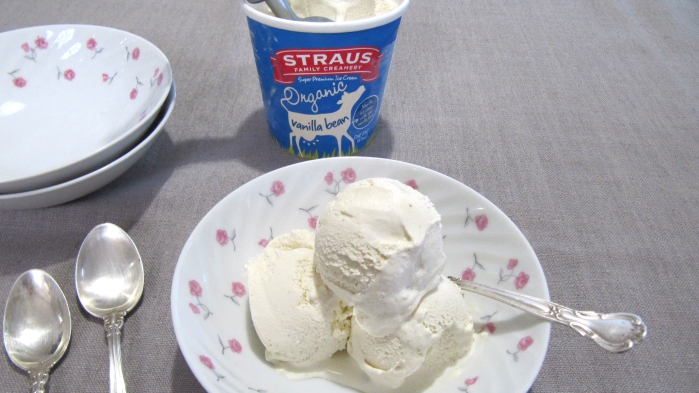 Courtesy of Alice Medrich, Sinfully Easy Delicious Desserts
This is a selection from Alice's book that directs readers to different recipes she has in the book. You will need to read the book for the recipes that are highlighted, but this will give you good ideas for adorning vanilla — or other– ice creams. First, how about a recipe for Vanilla Ice Cream? And if you're not up for making your own, buy the best quality vanilla ice cream you can afford as many don't actually contain pure vanilla extract!
Top With
Chocolate Sauce "to taste" or Cocoa Fudge Sauce with or without sliced strawberries or bananas and whipped cream.
Top with The Simplest Caramel Sauce or Butterscotch Toffee Sauce and toasted almonds or hazelnuts or salted peanuts.
The Simplest Caramel Sauce and sprinkle with a pinch of coarse sea salt or crushed cardamom seeds.
A spoonful of Coffee or Wine or Beer Granita.
Bourbon-Brown Sugar Pecans and store-bought or homemade caramel sauce. Add peach slices, if you like.
Crushed Praline and Saucy Berries or Maple Cranberry Sauce.
Pair With
Scoops of Pineapple Ice Cream or strawberry, orange, mango or other tangy fruit sorbet.
Drizzle With
Extra-virgin olive oil and sprinkle with a tiny pinch of flaky sea salt. Add Dessert Croutons made with extra virgin olive oil, if you like.
Serve On
Slices of warm toasted pound cake, drizzed with store-bought or homemade caramel sauce. Add toasted pecans and/or sliced peaches or nectarines.
Spice-Drawer Cinnamon Toast using Rain's Choice Cinnamon Spice Vanilla Sugar with any chocolate, cocoa, or caramel sauce drizzled over it, or surround with with a moat of double-strength hot chocolate or Mexican hot chocolate.
Baked Hot Chocolate Pudding with The Works.
Coconut Meringue with or without Chocolate Sauce "to Taste" or Cocoa Fudge Sauce or on individual Peanut Butter Pavlovas garnished with berries.
Serve With
Cherries with Balsamic Vinegar or Vanilla Bean, Dessert Chutney, Apples in Cardamom Lime Syrup, Plums in Brandied Coffee Syrup, Pears in Ginger Lemon Syrup, Sauteed Figs, or Honey-Caramelized Figs.
Make
A float with one of the beers listed or any other not-too-bitter beer with malty caramel flavors.
Honey Balsamic Sundaes.
Fragrant Oranges with Ice Cream, Almonds, and Dates.
Sandwich Between
Ultra thin cocoa Pecan Cookies or Ultra thin Chocolate Chunk Cookies and drizzle with melted chocolate, Chocolate Sauce "to Taste" or Cocoa Fudge Sauce or a purchased sauce.
Did you like this post?
"Like" it, and share your thoughts in the comments below!
Patricia Rain
is an author, educator, culinary historian, and owner of The Vanilla Company (www.vanillaqueen.com), a socially conscious, product-driven information and education site dedicated to the promotion of pure, natural vanilla, and the support of vanilla farmers worldwide. She also does culinary presentations for food professionals, cooking schools, trade shows, food fairs, and private groups, and is a regular radio and TV guest.
Latest posts by Patricia Rain (see all)
Tags: sundaes, Things to do with Vanilla Ice Cream, Vanilla Ice Cream
Trackback from your site.