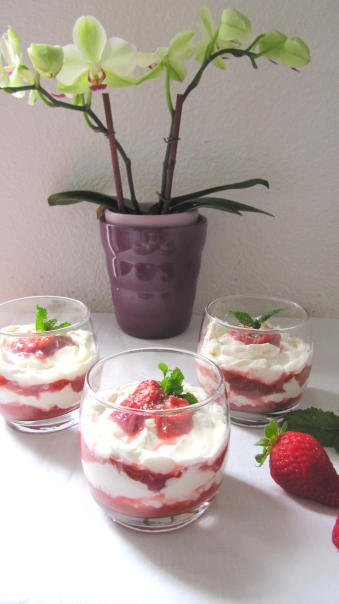 Strawberry Rhubarb Fool With Vanilla Cream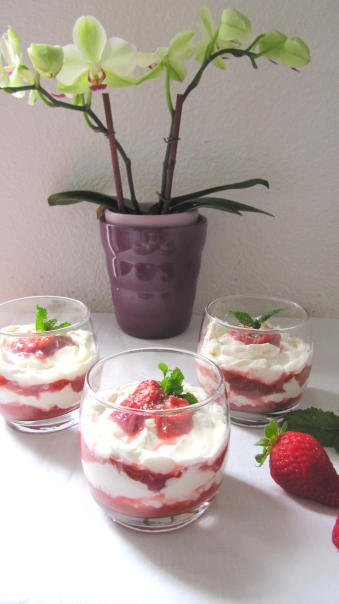 You've got to love the quirky names the Brits have for some of their older recipes. Fool is one of my favorites though Bubbles and Squeak and Toad-in-a-Hole are up there on my list of "faves."
This is a little different from traditional Fool recipes, which are made with minced or pureed fruits and whipped cream or custard. This recipe has cooked rhubarb and strawberries, whipped cream blended with crème fraiche and delicate rose water. You are welcome to substitute other fruits for the strawberries and rhubarb if you choose. Just keep the proportions more or less the same.
Print
Strawberry Rhubarb Fool With Vanilla Cream
1 cup crème fraiche
1 cup heavy cream
3 tablespoons sugar
1–1/2 teaspoons Rain's Choice pure Taihitian Vanilla Extract
Fruit
1 pint strawberries, hulled and cut in halves
1 pound rhubarb, tops and bottoms trimmed and any leaves removed,
Sliced crosswise into 3/4 inch pieces
1/4 – 1/2 cup sugar
1/2 cup dry white wine (may substitute white grape juice but cut sugar some)
1/2 teaspoon Rain's Choice ground Vanilla Bean Powder
2–1/2 teaspoons rose water
Sprinkle of nutmeg
Additional strawberries for garnish if desired
Instructions
Put crème fraiche and heavy cream in a large mixing bowl. Stir in sugar and vanilla, cover and refrigerate.

In a medium saucepan toss rhubarb and strawberries with the sugar and ground vanilla powder. Add wine and bring to a gentle simmer over medium-low heat. Cook, stirring occasionally and gently until the liquid is a little creamy and rhubarb is tender but the pieces are still largely intact, about 15 – 20 minutes. Let cool completely, then stir in rose water.

With a whisk or handheld electric mixer, whip the cream mixture until it's fluffy and holds semi-stiff peaks. Spoon some of the rhubarb mixture into the bottom of a large bowl or the bottoms of 4 – 6 glass bowls or glasses. Top with a layer of cream. Repeat layers until you've used everything, finishing with a layer of rhubarb. Cover and refrigerate until cold. Add a sprinkle of freshly grated nutmeg if desired, before serving and/or garnish each with a strawberry.

Look Delicious? Pin it for the world to see!
Latest posts by Patricia Rain
(see all)
Tags: Rhubarb, Strawberries, Strawberry Rhubarb Fool with Vanilla Cream, Vanilla Cream
Trackback from your site.
Patricia Rain
Patricia Rain
is an author, educator, culinary historian, and owner of The Vanilla Company (www.vanillaqueen.com), a socially conscious, product-driven information and education site dedicated to the promotion of pure, natural vanilla, and the support of vanilla farmers worldwide. She also does culinary presentations for food professionals, cooking schools, trade shows, food fairs, and private groups, and is a regular radio and TV guest.