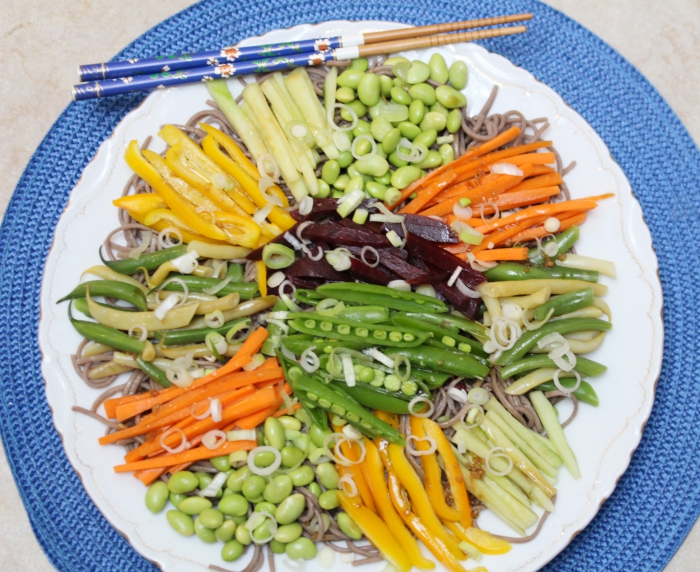 Cha-Ya is an exceptional vegetarian Japanese restaurant in San Francisco that I love to visit when I'm in the city. The problem is I rarely get to San Francisco, so I've re-created some of their recipes to enjoy at home. Japanese Soba Noodle and Vegetable Salad is bright, fresh, filling and delicious. It also bridges the seasons well. I especially enjoy it in the spring when asparagus and fava beans are coming in, or in the autumn when nights are cooler and I want something more hearty than a greens-based salad. Use whatever vegetables you like based on the season and availability.
Soba noodles are typically made from a combination of buckwheat and wheat. However, for those of you on a gluten-free diet or need to avoid wheat, Eden Selected has 100 percent dry soba noodles. If you can't find them in your markets, they are carried at Vitacost.com.
I serve this salad alongside a rich miso soup with sauteed mushrooms and scallions. If time is an issue, I recommend Edward and Son's Organic Miso-Cup. It's an instant dried traditional Japanese soup. I often use it and add the mushrooms and sometimes glass noodles. For a more filling meal, serve the salad as a side dish.
Print
Japanese Soba Noodle and Vegetable Salad
1 cup fresh fava beans, shelled, blanched in boiling water, and waxy coating removed or substitute edamame or English peas
1 cup asparagus, diagonally cut into 1-inch pieces
1 cup green beans diagonally cut into 1-inch pieces
8 ounces buckwheat soba noodles
1 cup carrots cut into match sticks
1 cup crisp cucumber cut into match sticks
2 scallions, sliced
6 tablespoons rice vinegar (not seasoned)
1 tablespoons maple syrup, honey, or agave nectar
1 tablespoon toasted sesame oil
2 tablespoons avocado oil or mild olive oil
1 clove finely minced garlic
1 teaspoon crushed fresh ginger
1–1/2 tablespoons tamari or soy sauce (or to taste)
1 tablespoon fresh lemon juice
1/2 teaspoon Rain's Choice pure Vanilla Extract
Instructions
Fit a pot of boiling water with a vegetable steamer. Steam the fava beans, asparagus, carrot sticks if you want, and green beans (or whatever vegetables you've chosen to use that would benefit from blanching), until just tender and bright green (or orange) (about 3 minutes). Rinse under cool water to preserve color and crunch, and set aside.
Whisk the vinegar, oils, syrup, garlic, ginger, tamari, lemon juice and vanilla extract together to make the dressing. Set aside.
Bring a pot of salted water to a boil. Cook soba noodles according to package instructions. When the noodles are ready, drain them and transfer them to a platter.
Place the noodles in the center of the platter. Spoon part of the dressing over the noodles, then arrange the vegetables decoratively around the noodles. Add the scallions to the top of the noodles. Dress the noodles generously Allow them to sit for an hour or two before serving. Add a few more tablespoons of dressing before you serve.
Latest posts by Patricia Rain
(see all)