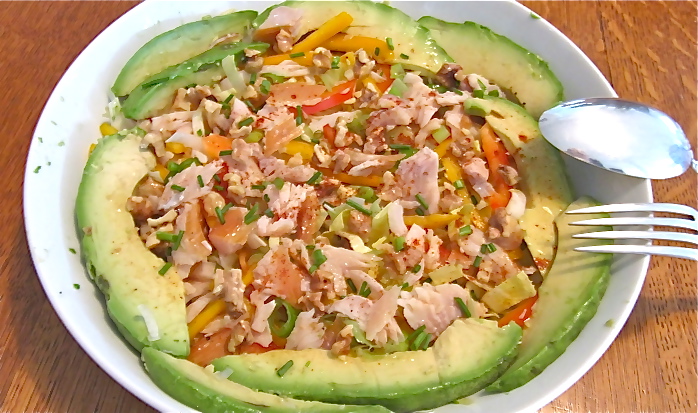 Just a few weeks ago I'm sure I came across a recipe for Smoked Trout and Endive Salad. It was posted by someone who said she had discovered the recipe in Alice Waters' American Vegetable Cookbook. It sounded like a great base for a full meal salad. Later, when I attempted to check on the dressing ingredients, I couldn't find the recipe anywhere, including Alice's cookbook, which leads me to wonder if I dreamed it.
Speaking of which, my major and minor (more like full immersion) at university was anthropology. I had a kind, quirky Irish professor whose fieldwork was done in the Gambia. He made a mean peanut sauce chicken but no amount of begging would get him to divulge his recipe.
At any rate, in one of my classes of his he lectured that people who live in the developing world or areas of food insecurity often dream about food, whereas in food-secure countries it is rare to dream of food. I raised my hand and said, "I beg to differ. I dreamed of food two nights ago." He was astonished. I assured him that I dreamed regularly of food, of recipes and of cooking. So much for that theory.
If I did read about this recipe idea, credits to the originator. If I dreamed it, here you are. My version is more a main-dish salad, and I have to say it's delicious.
Belgian endive is not inexpensive. A member of the Sunflower family, it is delicate with a nice crunch that holds up well to the rich trout and the dressing. If you can't find Belgian endive (or it's too pricey), you could substitute baby Romaine lettuces or even baby Napa cabbage. It won't be quite the same but it would be tasty. Or, buy one small Belgian endive and blend it with a lettuce of your choice.
Instead of using the endive leaves as a container for the smoked trout, I sliced the endive horizontally into ribbons and nested it in the bottom and on the sides of the bowl. I then layered small pieces of smoked Rainbow trout, thin slices of little sweet peppers (if you can't find these, use ripe bell pepper) and scallions. Then I added slices of avocado around the edges. Although I didn't put them on the salad in the photo, coarsely chopped, toasted pecans or walnuts or roasted almonds would add a pleasing crunch and earthy flavor. As citrus pairs well with avocado, segments of Texas Ruby grapefruit or Cara Cara oranges would add brightness and balance the delicate, salty flavor of the fish. If you include citrus, add a little honey or agave to the salad dressing or some of the fresh juices from the citrus. To make a heartier full-meal salad, add white cannellini beans or roasted or steamed slices of fingerling or creamer potatoes.
I served the salad with warm sourdough bread, sweet butter and brie. Paired with Sauvignon Blanc, you have a memorable lunch or supper.
I served this salad again this past weekend and added toasted pecan pieces. I also cut the avocado into smaller slices, which works better. You don't need a lot of trout per serving as it's very rich and flavorful. My dining partners agreed, this recipe is a keeper.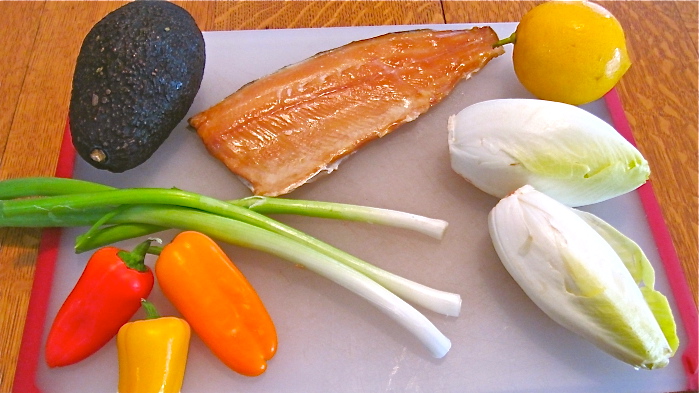 Print
Smoked Rainbow Trout and Endive Salad
3–5 small heads of Belgian Endive, sliced horizontally into 1/4-inch ribbons
6–8 ounces smoked Rainbow Trout, broken into small pieces**
3 scallions thinly sliced
1 red bell pepper or 3 small sweet peppers of different colors cut into thin slices
1 avocado, cut into bite-sized pieces
1/3 cup toasted pecan pieces
Dressing
5 tablespoons light olive oil, avocado oil or other light vegetable oil
1 tablespoon plus 1 teaspoon fresh lemon juice
1 large pinch sugar (about 1/2 teaspoon)
1/4 teaspoon Rain's Choice pure Vanilla Extract
Sea salt, freshly ground black pepper and sweet or smoked paprika to taste
Chopped chives for garnish (optional)
Instructions
In a medium-sized serving bowl, layer endive ribbons. Sprinkle scallions and sweet pepper slices over endive. Add smoked Rainbow trout pieces and then avocado slices. Finish with lightly toasted pecans.
Make salad dressing and add it to salad using a spoon to distribute it evenly just before serving. Garnish with chopped chives.
Serve warm baguette, sweet butter and brie or other cheese on the side.
Notes
* If endive is unavailable or too expensive, substitute baby Romaine lettuces or baby Napa cabbage, or use available salad greens.
* As trout is rich, 1-1/2 to 2 ounces is all you need per person.
Latest posts by Patricia Rain
(see all)