Sinfully Easy Delicious Desserts
By Alice Medrich (Artisan Books, 2012)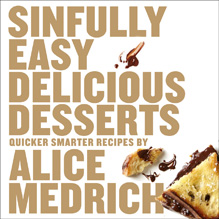 Dessert: Who doesn't love it? Even those of us who have sworn off of sugar or beg-off to hold at-bay another pound, secretly have illicit thoughts of a rich, warm morsel from the oven in deep winter, or an icy granita or a cone filled with buttery, creamy ice cream on a blistering day.
Okay, maybe I'm projecting a little too much. Truth is, I love dessert! Years ago I had a conversation with a five-year-old boy, and we admitted to each other that we didn't have a sweet tooth; we had sweet teeth – a mouth full of them! My grandsons would agree that they too would walk a mile in the snow for something chocolate.
Needless to say, I grab onto whatever Alice Medrich has written as this woman has all bases covered when it comes to a good dessert idea. If you haven't yet done so, read my review of Chewy, Gooey, Crispy, Crunchy, Melt-in-Your-Mouth Cookies, to learn a bit more of how Alice has a corner on delicious desserts.
Alice's newest book, Sinfully Easy Delicious Desserts, not only provides us with brilliant new recipes, the book is filled with variations on traditional recipes and even tasty treats that can be whipped together in minutes. And for those of us for whom the dessert siren calls to us unexpectedly at 10:00 pm, the book offers great options for a quick fix.
A few highlights that make this book useful for anyone who loves dessert:
* Suggestions for pantry staples so you can whip up just about anything quickly and easily (in some cases, with the addition of a few other ingredients), and a list of quick, tasty desserts you can make with the basics;
* Seven great pieces of equipment you should have for dessert making;
* Magic ingredients and how to use them well;
* Ice cream and sherbet making without using a machine;
* A mini chocolate tutorial;
* A mini cake tutorial;
* Mini cookie tutorial.
As Alice says, there's "nothing fiddly here," just creative, accessible recipes that are well-tested and well explained. She has also done something I greatly appeciate – simplifying traditional desserts to make them easier to prepare while retaining the essence of the original.
Before I give you the recipes I've chosen from Sinfully Easy Delicious Desserts, I want to do a little grandstanding on Alice's behalf. She has won two James Beard Foundation Awards for Cookbook of the Year and IACP's 2011 Best Baking Book award for Chewy Gooey Crispy Crunchy Melt-in-Your-Mouth Cookies. She received her formal training at the prestigious Ecole Lenotre in France and is widely credited with introducing the chocolate truffle to the United States when she began selling them at her influential dessert shop, Cocolat. Since selling her retail business, she has concentrated on writing her amazing cookbooks and teaching.
You can take interactive online classes with Alice at Decadent Chocolate Cakes, available from www.craftsy.com.
I've chosen the following recipes from Alice's book as I think that they showcase vanilla perfectly for our site. And, if you are wondering, yes, Alice uses our vanilla though I would happily review her books even if she didn't!
Things to Do With Vanilla Ice Cream

One-Bowl Vanilla Cake
Did you like this post?
"Like" it, and share your thoughts in the comments below!
Latest posts by Patricia Rain
(see all)
Tags: Alice Medrich, Cherries with Vanilla Bean, Extra-Good Vanilla Frosting, One Bowl Vanilla Cake, Sinfully Easy Delicious Desserts, Things to do with Vanilla Ice Cream
Trackback from your site.
Patricia Rain
Patricia Rain
is an author, educator, culinary historian, and owner of The Vanilla Company (www.vanillaqueen.com), a socially conscious, product-driven information and education site dedicated to the promotion of pure, natural vanilla, and the support of vanilla farmers worldwide. She also does culinary presentations for food professionals, cooking schools, trade shows, food fairs, and private groups, and is a regular radio and TV guest.