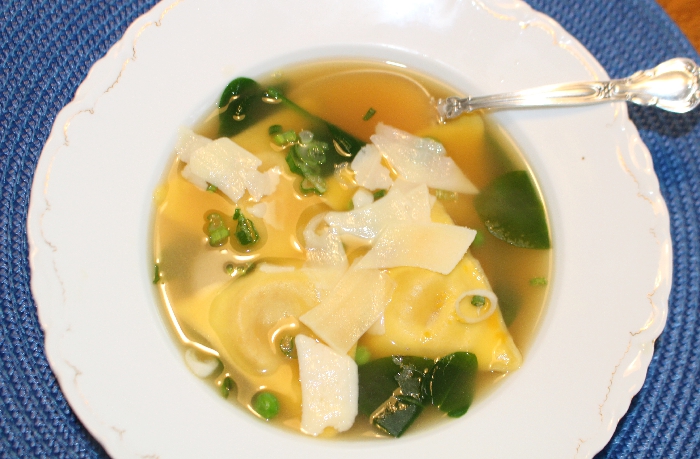 It's freezing outside, you're exhausted, and you want something better than a can of soup for dinner. Here's an easy solution. It requires some shopping in advance, so get the basic ingredients and have them on hand. You'll be grateful you did.
You can use tortellini or ravioli or any other pasta you'd like. The advantage of tortellini and ravioli is you can buy them stuffed with butternut squash, spinach, or even meat or cheese if you prefer. You cook the pasta in chicken or vegetable broth, throw in some frozen vegetables (your choice) and part of a package of fresh baby spinach or sliced chard or kale, and in 10 minutes the soup is ready. The basic recipe feeds 2 to 4. If you're cooking for a family, use two packages of pasta. Tastier and better for you than a can of high sodium soup!
Print
Quick and Easy Tortellini or Ravioli Soup
1 package organic chicken or vegetable soup broth (Pacific and Imagine are both good brands)
2 garlic cloves (optional)
1 or 2 scallions thinly sliced
1 cup water if cooking for more than 2
1 or 2 packages of fresh tortellini or ravioli (your choice of stuffing)
1 cup frozen peas, corn or mixed vegetables
Fresh baby spinach, chard or kale
Lemon juice to taste
Salt and freshly ground pepper
Splash of Rain's Choice pure Vanilla Extract
Grated Parmesan or Romano cheese, shaved or grated
Instructions
Thinly slice garlic cloves lengthwise, if using, then cut the slices in slivers. Combine the broth and water in a medium saucepan. Over high heat, bring to a boil. Reduce the heat to medium and simmer 5 minutes.
Add the pasta and vegetables and cook 3 minutes or until pasta is done. Remove from heat, season to taste with salt and pepper, add vanilla and lemon juice. Taste and adjust seasonings.
Latest posts by Patricia Rain
(see all)