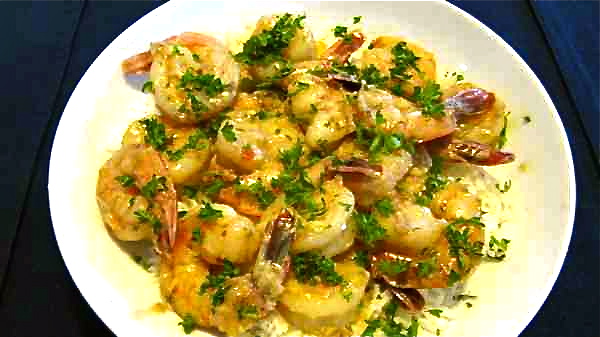 This is a deliciously rich recipe but without guilt as coconut milk is filled with healthy fat. Fresh ginger and lemon brightens up the recipe. A perfect summer brunch or outdoor meal though just as good in the winter to help you dream of warmer weather.
Print
Shrimp with Ginger Coconut Vanilla Sauce
2 pounds of medium – large shrimp
2 tablespoons coconut or olive oil
1/2 cup dark rum
1 Tahitian Vanilla Bean sliced open lengthwise or, 1/2 teaspoon Vanilla Bean Paste
1–3/4 cup coconut milk (preferably full-fat)
zest of one large lemon plus lemon juice to taste
2–3 tablespoons grated fresh ginger (to taste)
soy or Tamari sauce to taste
lemon wedges and parsley for garnish
Instructions
Peel and clean shrimp, keeping tails on. Heat the olive oil in a frying pan or wok. Saute the shrimp for two to three minutes and or until they have turned pink. Remove them from the pan and set aside. Remove the balance of oil from pan.
Add rum and the vanilla bean to the frying pan and reduce the rum until it is nearly evaporated (down to about 2 tablespoons). Add the coconut milk, lemon zest, and ginger and reduce the mixture by 50%. Scrape seeds out of the vanilla pod and discard pod. (If using paste, add it now.) Add Tamari or soy sauce to taste.
Shrimp can either be mixed into the sauce and served or mounded on a rice pilaf and the sauce poured over all. Garnish with lemon wedges and parsley.
Look Delicious? Pin it for the world to see!
Latest posts by Patricia Rain
(see all)