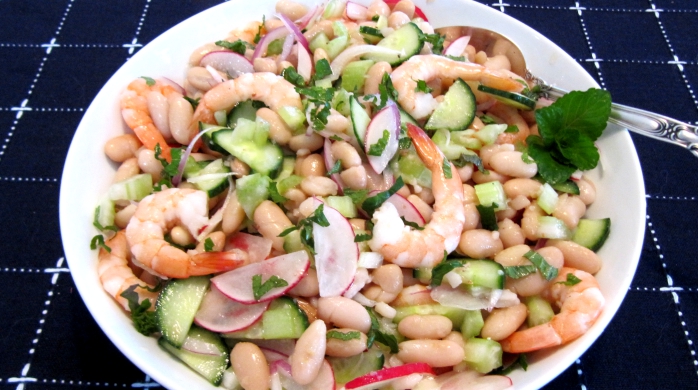 While a chilly winter day complete with snow flurries is thrilling in November or December, by March who needs it, especially a late season blizzard or ice storm! And it isn't just the weather. Market produce looks tired (except for the kale and cabbage), and finding good lettuce can be a fantasy . While I now live near America's "salad bowl," I was born in Cleveland, so I know how winter can drag on and on.
So, here's a "cheer-up" salad, one with ingredients you can find pretty easily in the winter. Even better, it has a bright, citrus dressing that will remind you that spring will return, even if it's slower than you wish. Even better, it's good any time of the year.
There are two things I really like about this salad: It's chopped and contains no lettuce, though you're welcome to serve it on lettuce or spinach greens or even thinly sliced cabbage. The other is the Rancho Gordo beans.
If you aren't yet familiar with Rancho Gordo, I promise to write an article about them soon. In the meantime, Rancho Gordo is the brainchild of Steve Sando. He didn't set out to be a bean king. He just happens to like beans and started growing them in his Napa garden a number of years ago. His friends liked the beans too and encouraged him to grow more so they could buy from him. This led to some serious research and the introduction of heritage beans. He has created a thriving business with exceptional beans along with a project in Mexico where he has growers growing Mexican heritage beans as well as Mexican oregano and other exotic and delicious items, all of which he sells online and at his outlet in Napa. If you're planning a trip to the Napa wine country, be sure to include a visit to Rancho Gordo.
While you don't need to buy Steve's beans for this recipe, you won't regret it if you do. I recommend the acayote blanco, Marcella, giant limas, or corona beans but cannellini beans from a can will work as well. The most important thing is to lift your spirits with a spring-like salad that's hearty on its own. Good crusty bread, some cheese and wine and dinner is complete. You can make it the night before and come home to a ready-made meal.
Print
Shrimp and White Bean Salad with Citrus-Mint Dressing
For the Salad
1/2 pound medium shrimp, cooked, peeled and chilled
1/2 medium red onion, thinly sliced into half-moons
3–4 red radishes, thinly sliced
2 stalks celery, cut into 1/4-inch slices
1/2 – 1 English or Persian cucumber, thinly sliced and cut into half-moons
4 cups cooked white beans or 2 15-ounce cans of cannellini beans
For the Dressing
6 tablespoons extra-virgin olive oil or a blend of olive oil and avocado oil
3 scant tablespoons white wine vinegar
juice from 1 medium-large navel orange (cara cara if available)
1/4 teaspoon Rain's Choice pure Vanilla Extract
sea salt and freshly ground black pepper to taste
3 – 4 tablespoons fresh mint, thinly sliced. If dill or basil are available, feel free to substitute.
Instructions
Place the vegetables and beans into a large bowl then gently mix in the shrimp.
Prepare the dressing and pour over salad. Adjust flavors to taste. Add half of the mint or other herbs.
Allow salad to sit in the refrigerator for at least an hour so that the flavors soak into the beans.
Sprinkle the top with the balance of the mint before serving.
Serve with fresh bread and cheese.
Notes
If you prefer, plate 4 – 6 salad plates with lettuce or spinach leaves and top with the salad.
Latest posts by Patricia Rain
(see all)