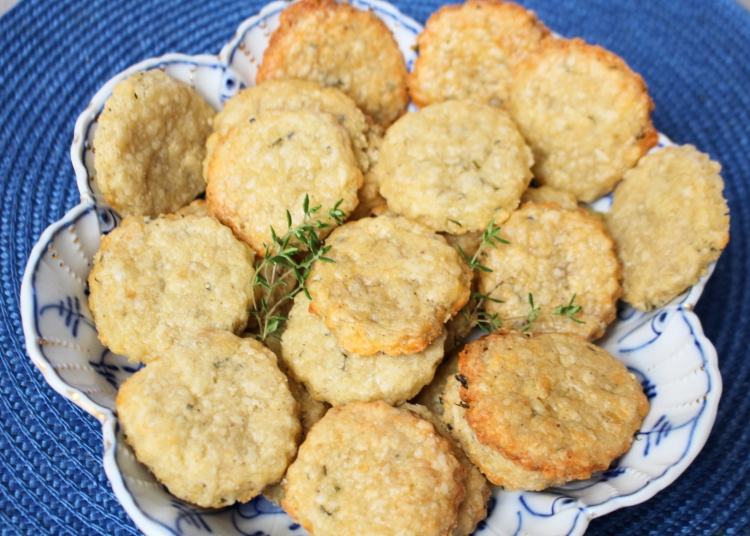 These are the appetizer of your dreams, the kind you'd most want with a beverage of choice at the end of a work-week, or sitting outside with friends on a late summer afternoon while dinner cooks on a grill. Or just about anytime you want something both savory and soothing. My only caveat is that these Herbed Cheddar Shortbread cookies are very addictive, so be prepared!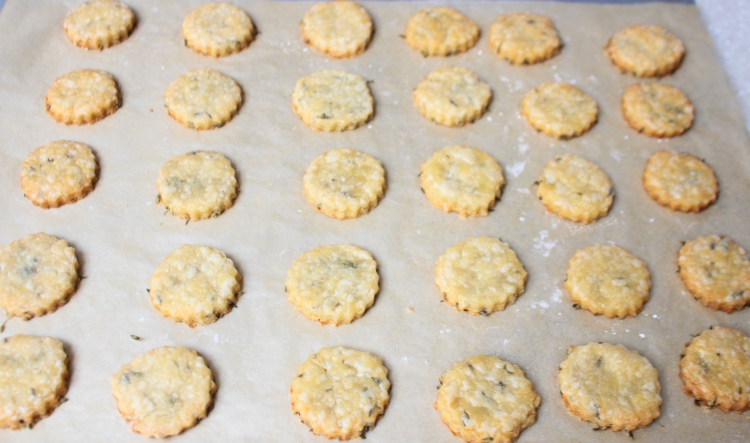 Simple to make, I've used fresh thyme from my garden, but you are welcome to substitute different herbs such as dill, basil or chervil. I strongly suggest that you use fresh herbs if at all possible. You can also switch out cheeses, though it's wise to choose firm, fairly dry cheeses. A good Compte or Guyere would be excellent substitutes for the Cabot Cheddar I used. My suggestion is to make little cookies as they're very rich. Which, of course, is their secret for seducing our senses. You can make them a day or two ahead of time and store them in an airtight tin. Warm them in the oven at 250 degrees for 10 – 15 minutes before serving.
Print
Savory Herbed Cheddar Shortbread
Yield: About

30

cookies

1

x
1/2 cup (1 stick) unsalted butter, at room temperature
1/2 teaspoon salt
1/4 teaspoon freshly ground black pepper
Pinch of cayenne pepper (optional)
1–1/2 tablespoons fresh thyme or 1 heaping teaspoonful dried thyme
8 ounces extra-sharp white Cheddar cheese, finely shredded
1 cup unbleached all-purpose flour
1/2 teaspoon Rain's Choice Vanilla Extract
Instructions
In a medium-sized bowl blend flour with grated cheese using a whisk.
In a separate mixing bowl, add butter and blend until smooth with a fork, then add salt, black pepper, herbs and cayenne, if using, and blend until fully incorporated. Fold in the cheese-flour and blend into the butter and spices using a fork just until mixture is incorporated and smooth (do not overmix). Add vanilla, blend in, scraping down the side of the bowl with a silicone or rubber spatula. Shape the dough into disk, wrap in waxed paper, and chill at least 30 minutes or overnight.
Arrange racks in upper and lower thirds of oven and preheat to 350°F. Line 2 large baking sheets with parchment paper.
On a lightly floured surface, roll out dough to 1/4- to 1/8-inch-thick round. Using 1 1/2- to 2-inch round cutter, cut out rounds and arrange 1-1/2 inches apart on baking sheets. Reroll scraps if desired (rerolled scraps will be tougher).
Bake shortbread until lightly golden and beginning to brown on edges, about 13 to 15 minutes. Cool on sheets 5 – 10 minutes, then transfer to racks to cool completely.
Store in an air-tight container if not using immediately. Warm in a 250 degree oven for 10 minutes before serving.
Latest posts by Patricia Rain
(see all)