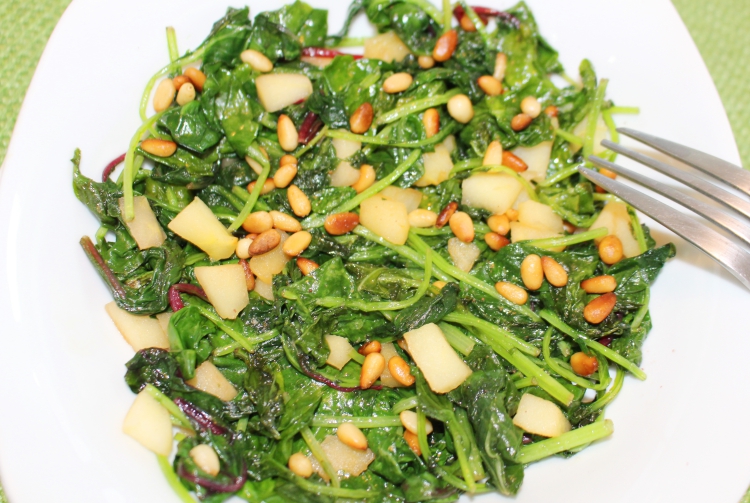 We've been told repeatedly that dark, leafy greens are nutritional powerhouses, but going from knowing to preparing and enjoying can be a big learning curve, except for bovines and dinosaurs. Given we're neither, here's a way to turn kale, chard, arugula, spinach and beyond quite edible.
Years ago I spoke at the Smithsonian. Not far from the mall is a Tapas bar, Jaleo, with a very good selection of small plates. While I enjoyed everything I ordered, the flash-cooked greens, apple and pine nuts stayed with me as it had never occurred to me to cook greens this way. Further, you can switch out the nuts, use tart or sweet apples, add hot sauce, serve a poached or fried egg on top, or keep it simple and let the greens take a bow. The "trick" is to use baby greens. My favorite combination is baby kale, chard and spinach. This particular combination is often packaged as "Power Greens." I confess I really can't stand big, intimidating leaves of kale, but baby kale leaves are tender.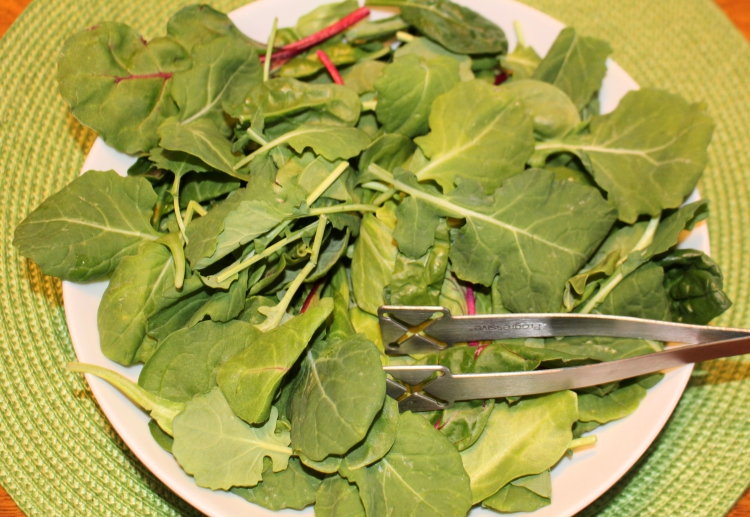 You'll need about 3 ounces of greens per person as a side dish. If you don't want to include the stems, cut them off, and freeze them for soup stock. You can snip the greens into thin ribbons with scissors or a knife, or keep them whole. Cut a crisp apple into thin, bite sized pieces, skin on or off.
Using a 9 or 10-inch skillet, heat it to low-medium and add a generous teaspoon of pine nuts per person (or substitute sliced almonds) and lightly toast using a spatula to toss them so that they don't burn. Set aside. Add enough olive or avocado oil to lightly cover the bottom of the skillet (for 9 – 12 ounces of greens, you'll want 1-1/2 tablespoons of oil). Heat oil until it begins to shimmer. Toss in the greens and coat them in the oil, turning them over so they don't stick or burn. When greens begin to wilt, add the apple pieces and continue turning them until they've fully wilted. Turn off the heat, add the pine nuts, a few drops of vanilla, toss the greens to distribute, salt lightly, and serve.
Latest posts by katandmousetest
(see all)