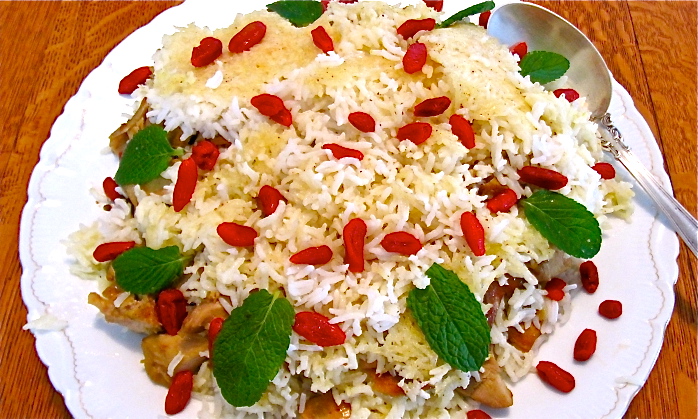 Can we ever have too many recipes using chicken? Amazingly enough, while meat consumption is down, Americans eat about 60 pounds of chicken a year which breaks down to about five pounds a month. So, in my opinion, the answer is no! And, if rotisserie chicken grabbed on the go is your default (and even if it isn't), it's time to try something deliciously different. You can prepare the chicken up to two days ahead of time, perfect for entertaining. This also allows the flavors to fully develop.
I've adapted this recipe from one I discovered in Sunset magazine. It is often served mixed into a fragrant rice dish, as you can see from the picture above, but feel free to serve it as a stand alone main course with rice, couscous or orzo (rice-shaped pasta). I especially like this recipe as the saffron elevates it from daily fare to company worthy. And while Persian cuisine is technically Middle Eastern, it has a lot in common with the cuisine of the countries bordering the Mediterranean as they celebrate fruits and vegetables and meat is generally used as a smaller part of the meal.
Yes, saffron is expensive, but only a little is needed and the flavor and color bring a unique spin to whatever you prepare with it. It also keeps very well when stored in a cool, dark cupboard.
Typically, a platter with lots of fresh scallions, radishes, a creamy feta cheese and herbs are served with the chicken and rice. Mint and parsley freshly torn into the dish make it pop. Or, make a salad incorporating the above ingredients. Make sure you don't reduce the pan juices too much as it acts as a light sauce and flavors whatever you serve with it. And, if you are preparing this recipe ahead, chill covered for up to two days.
Print
Persian Saffron Chicken
8 bone-in chicken thighs (4–1/2 to 5 pounds total), skin and extra fat removed
About 2 teaspoons fine sea salt
1/2 teaspoons Saffron Threads ground with a mortar and pestle or electric spice grinder
1 tablespoon rose water (optional but very nice in lots of dishes, including desserts)
1/4 cup olive oil
1 large onion, sliced into 1/4-inch thick rounds
4 large garlic cloves, finely chopped
Freshly ground pepper to taste
About 3 tablespoons lemon juice
1/4 cup chicken broth or white wine
1–1/2 teaspoons Rain's Choice pure Vanilla Extract
Instructions
Sprinkle chicken all over with salt at least 30 minutes and up to 1 day ahead (chill, covered, if more than 30 minutes).
Put ground saffron in a small bowl along with 2 tablespoons hot (not boiling) water and the rose water, if using. Stir to combine then let steep 5 minutes.
Heat a 12-inch frying pan over medium heat. Add oil, then arrange onion slices in a single layer; sprinkle with a little sea salt. Scatter garlic over onions. Place chicken thighs on top in one layer if possible (a little overlap is fine as they'll shrink as they cook). Sprinkle with pepper, then lemon juice, then saffron water. If any saffron remains in bowl, add a bit of hot water, swirl and add to chicken.
Bring to a simmer, partially cover, and reduce heat to medium-low. Cook, turning a few times to coat in juices, until cooked through, 45 minutes to 1 hour.
Lift cooked chicken to a cutting board. Holding each thigh steady with tongs or your fingers, cut meat off bone into bite-sized pieces. Meanwhile add broth or wine to to pan juices and reduce in pan over high heat to about 3/4 cup. Add vanilla and stir well. Return chicken to sauce and set aside, covered, until ready to use.
Latest posts by Patricia Rain
(see all)