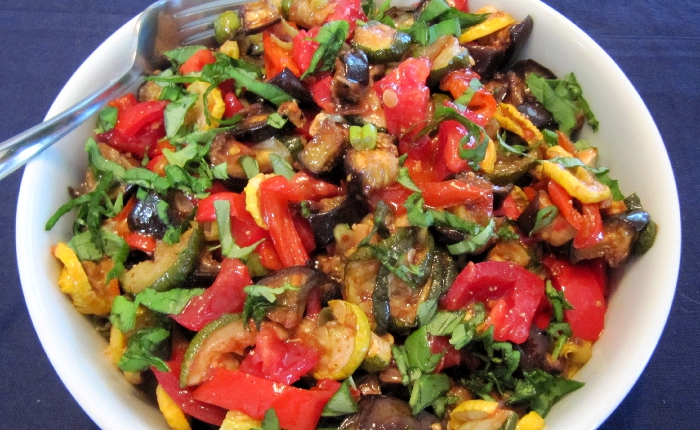 Too much summer squash? Whether your neighbors look the other way when they see you coming with an armload of zucchini or you're just looking for another recipe to enjoy it, here's my solution. When you roast squash, it shrinks like crazy and becomes deliciously sweet. I frequently roast potatoes, sweet potatoes and squash early in the morning before the heat sets in and one day I decided to see what ratatouille would look like if I roasted the squash and eggplant instead of braising them with onions and tomatoes. I've been making my version of ratatouille this way ever since. Yes, it requires an extra couple of steps, but I think it's worth it. Here's my "no recipe" for roasted ratatouille. You can decide for yourself if you want to make it or just roast the squash to add to salads, pasta or fritattas.
Preheat the oven to 375 – 400 degrees F. Cut approximately six medium-large summer squash into approximately quarter-inch rounds. If they're big, quarter or halve the rounds. It doesn't matter whether the squash is straight, crookneck or round, and the pieces don't have to be even. The only "rule" is that you want them about the same thickness as the thinner pieces will cook faster. Put the pieces in a large bowl, pour in enough olive or other vegetable oil to lightly coat the squash. Toss the squash with a large spoon so that all sides of the squash are coated, then lightly salt them. Place the squash in four-sided cookie sheets or baking dish(es). They're going to shrink so they can be closely packed, but you don't want them stacked three deep. While the squash bakes, cut up 1 large globe eggplant or three medium Japanese eggplant into pieces. If you want to skip eggplant, that's fine. You can roast another four squash instead. The picture below gives you an idea of how they should look once roasted. (I've put them all on one sheet for the photo. This is what six roasted squash look like.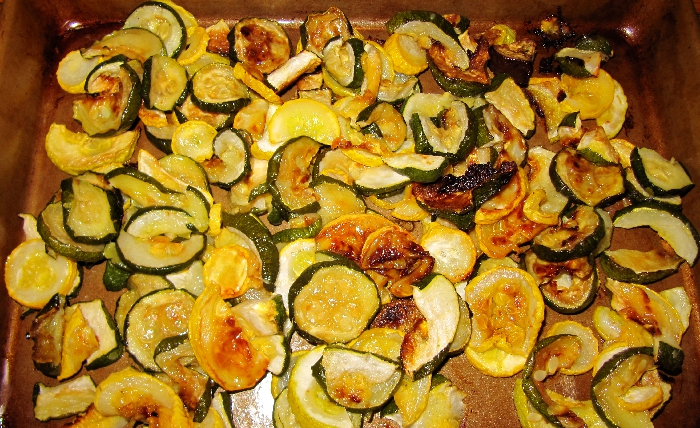 Check the squash at 20 minutes. Once they've started to brown on the bottom, carefully turn them with a spatula and let them roast another 15 – 20 minutes. When the squash is done, remove from the heat and do the same thing with the eggplant; it will need less time to cook.
Slice a large red bell pepper in half, scoop out the seeds, then slice the pepper into 1/2-inch wide strips lengthwise. Cut these in half. Peel 5 or 6 garlic cloves or more if you want and slice them into three or four pieces. In a large skillet, add 2- 3 tablespoons of olive oil and turn heat to medium-high. Add the garlic cloves and cook until both are beginning to sizzle. Turn the heat down and allow the pepper and cloves to slow cook in the oil, turning them occasionally. You will cook them until the peppers have shrunk. The pepper strips and garlic cloves will become very sweet and fragrant and the oil will be infused with their flavor. This is one large bell pepper below. Make extra, if you want as you can keep them in a jar with extra olive oil for two or three weeks in the refrigerator. They're wonderful served along with goat cheese and tapenade on bruschetta.
Slice a small red onion into half moons or slice four scallions and set aside.
Cut four medium tomatoes into small chunks, saving the juices.
Place the squash and eggplant into a large bowl and add any remaining oil from the cooking sheets. Add the peppers, garlic and their oil to the bowl, then add the tomatoes and juices. Blend all gently.
Mix 3 tablespoons of olive oil with 2 tablespoons of red wine vinegar, balsamic vinegar or lemon juice, a pinch of sugar or honey, 1/2 teaspoon pure vanilla extract, salt, and freshly ground pepper. Whisk until the ingredients are well blended. Add to the vegetables, taste, and adjust seasonings as needed. Add thin ribbons of fresh basil or flat-leafed parsley to taste. You can also add some Greek olive slices, soft goat cheese or feta if you wish.
Serve at room temperature or just slightly warm. This is a potluck worthy dish; just don't expect leftovers to take home.
Latest posts by Patricia Rain
(see all)