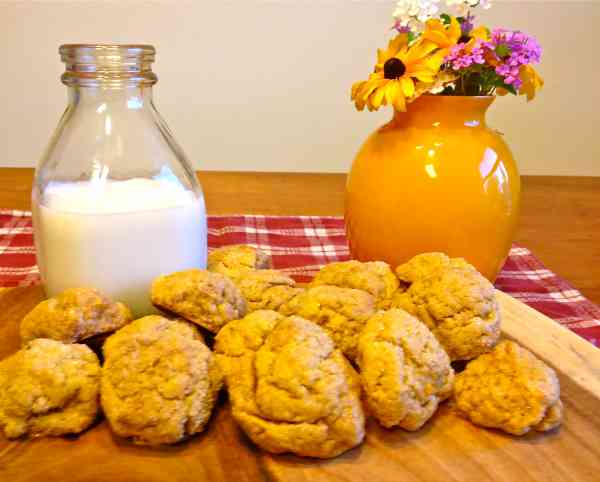 These soft tender cookies are nice with tea. Subtle hints of pumpkin and spice make them a perfect treat for fall.
Print
Pumpkin-Pecan Cookies
1/2 cup unsalted butter, room temperature
3/4 cup granulated sugar
3/4 cup pumpkin puree
1 tablespoon Rain's Choice pure Vanilla Extract
1 large egg
2 cups unbleached, all-purpose flour
1/4 teaspoon salt
1/2 teaspoon baking soda
1 teaspoon cream of tartar
1 teaspoon ground ginger
1 teaspoon ground cinnamon
1/4 teaspoon ground cloves
1/4 teaspoon ground nutmeg
3/4 cup finely chopped toasted pecans or walnuts (optional)
1/2 cup Rain's Choice Cinnamon Spice Vanilla Sugar
Instructions
Using a hand or a stand-mixer, cream the butter, sugar, pumpkin puree and vanilla. Addthe egg to the creamed mixture and beat until well incorporated.
Sift dry ingredients into a bowl. Add half of the sifted ingredients into the egg mixture.
Stir just until blended, then add the rest of the sifted ingredients and stir until well-incorporated. Add toasted nuts if using. Dough will be soft and sticky.
Cover the bowl and refrigerate for at least 1 hour.
Preheat oven to 350 degrees. Line two cookie sheets with parchment paper.
Pour Rain's Choice Cinnamon Spice Vanilla Sugar into a shallow bowl. Make balls about the size of a walnut from the cold dough and roll in the sugar. Place on cookie sheets, leaving about 2 inches between cookies. For puffy cookies, leave as balls. If you prefer flatter cookies, flatten gently with a glass or spatula.
Bake cookies between 9 and 10 minutes (check about 1 or 2 minutes ahead in case your oven runs hot). Allow cookies to rest in cookie sheet on top of a rack for about 2 minutes, then slide the parchment and cookies out of the pan and leave on top of rack for five minutes before carefully removing from parchment. Allow cookies to continue to completely cool.
Notes
yields about 4 dozen cookies
Look Delicious?
Pin it for the world to see!
Latest posts by Patricia Rain
(see all)