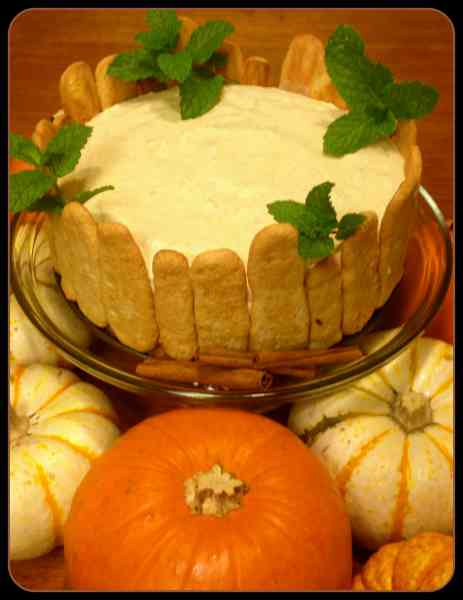 Courtesy of Chef Tony Nigro
Note: This is a multi-level project. It's not difficult, but it is time-consuming. It's also impressive and delicious. It comes with the additional recipe for lady-fingers. These delicate sponge-cake treats are useful for tiramisu, chocolate mousse cake and other specialties. Although Tony didn't indicate his recipe should be made this way, you could line an 8- or 9-inch spring-form pan with the lady-finger batter, then, after batter is baked, fill the pan with the pumpkin mousse. This method is less time-consuming yet maintains the beautiful flavor palette of the recipe. Decorated, it will have a dramatic presentation as well.
Print
Pumpkin Tower
Lady Fingers
1 cup unbleached all-purpose flour
1 tablespoon baking powder
10 egg whites
1 cup granulated sugar
5 egg yolks
2 tablespoons Rain's Choice pure Vanilla Extract
Pumpkin Mousse
2 teaspoons unflavored gelatin powder
1/4 cup cold water
3 cups heavy cream
1 cup pumpkin puree (unseasoned)
1 teaspoon cinnamon
1 tablespoon granulated sugar
2 egg whites
1/4 cup simple syrup*
Instructions
Lady Fingers
Preheat oven to 400 degrees (205 Centigrade)
Mix and sift flour and baking powder.
In a mixing bowl, whip egg whites and sugar to soft peaks, fold in egg yolks, add vanilla, then flour and baking powder mixture.
Using a pastry tube, pipe the batter onto a parchment-lined sheet pan, creating circles 3″ to 3-1/2″ diameter, depending how large you want your towers and how large your molds are. (Note: If using a spring-form pan, spread batter carefully into pan, evenly covering the base of the pan.) Bake until golden brown.
Allow to cool, then place in refrigerator.
Pumpkin Mousse
Sprinkle gelatin into cold water and set aside.
* Simple Syrup: Combine 1/4 cup water and 1-1/2 tablespoons sugar. Bring to a boil, stirring, then set aside and cool.
In a mixing bowl, add heavy cream. Cut vanilla bean down the center and scrape the seeds into the cream. Whip cream until soft peaks appear (do not over mix).
Place in the refrigerator.
Combine egg whites and simple syrup. Using a candy thermometer, heat mixture to 140 degrees (60 degrees Centigrade), stirring constantly.
Whip mixture until soft peaks appear, then fold into chilled whipped cream.
Return to the refrigerator.
Place pumpkin puree into a mixing bowl. Add cinnamon and sugar. Set aside.
Heat the gelatin until it dissolves – don't overheat.
Add the melted gelatin to the pumpkin, stirring continually for about 10 seconds.
Add 1/4 of the cream mixture, stirring constantly. Fold in the balance of the mixture.
Pipe or pour the mousse into the molds* or spring-form pan, and let rest in the freezer several hours or overnight.
To serve, remove plastic film or remove sides of spring-form pan. Garnish with cinnamon sticks, mint leaves, and whipped cream if desired.
Notes
Molds: Clear Plastic Film
*To create individual molds, you will need plastic film (transparency film works). Determine the size you want to make – Tony used 8-inch long strips that were about 4 inches high.
Roll plastic film into a cylinder to fit your ladyfinger base, then tape the plastic so it will stay together. Place in the refrigerator.
Look Delicious?
Pin it for the world to see!
Latest posts by Patricia Rain
(see all)