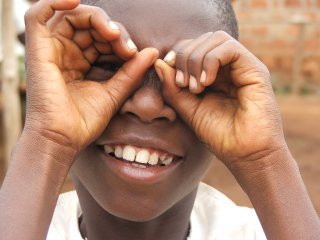 There are many paths that lead to becoming a dedicated social entrepreneur. While the work itself may not manifest for decades, the seeds of dedication are often sown in childhood. One constant for social entrepreneurs is their passion to effect change. Through determination and an unwillingness to give up, even during periods of challenge or adversity, women and men worldwide are making significant changes, creating hope and opportunity for individuals and communities that previously were barely surviving.
Charlotte Hunter is an inspiring example of a woman who has dedicated herself fully to children in rural Tanzania. Charlotte's inspiration grew out of her experience of personal loneliness as a sickly child growing up in Harlem, a poor borough in New York City. Her childhood experiences and her observations of the children around her, led to a commitment to improve children's lives, to bring joy and hopefulness to children in need. Charlotte says, "The greatest gift to humanity is to not live in despair."
As she grew older, her strong spiritual commitment led her on a search for the spark that would ignite into her life's work. In mid-life, Charlotte joined an African dance troupe and went on a group trip to Tanzania in 2002. It was in Tanzania that she experienced firsthand rural village life and the hardships that children there endure daily. Many of the children were orphaned due to the AIDS epidemic and most suffered from parasites and other serious but preventable health issues. Additionally, malaria is rampant in Tanzania, a common killer of young children. Tanzania proved to be the spark that has ultimately changed the lives of thousands of children as well as her own.
Charlotte was deeply moved and also outraged at the plight of these hungry innocent children, enough so that she immediately went to work. Although she personally had no assets other than her love for children and a fierce determination to make a difference, she rolled up her sleeves and began by selecting a local woman to be the director of a project that was still in an embryonic state in her mind.
When she returned to the Untied States, she began to raise funds. Her dream was to see the children in one small village become healthy, educated and independent. Through tremendous personal sacrifice (Charlotte has slept on friends' couches with no place of her own), she raised enough money to return to Tanzania in 2004 with the beginning of an amazing project. She set up a food program, providing 420 children with a daily cooked meal at their primary school in Byeya. She set up a healthcare program and an agricultural project at the same time, then returned to the United States to continue a massive fund-raising campaign under the auspices of The Little Garden Ministry.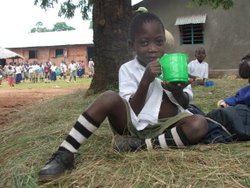 What began as a dream transformed into a life-changing gift to thousands. Charlotte's food program now feeds nearly 2000 children daily in Byeya, Ntoma, and Nyakataare. In Byeya, there are now 600 children at the school, filling it to capacity. Because the children are now healthy and well fed, their test scores are the highest in the entire region.
Through the healthcare program, every child receives medicated soap to treat ringworm and fungal diseases. A dentist visits yearly to treat children and to teach dental hygiene. An ophthalmologist checks the children's eyes and provides medical care and Pocketful of Joy pays for needed glasses.
A work study program has made it possible for 28 youngsters, who wanted more education, to continue to secondary school. In exchange for school fees, the children assist the village elders in carrying water, gathering or cooking food or doing laundry. Pocketful of Joy pays for school tuition, uniforms and desks for the children. More children are joining this program yearly.
Additionally, Pocketful of Joy has paid for repairs and expansions for the schools, agricultural programs and sewing machines so that students can learn to sew and make their own school uniforms. A donation of tools from a family in Vermont made it possible to start carpentry training for all interested students.
Every year Charlotte returns to oversee the process that is taking place within these small communities, as more projects start and develop further, spreading to other schools and villages in the area. Charlotte's guiding principle is to encourage and facilitate self-empowerment. The children themselves want their programs to grow as they know that their future depends on education and skills. The children have proven even more motivated than the adults, so Charlotte has created a council of children so their voices will be heard and they can take responsibility for themselves. Their progress has been phenomenal.
Pocketful of Joy received 501C3 status in August of 2008. You can visit their website at www.pocketfulofjoy.org. Charlotte continues to travel around the United States, speaking at churches and community venues, talking about her exceptional endeavor and raising funds. She has also taken a step for her own benefit, one that will make her work even more powerful. Charlotte is fulfilling another life dream — going to college — even while continuing to grow Pocketful of Joy.
If this program speaks to you, consider donating money. If you have a church or school that would be interested in "adopting" a class or children, raising funds for equipment or medical care, or if you would like to have Charlotte come to speak, please contact her at: info@pocketfulofjoy.org. You can also write to: Charlotte Hunter, Pocketful of Joy, 24 Goose Lane, Tolland, CT 06084.
Latest posts by Patricia Rain
(see all)