Fresh Pineapple Compote
Print
Fresh Pineapple Compote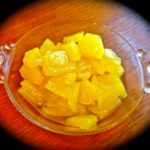 1 medium-sized fresh pineapple
3/4 cup sugar
1–1/2 cups water or pineapple juice
1 tablespoon lemon or lime juice
1 Vanilla Bean, split
2 tablespoons dark rum (optional)
Sprinkle of freshly ground black pepper
Instructions
Peel the pineapple, slice, and cut into wedges, removing the core. Set aside.

Combine sugar, water or pineapple juice, lemon juice, and vanilla bean in a sauce pan. Bring to a boil, then simmer for 5 minutes. Add the pineapple, cover and cook 5 minutes or until the pineapple is tender. Using a perforated spoon, remove pineapple from syrup.

Reduce syrup by one-fourth, and add rum (optional). Pour over pineapple, and allow to cool. Add freshly ground pepper.

Serve as a dessert with vanilla chiffon sauce or ice cream, or serve as an accompaniment to an entrée.

Look Delicious? Pin it for the world to see!
Latest posts by Patricia Rain
(see all)
Tags: Fresh Pineapple, Fresh Pineapple Compote, pineapple compote
Trackback from your site.
Patricia Rain
Patricia Rain
is an author, educator, culinary historian, and owner of The Vanilla Company (www.vanillaqueen.com), a socially conscious, product-driven information and education site dedicated to the promotion of pure, natural vanilla, and the support of vanilla farmers worldwide. She also does culinary presentations for food professionals, cooking schools, trade shows, food fairs, and private groups, and is a regular radio and TV guest.