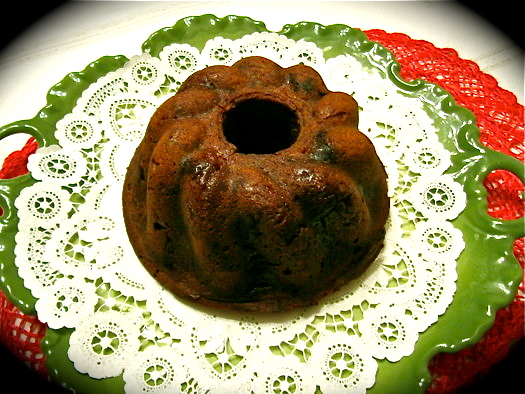 Persimmon Pudding is a rich, delicious cake that takes advantage of the delicate Hachiya persimmons — the orb or acorn shaped ones that must become soft to be ripe. Pudding is the classic term used for desserts in the UK. Recently, I discovered this was true here in the US into the 20th century. Served with lemon sauce and whipped cream, it's divine! The perfect Thanksgiving dessert, it also serves well for December holidays. If you use just some at a time, I recommend wrapping the balance of the cake in a clean dish towel moistened with Brandy or rum.
Print
Persimmon Pudding with Lemon Sauce
1/4 cup unsalted butter
1 cup sugar
2 eggs, well beaten
1–1/2 cups very ripe persimmon pulp, mashed
2 cups unbleached flour
2 teaspoons baking powder
1/4 cup brandy or rum
2 teaspoons Vanilla Bean Paste or 1 tablespoon Rain's Choice pure Vanilla Extract
1 teaspoon ground coriander
1/2 teaspoon cinnamon
1/2 teaspoon freshly grated nutmeg
1/2 cup pitted, chopped dates
1 cup toasted, coarsely chopped walnuts
Instructions
Preheat oven to 350 degrees. Place a pan of water in the bottom of the oven to provide extra humidity.
Place chopped dates in the brandy or rum, and allow to rest there for 20 minutes (or longer).
Cream butter and sugar until light and fluffy. Add eggs, and beat well. Incorporate the persimmon pulp, flour, baking powder, coriander, dates soaked in brandy, vanilla extract and walnuts. Mix well. Pour into six buttered custard cups, a Bundt mold, or bread pans. In small containers the puddings should be done in about 25 minutes; in a mold it may take nearly an hour. Check with a skewer or thin knife. It should come out clean. Add more water to the pan in the oven if necessary.
Set on wire rack to cool. When completely cool, remove from pan(s) and wrap until ready to use (see Note).
Serve warm with lemon sauce and vanilla-flavored whipped cream.
Notes
You can make Persimmon Pudding ahead of time and store in the refrigerator. For additional flavor, and to keep the pudding very moist, wrap it in a towel that is dampened with additional vanilla brandy. The pudding also freezes well.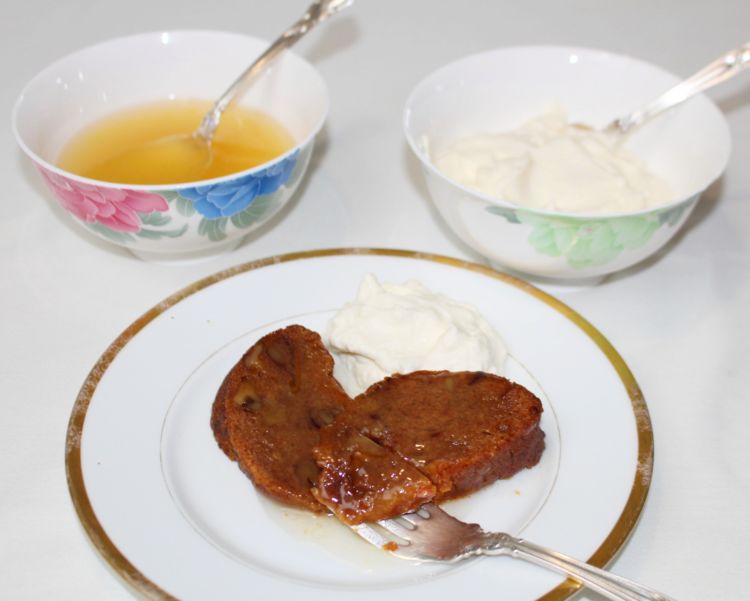 Print
Lemon Sauce
A simple, light sauce that elevates Persimmon Pudding and other cakes with its clean, citrus flavor.
Ingredients
2 cups hot water
1 cup granulated sugar
1 large lemon (such as Eureka or Lisbon lemons)
or 2 lemons if Meyers (approximate based on sourness) plus 1 – 2 teaspoons lemon zest
2 tablespoons cornstarch
2 tablespoons butter
1 teaspoon pure vanilla extract
Instructions
In a medium saucepan mix sugar and cornstarch, then gradually add very hot (or boiling) water, stirring all the time.
Cook 8 to 10 minutes until it thickens. Turn the heat to low. This will be a fairly thin sauce so don't keep cooking to thicken the sauce more.
Add lemon zest, then juice. Depending upon which variety of lemons you use, add half the juice, stir, then taste the sauce, and repeat until it is the level of tartness you want. Add vanilla and butter, stir well, and remove from heat.
Serve the Persimmon Pudding warm, in slices with the warm lemon sauce poured over. Serve whipped cream on the side.
Notes
You can make half of this recipe if you are serving the cake to just a few people. Because it contains corn starch it only lasts 3 or 4 days.
Look Delicious?
Pin it for the world to see!
Latest posts by Patricia Rain
(see all)