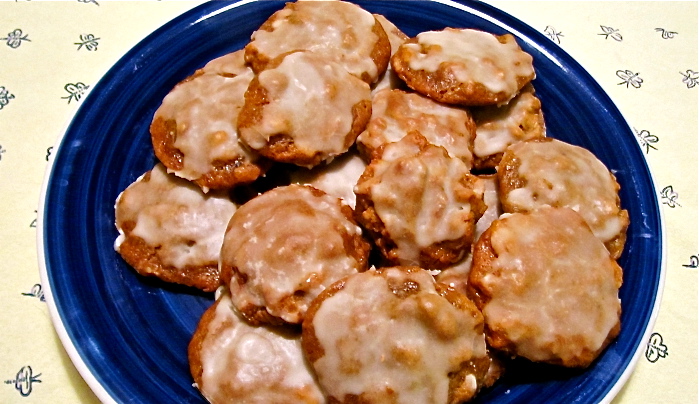 Whenever I've been fortunate enough to score persimmons, I've always made Persimmon Puddings (the word for dessert in the UK but, in the US, it's actually cake). My mother always made it for Thanksgiving and served it with a lemon sauce instead of a hard sauce. I discovered it was worth "gilding the lily" by serving whipped cream on the side.
In November my neighbor Harvey announced that he had found a Hachiya persimmon tree and the woman was going crazy with the fruits splatting on her patio. She was thrilled that someone wanted to pick them and take them away. When they were the proper orange color, we harvested. Harvey was in a mind to leave no prisoners, so we had bags filled with the fruits. I then had fruits ripening throughout my kitchen and played Lady Bountiful and shared them with fans of the delicate, sweet fruit.
Harvey had an ulterior motive, of course. His ex-wife was known for her persimmon cookies and Harvey loved the cookies (though apparently not enough to stay with her). I had never eaten or made persimmon cookies, but I was up to the task. After studying existing recipes and making my own tweaks, this is what I came up with. Are they good? Let's just say that Harvey came to pick them up in the pouring rain and had eaten nearly all of them by the time he got home, which was less than two blocks!
Persimmons are very delicately flavored. I decided to add the lemon glaze, but if you want more of the persimmon flavor, leave them plain or dust the cookies with powdered sugar. Even if you don't like persimmons but like cinnamon, nutmeg, etc. you'll like these cookies.
Print
Persimmon Cookies with Lemon-Vanilla Glaze
2 cups flour
1 teaspoon baking soda
1/2 teaspoon salt
1 teaspoon cinnamon (a little more if using Ceylon Cinnamon)
1/2 teaspoon cloves
1/2 teaspoon nutmeg
1/2 teaspoon allspice
1/2 cup unsalted butter, at room temperature
1 cup granulated sugar
1 cup persimmon pulp (from 2–3 persimmons)
1 large egg
2 teaspoons Rain's Choice pure Vanilla Extract or 1 teaspoon Vanilla Bean Paste
1 cup chopped toasted walnuts
1 cup cranberries (optional)
Lemon Glaze
1 cup confectioners sugar
1/8 cup fresh lemon juice (or to taste)
1/4 teaspoon Rain's Choice pure Vanilla Extract
1 teaspoon lemon zest (optional)
Instructions
Preheat oven to 350 degrees F. Line two baking sheets with parchment paper or silicone baking mats and set aside.
In a medium bowl, whisk together the flour, baking soda, salt and spices. Set aside.
In a large mixing bowl, cream the butter with the sugar until light and fluffy, about 5 minutes. Beat in persimmon pulp, egg, and vanilla and blend well. Slowly add in the flour mixture until everything is combined. Fold in the walnuts and cranberries if using.
Drop by rounded spoonfuls onto prepared baking sheets. Bake for approximately 12-14 minutes or until cookies are brown around the edges and set. Let cool on baking sheets for five minutes and then remove to a wire rack to cool completely.
To make the lemon glaze, in a medium bowl, combine the confectioners' sugar, lemon juice, and zest together. Whisk until smooth. Dip the cookie tops into the glaze and twirl the cookie. Set cookies back on wire rack for glaze to harden. If you prefer, using a table knife, spread the cookies lightly with the glaze. You don't want so much that the glaze overwhelms the cookies.
If you want the persimmon flavor to shine through, serve cookies plain or lightly dust with confectioners' sugar.
Latest posts by Patricia Rain
(see all)