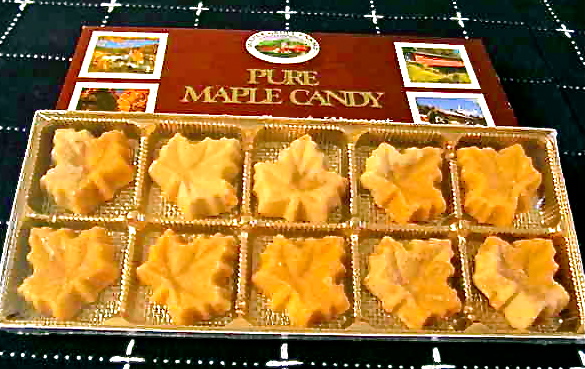 From the first moment I tasted maple sugar I have been addicted to its sweet, complex flavor. I honestly don't remember the first time I tasted it, but I'm assuming it was either a maple leaf or little figure made from the sugar, or perhaps it was the syrup. I do remember riding in a car to Chagrin Falls, Ohio, out in the countryside away from the heat and noise of Cleveland, to purchase maple candy and syrup. I was eight years old and my mother, brother and I were traveling from California to Cleveland, New York and Connecticut to spend the summer with family.
We were given circular, half-inch thick disks of maple sugar candy the size of cookies. It was fabulous — sweet, sticky and so, so good!
We looked forward to maple sugar candy in our Christmas stockings, syrup for French toast and pancakes. Even as an adult, I asked for maple sugar for Valentine's Day. But I can honestly say that I never truly appreciated the complexity of maple syrup until I was in Montreal in 2003 and visited a sugaring farm in the countryside southeast of the city.
It was an excursion with the International Association of Culinary Professionals so our hosts provided us with far more than a little hot maple syrup tossed onto snow to impress us.
We sat at a long table for a syrup tasting. First, we were served a pale golden yellow syrup, the first tapping of the trees. The "maple" flavor we attribute to the syrup was actually very subtle. Instead, there was a delicate, grass-like quality to the syrup, or maybe it was the tree itself that I tasted. I remember being astonished, and for the first time I really understood what my friend Sandra, who lives in St. Johnsbury, Vermont, had told me.
Sandra said that the syrup that travels around our country from Vermont or Canada is actually from the second or third, maybe even fourth tapping of the trees. The true delicacy, the one that locals who really know maple syrup crave, is this first tap. When sugaring time approaches, locals come to the cabins or farms with containers to get this remarkable syrup. And this is only when it's available as, if there is too much rain, it will be paler and the delicate flavor will be impaired. Some years, like this year, there is very little syrup of any grade as the necessary conditions were ruined by an unseasonal heatwave and way too much rain.
We then tasted the additional grades used by the sugaring experts, an experience not unlike tasting olive oils or even wine. At the end of the tasting, we dined on a biscuit-like dumpling boiled in maple syrup, maple sugar pie and other confections. And yes, we did get the maple-on-snow experience as well, though by then, I was pretty sugared-out.
All of the above is the backdrop for where I'm going with this blog, which is using maple syrup in cooking and baking. Actually, I'm devoting two or three blogs to the subject as I'm on a maple jag, thanks to Sandra's having just gifted me with syrup, sugar and butter. I'm in heaven. Just so you know, as Grades A and B are best for baking, you're not deprived if you live far the maple sugar producing regions of the US or Canada.
Over the last two years, I have become a big fan of a particular granola made by 18 Rabbits. It is a heady blend of rolled oats, with lots of nuts and seeds, cacao nibs (one variety), sweetened with maple syrup and flavored with butter. It's lightly sweet, my personal preference. The issue is that my market sold it bulk for $8.99 a pound. Most customers apparently preferred the sweeter, less expensive varieties. We stopped carrying it about eight months ago.
We had a packaged version on the shelf that I wasn't crazy about which was $8.99 for 12 ounces — even more expensive. Then I discovered that our biggest competitor carried the variety I like for $7.69 a package; I all but disguised myself and went there at night to buy it. Finally, however, I decided that I could save a lot of money and disguises if I'd just knuckle down and make it myself. Today I did, and guess what? It's better than the 18 rabbits maple granola! Lucky for you, I'm happy to share my secrets!
My suggestion, as always, is to use the very best ingredients you can afford if you want stellar results. Get really fresh seeds and nuts. No rancid stuff that has lost its nutritional value. Use good butter. Grade A maple syrup is a little lighter in flavor than Grade B; use whichever you want.
For those of you who may question coconut oil or butter, they actually are not bad for us. Coconut oil has been taken off the "don't eat" list by nutritionists as it has been scientifically proven that its saturated fat is not bad after all. In fact, coconut oil contains medium chain triglycerides, which can help prevent plaque from building in the brain and it protects against Alzheimer's disease. Clean, organic butter in small doses is also now on the okay list as it has been proven that inflammation, not cholesterol, causes heart problems. Remember, scientific information on nutrition is just moving out of the dark ages.
Here's the recipe for Maple Granola
For making parfaits, whether for brunch or dessert, I recommend Greek
yogurt as it is thick and won't get runny. Feel free to use either low-fat or full-fat. For dessert, you could even substitute creme fraiche for some of the yogurt. Maple Brunch or Dessert Parfaits
Did you like this post?
"Like" it, and share your thoughts in the comments below!
Latest posts by Patricia Rain
(see all)