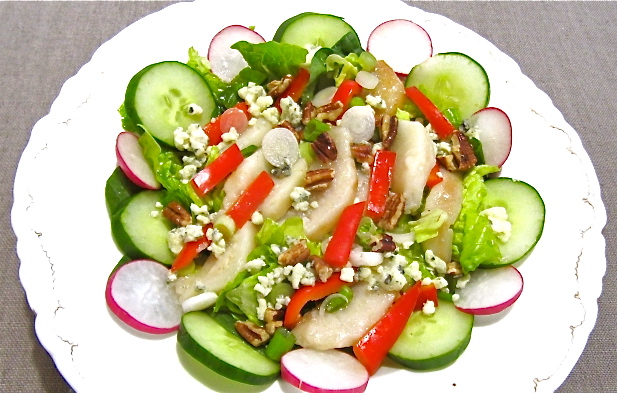 When you think of pears your mind thinks autumn, right? However, the magic of modern markets along with climate change, has extended pear season to almost a year 'round pleasure. That said, for a great summer substitute think peaches and nectarines.
The real magic occurs in the saute pan or, in the case of peaches and nectarines, saute pan or grill. The fruit is cooked briefly, just enough make the pears transparent and the stone fruits tender. The result is an intensified flavor and the fruit all but melts in your mouth. And, something I've learned is when you have pears that are gritty or, stone fruits at the end of the season that are woody and dry, saute or bake them and the flavor comes up and the woody or gritty texture disappears.
Gorgonzola's strong, salty flavor adds balance to the sweetness of the pears. With stone fruits consider Ricotta Salata. If sharp or salty isn't for you, a creamy sheep's milk feta or mild chevre will bring the flavors together without quite as strong a contrast.
I've used pecans in this recipe, but substituting walnuts or Marcona almonds would be fine.
You can make more or less salad depending on the number of people dining. I've left ingredients amounts flexible for that reason. You can also add grilled chicken slices or prawns. Add a crusty bread and your salad can be a main course. Salads are flexible; design it how you'd most enjoy it.
Print
Sauteed Pear or Peach Salad
Pears
1 tablespoon mild olive or avocado oil
2–3 firm-ripe pears, cored, peeled and cut into slices
1 – 2 tablespoons honey
Salad
8 – 12 cups of salad greens and/or baby spinach leaves, rinsed and chilled
1/2 – 3/4 cup each thinly sliced cucumber, radishes, and red bell peppers (optional)
4 ounces Gorgonzola, Ricotta Salata, sheep's milk feta or soft, mild goat cheese
1 cup chopped, lightly toasted pecans, walnuts or Marcona almonds
Dressing
1/3 cup olive oil
3 tablespoons rice vinegar
1 tablespoon honey
1 teaspoon Rain's Choice pure Vanilla Extract
salt and pepper to taste
Instructions
Heat a large frying pan over medium-high heat. Add olive oil and allow to warm. Add pear slices and sauté in oil for 2 minutes on each side. With peaches or nectarines you may need a little more cooking time and less honey. Turn off heat and drizzle honey over pear slices, and gently fruit so that it coats them on both sides.
While pears are cooking, put greens and vegetables into a large salad bowl and mix well. Add warm pears, cheese, nuts and gently mix.
Mix salad dressing ingredients, add juices from pan and pour over salad. Serve right away.
Notes
This is a great salad to prepare as a composed salad. First lay greens on plates. Add vegetables, then pear slices, then top with nuts and cheese. Drizzle salad dressing over each salad. Serve poached or rotisserie chicken or steak slices on the side to create a full meal salad.
Latest posts by Patricia Rain
(see all)